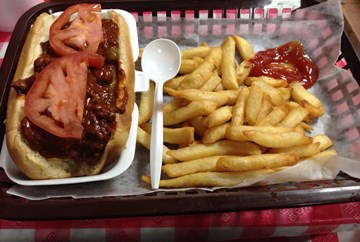 By: Rebecca Parkinson
November 14, 2016
John Hagan was traveling on the 35th Street bus in hopes of finding locations for new StreetWise vendors when he came across Johnny O's (3465 S. Morgan St.) in the Bridgeport neighborhood.  "From the outside it looks like your typical summertime hot dog hamburger stand, but with variety."  John had spotted the restaurant from the bus window a few times before, so he decided to give it a try.
The restaurant, open 24 hours, has many options to choose from including wings, nachos, chicken nuggets and Italian beef.  The menu also features salads for those looking for something lighter.  If you happen to visit in the morning, or are craving some eggs, you're in luck!  Johnny O's serves breakfast all day.
John placed his order at the outdoor window before indulging in his triple cheeseburger, no onion, with fries.  John proudly declared that his filling lunch was under $6.  "They were friendly and sincere.  The food is good there and they cook it properly.  They got my order right, that's all that counts."  While many customers take their food to go, John enjoyed his meal at one of the outdoor counters near the patio. 
Johnny O's boasts of their famous Mother-in-Law sandwich.  The signature menu item consists of a Tom-Tom beef tamale in a hot dog bun, drenched in chili, onions, tomato and sport peppers.  John didn't try the acclaimed sandwich this visit, "I'm not familiar with the Mother in Law except for the song by Ernie K-Doe back in '61."  He plans on ordering it next time, "but without the onions."
The restaurant has been a neighborhood landmark since opening in 1959.  While this was John's first meal at the eatery, he felt comfortable and welcomed. 
"It's a family atmosphere.  It felt like being at home. 
"My mother and sister, back in the day, were Sox fans and not far from Johnny's there is a lot of Sox memorabilia." John, a devoted sports fan, is a regular contributor to the SportsWise section of each week's StreetWise. "Don't forget Bridgeport is one of the few areas that is Sox.  Every place you go in Chicago is predominately Cubs.  I'm not usually on the South Side.  Being in Uptown now, there is so much to do up here and so many people.  I thought maybe I'd give Bridgeport a shot. "
John currently lives near the StreetWise offices in Uptown, but as a member of the Quality Assurance Team and with his role as a field supervisor, one of his responsibilities includes seeking out locations for vendors.  John has been interested in expanding StreetWise sales to the Bridgeport neighborhood to ensure StreetWise is accessible to many Chicagoans. 
Next time John is in the Bridgeport area, he definitely plans to make a stop at Johnny O's again.  "You can get more bang for your buck."