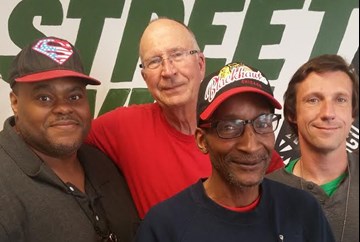 By: Staff
June 15, 2017
Russell: It's a good question. I don't see a comparison between James and Jordan because Jordan had six titles for all six of the NBA Championships he's been to. Undefeated. How many times has LeBron been to the championship?
John: Seven. He's 3-4.
Russell: Really?! Wow, he's under .500! No comparison there, but I'm gonna tell you something. Jordan had it rough, and this year the East is weak. These boys out there today? Jordan would have killed them out on the court back in the day. They don't have the Larry Birds, Magic Johnsons, Olajuwons, Barkleys, Malones. It was hard back then, and Jordan caught hell. Who has Le-Bron beat up on? The Bulls? Toronto? Milwaukee? Come on, man! Jordan had to play hard teams like the Bad Boys from Detroit, Patrick Ewing and the Knicks, and Reggie Miller from Indiana. Every series was tough, man, so there's no comparison. LeBron James will never be like Michael Jordan. Never. Ever. Ever.
John: I agree with you, Russell, the comparison is ridiculous. If you want to compare LeBron James realistically, he's more in the Kobe Bryant category; Kobe has lost a couple titles… and LeBron has lost a lot of titles. Like you said, he's under .500 in the NBA Finals. But the thing about LeBron, as far as series are concerned, is you need to take a look at the competition both with Cleveland and Miami. He beat the Bulls one year, and what? Toronto? Russell, you and I could field a team and beat Toronto! The Eastern Conference is not the conference it used to be. Back in the '80s, Larry Bird had to go through Dr. J and Magic Johnson on a regular basis. The Pistons had to go through the Celtics and Lakers. The Bulls' Michael Jordan had to go, first of all, through Boston, twice. Michael Jordan put up 63 points in the National Championship in '86 against the Celtics and you know how that ended. He had to go through Bird, Magic, the Pistons with those Bad Boys and the Knicks with their dominant center, Patrick Ewing. How many dominant centers do you know in this league today?
Russell: Hah! None.
John: I don't think there are any. Jordan was 6-0 in those NBA Finals, like you said, Russell. Another statistic for you—LeBron James, six times in his playoff career, has scored 15 points or less. Michael Jordan? Zero. That means that even when he had games where he didn't play well, he always brought something to the table. Le-Bron James has a tendency of taking time off.
Russell: I don't think Le-Bron has anything on Kobe either. Those guys caught hell, I mean c'mon. Magic is a lot better than LeBron -he's got a long way to go. It's not just Michael. He has to go past Magic, Bird, and all the rest. I don't care what anybody says. So what if he's got all these scoring titles? That's petty. Who's he playing against? That counts too, you know. Like you said, man. Jordan scored 63 points against Boston and he still lost the damn game. It was tough. There were a lot of Game 7s against the Knicks and the Pacers. Jordan caught hell. Even 72-10, they still caught hell. I'm going to leave it with this: Jordan, then Magic, then Bird, then Kareem, then Kobe, then a whole lot more guys, then LeBron. He's down there somewhere. Maybe 25th or 26th.
John: Haha! I don't know if I would go quite that low, because I think that LeBron is a top 10 player, but he's not up there with Jordan.