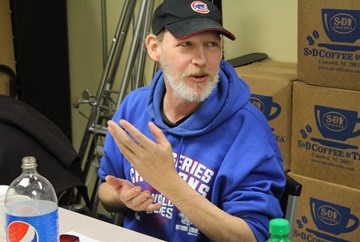 By: Robert Laine
June 19, 2017
K3b is a free software package available to any Linux user (this includes Apple OSx). It allows you to make a legal copy of any CD, by Supreme Court decision. It also allows a person to rip a DVD (I will be covering ripping in a future issue).
The Microsoft choice is $20 USD or more in comparison to the free Linux version of K3b. Its interface is much more friendly than the Windows versions.
The term "ripping" refers to taking all the information from the CD or DVD and making an exact copy of it on a drive, in spite of any copyright protection that was used on the media. I am talking about personal use.
The term "burning" refers to the actual creation of the CD or DVD by an optical drive. I cover this in detail on my website.
When it first starts, you are presented with four option buttons. "New Data Project," "New Audio CD  Project," "Copy Medium," and "More Actions." The "More Actions" is where the power comes in.
For the Windows burning software, its built-in utility in Windows is very sparse and unpredictable. Also, it won't do DVDs outside of data or your own homemade video. The commercial burning software will do the same, more reliably, but not commercial DVDs. These are $20 or more. Some will even claim to copy commercial DVDs. The caveat is that you can't live in the U.S. and you have to pay an additional fee: anything from $10 - $50.
I have tried some of the commercial software and once I was able to get around some of the obstacles, I had no problem ripping a DVD and burning a copy of it. The problem is, in order to get around the obstacles, it usually took one to two weeks in which I had to spoof my I.P. address (future column).
What K3b offers, besides being 100% free, is that it will not only rip CDs but also DVDs. It's not the best option for ripping DVDs, but will do an adequate job. There are other better options, which I will discuss in later columns.
K3b has FAR more options for creating your own custom CD or DVD than Windows does, and even more options than 90% of commercial software. On my website, I will provide a tutorial on how to capture video from your TV or camcorder or phone and make it into a video CD or video DVD using K3b.
When I need to make a bootable CD or DVD for the purposes of diagnosing a PC, I use only K3b, because it's the most reliable. K3b was created by a single individual in Bulgaria and is so reliable, it was funded by major corporations.
This Bulgarian man started a fundraiser on March 1, 2005 for a simple CD burning software project. As he improved it, it became more popular with the main Linux distributions. Eventually, HP, Dell, IBM, Nvidia, AMD, Intel, etc. took notice and incorporated his software in their Linux machines and hardware.
When he announced a 30-day push to raise $50,000 or he would shut the project down, all the above players and then some donated their hardware to him and he raised $150,000 cash in 10 days. He announced that he had more than enough and was shutting down the fundraiser.
This is an example of how doing something for free can have positive returns.
Bob Laine has a B.S. in Computer Science and an A.S. in Mathematics with over 30 years of professional experience. He has worked at the Chicago Tribune as a tech analyst and Staples as the computer tech. Bob sells StreetWise at the Lake and Morgan El stop and can be reached at boblaine_sw@mail.com. Additional links and info can be found at LaineTech.blogspot.com. Follow him on Twitter @TechLaine