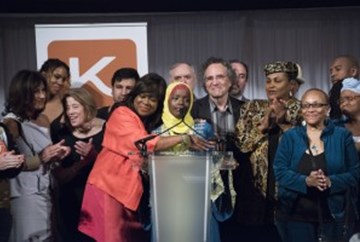 By: Susan Fong
July 25, 2016
Knowing that you are a part of history and that you can effect change has been the driving vision for Kartemquin (KTQ) Films co-founder and artistic director Gordon Quinn. Quinn grew up Jewish against the backdrop of southern segregation and McCarthyism. He has understood the role of the filmmaker as a storyteller and a catalyst for change (for those not often heard).
Kartemquin Films, a Chicago-based collaborative documentary production company, celebrated its 50th anniversary at the downtown Harris Theatre on June 24, still dedicated to the mission that documentary films can move people to action.
Justine Nagan, former Kartemquin executive director and now POV (Point of View) executive director, described Kartemquin's mission and what it strives to achieve.
"For me," she said, "democracy through documentary means creating and distributing films that empower viewers to be more engaged, informed citizens. Whether that means feeling empathy for someone encountered who is different, or that after watching a viewer feels she/he has the information necessary to take action on an issue that is important to them — good documentary storytelling can touch an audience and help them see the world differently after watching."
Gordon Quinn and Jerry Blumenthal are the two people most often associated with Kartemquin, whose name derives from its three founders: Stanley Karter, Jerry Temaner and Quinn. Although Jerry Blumenthal, who died in 2014, was a part of this early group, the team decided against changing its name. Both Karter and Temaner left in the late 60s.
Early Influences
Quinn has always been aware of history-in-the-making. In northern Virginia where he grew up, the state had a "one-drop rule:" if a person had even one drop of black blood, he/she would be considered black. Quinn was one of a handful of Jewish students at his school, where "whites" included the Venezuelan who sat in front of him and the Japanese class president.
During the McCarthy period, Quinn witnessed his father proactively quit his government job because of his Communist party affiliation.
"I supported civil rights and integration," Quinn explained, "so I was used to being an outsider."
Arriving at the University of Chicago in 1961, he immediately enrolled into literature, philosophy and social science classes and joined DOC films, the university's film club. After screening "Happy Mother's Day," a film produced by Ricky Leacock and Joyce Chopra, Quinn realized he wanted a career in filmmaking. The film documents the media descending on a South Dakota farm family when Mary Ann Fischer gives birth to quintuplets, the first to survive in the U.S.
Chicago of the 60s was fertile ground. Quinn and his fellow students were able to secure cameras for the 1963 boycott where more than 200,000 people rallied against the segregationist Chicago Public Schools policies. Temaner captured the now-familiar film segment with Bernie Sanders being arrested.
After graduation in 1965, Quinn apprenticed in the film industry. "We always wanted to be a crew, the cameraman, the sound person, the editor," he said. "When you work with the client, you start to become what they want and we never wanted that." They soon realized that by taking on various industrial and commercial jobs, they were "honing their skills on the clients' dime." These acquired skills enabled them to earn a living and afforded them the financial grounding to maintain their passion as filmmakers.
"Technology changes weekly," he said, "but what doesn't change is storytelling – I studied literature, philosophy and social sciences- that's what we use every day and that's just as important as or more important than technology."
The activist filmmakers had no problem finding topics, as everything in the late 60s was being "politicized." The increasingly charged climate in Chicago provided ample material. KTQ collective films from the 60s and 70s encompass unions, gentrification and race relations et al.

Filmmaking
KTQ filmmakers adopted the cinéma vérité method of filmmaking, which remains the foundation of their later, more narrative and analytical films. Cinéma vérité is a form of filmmaking invented by Jean Rouch in which a situation or event is recorded naturally with a camera. This allows the audience to observe with little or no narration. The editing becomes a form of narration.
"If you look at our earlier films," Quinn says, "our manifesto, it's about cinematic social inquiry…We used documentary as a way of collecting social information presenting something very dense with layers of meaning. Nothing is objective, but then we never claimed to be objective."
Who could better tell the stories than the subjects themselves?
"With vérité filmmaking," notes Quinn, "you're out in the world you have to film. It may be rural, may be in a hospital, wherever you are in some culture – you have to make sense of it. Stories go in places you didn't expect them to. You think you're making one film and it becomes another."
"Home for Life" (1967) was their first film and pure vérité. It followed two unrelated seniors as they entered a home for the elderly. Emerging film critic Roger Ebert of the Sun Times recognized it as an "extraordinarily moving film."
By 1981's "Last Pullman Car," Quinn and Blumenthal moved into a more narrative and analytical style. They wanted to emphasize the historical and extensive power relationships behind the closing of the Pullman plant and how it extended beyond the immediacy of the union strike.
During that period, they found an audience from the community they served – renting their films or hauling equipment and films to the union halls and community centers. It was outreach, so that those involved could participate in the dialogue and in filmmaking.
On June 2 Gordon Quinn was the featured lecturer for the University of Chicago 2016 Kirschner Memorial Human Rights Lecture. He spoke about giving voice to the film's subjects. Quinn acknowledged that it takes maturity to understand what that really means, and to make a work that is respectful of who the subjects are and the story they want told.
"That's why in my ethical framework I want to show our work to our subjects, where we could still make changes to it if we talk about it. If there is something you can't live with here, we'll have real argument, we'll try to convince you that it needs to be in the movie, but at the end of the day, if I can't convince you, then I will take it out—they have the power. On the other hand, we have a responsibility to the audience to make them feel something, to tell them the truth, to engage and those things may be in contradiction to each other, so it's finding that balancing act between the two.
"It's not about looking for a particular answer in making a film but finding the relevant question," he added. "If they haven't asked themselves the questions, they are not ready to make that film yet."
Quinn urges younger filmmakers to know their era so they have context.
A prime example was his episode with a Palestinian couple for "The New Americans" (2004). Each of the series producers followed their respective subjects in their home countries.
Quinn explained that the intent was to give the viewer a feeling of what these people were giving up in their own cultures, where they know every nuance. Yet when they came to America, they were outsiders.
As filming was ending, 911 occurred.
"This," he pointed out, "is the kind of event that changes the political context of a film and the importance of understanding the times in which a production is taking place."
Kartemquin Legacy
When Steve James and Frederick Marx arrived at Kartemquin in 1987 and joined KTQ producer Peter Gilbert, they had been wanting to make a film about street basketball. After five years of filming and seven years of editing, "Hoop Dreams" emerged as a documentary milestone for KTQ, a winner of both national and international awards.
"Hoop Dreams" (1994) shows the lives of two inner city black high school teenagers who are recruited for their basketball skills by St. Joseph High School in Westchester, IL. The crew follows the two teens' academic, social and financial challenges as they try to balance and survive within their immediate and newly adopted culture.
"What I love about 'Hoop Dreams,'" says Quinn, who served as its executive producer, "is it was a film that portrayed an African-American family and young men coming of age through the lens of sports. And because it was about families, it didn't appear to be about social issues. A lot of people would never watch a film about a social issue or someone different from themselves, but they watched ["Hoop Dreams"]."
KTQ producer Peter Kuttner said "Hoop Dreams" brought a lot of attention to Kartemquin and brought light to some of its older, lesser-known films. Kuttner worked on "Now We Live on Clifton" (1974), a story told through the eyes of a brother and sister whose family is forced to move because of gentrification around DePaul University and "Trick Bag" (1974), where gang members, vets and workers from several neighborhoods speak out on racism. Both films are timeless, and relevant today.
Similarly, "Hard Earned" (2015), produced by KTQ filmmaker Maggie Bowman for Al Jazeera America, documents five families of working poor, people who survive on $8-, $10- and $17-per-hour jobs. What Bowman saw that cut across all the stories is the challenge of maintaining stable housing with limited resources.
Former KTQ board president Susan Gzesh, human rights professor at the University of Chicago, believes these visual stories can move people to action. She witnessed the electrifying effect when Steve James screened parts of "The New Americans" to human rights activists and policymakers at a Washington DC conference.
Over the past 50 years KTQ has evolved from a small crew of 60s university students and a 70s collective. It now stands as a revered production house and training ground for the next generation of documentarians. Whatever the collaboration, whether between the subject and filmmaker or between the filmmakers and their audiences, the KTQ community serves as a dynamic model for the dialogue, inspiration and change possible in the democratic process.
In honor of KTQ's 50th birthday, the City of Chicago Department of Cultural Affairs and Special Events (DCASE) will host a free screening of its 1968 documentary, "Inquiring Nuns," on July 26 at 6:30 p.m. in the Jay Pritzker Pavilion of Millennium Park. The film depicts two religious sisters who ask people walking downtown "Are you happy?" Also, the exhibition "Kartemquin Films: 50 Years of Democracy Through Documentary" continues through August 20 at Expo 72, 72 E. Randolph St. You can sign up on Facebook for gallery talks by filmmakers, alumni and KTQ family members.
And, Nov. 2-4 through a partnership with ArcLight Cinemas in Lincoln Park, Kartemquin will present a fall festival of groundbreaking work from its filmmaker development programs.