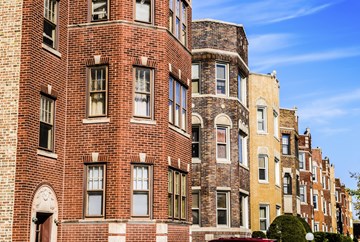 By: Suzanne Hanney
June 9, 2017
Advocates for an ordinance to require Chicago City Council oversight of the Chicago Housing Authority held sit-ins at the offices of two aldermen on the City Council's housing committee May 10 in an effort to bring the ordinance to a vote on the council floor. Earlier that day, the advocates hosted a press conference with seven aldermen who said the proposed ordinance could end segregation and rapid gentrification as it mandates CHA housing in low-poverty areas.
Leah Levinger, executive director of the Chicago Housing Initiative (CHI), which is comprised of 11 citywide community groups including Jane Addams Senior Caucus and ONE Northside, said the proposal has the support of half the City Council. However, it has sat in the housing committee for 21 months, despite a 13-hour hearing in February 2016.
CHI originated the proposal because of $430 million the CHA left unspent between 2009 and 2013 – an average of $106 million annually. CHA also had an average of 4,600 vacant units each of those four years.
Simultaneously, it failed to circulate an average of 13,272 funded housing choice vouchers (HCVs).
The Keeping the Promise ordinance would require quarterly reports by CHA to the Chicago City Council Committee on Housing and Real Estate regarding its accumulated unspent revenue, voucher utilization rate, vacant public housing units, progress in rebuilding public housing under the Plan for Transformation, the number of households still awaiting the "promise" of a return to public housing, and the number of voucher holders in "opportunity areas:" those with higher incomes and better schools, jobs and retail.
It is especially needed now, Levinger said, because of affordable housing demands in northwest side Jefferson Park, where Ald. John Arena (45th ward) proposed a seven-story, 100-unit building near the CTA Blue Line station. Nearby single-family homeowners cited the building's density as a reason for their opposition.
However, CHI members say that neighborhood residents made racist comparisons between the project and public housing in social media.
"The ordinance would allow Arena to turn around and say 'it's law, we need to take a stand,' " Levinger said.
Arena was among seven aldermen at the May 10 press conference promoting the ordinance. Others included Ald. Joe Moreno (1st ward), its original sponsor; and Alds. Ameya Pawar (47th), Chris Taliaferro (29th), Deborah Mell (33rd), Carlos Rosa (35th), and Harry Osterman (48th). Each had also signed a pledge to bring at least 50 units of CHA family housing into their wards.
Kendra Freeman, manager of the Metropolitan Planning Council, joined them and said, "Affordable housing does not only belong on the South and West Sides but in every neighborhood of the city." MPC's recent "Cost of Segregation Report" found that if Chicago reduced its segregation to the national median, the metro region would have 30 percent fewer homicides and 83,000 more college graduates.
Later that day, CHI staged sit-ins at the offices of housing committee members Ald. Walter Burnett (27th ward) and Ald. James Cappleman (46th ward).
Cappleman told StreetWise that CHA has recently said it will spend down its cash reserves by the end of 2017 to the lowest amount allowed by federal law. He now believes the Keeping the Promise ordinance makes affordable housing more difficult to achieve because it adds layers of bureaucracy. He deferred to Business and Professional People for the Public Interest (BPI), which testified at the February 2016 City Council hearing.
CHI subsequently made minor adjustments to the proposal. 
Julie Brown, BPI senior staff counsel and co-director with Alexander Polikoff of its public housing program, said, "the level of micromanagement [in Keeping the Promise] is problematic." As the federal government has cut funding, private developers' money has been essential to achieving mixed income housing and they already comply with many CHA interactions.
During the recession, "the real estate market collapsed," Brown said. "There was no private money to be had. If you do mixed income housing, you can't just build one-third of the units and the rest doesn't get built. You need all the layers of financing."
Because there were no deals to be made, CHA couldn't spend money and built up reserves.
"But now they are building at a fast clip," she said. "The quarterly reports on how many units have been built and how many vouchers leased have been up on the CHA website since they have been asked for…without the ordinance."
CHA and its partners oversaw the development of 1,037 new apartments (either completed in or final stages) for CHA residents last year; that's 94 percent of its 25,000-unit goal for the Plan for Transformation, according to its "Year in Review" report released March 21. In addition, Housing Choice Vouchers increased by roughly 1,100 over the previous year. There are now 47,000 vouchers – in every one of Chicago's 77 community areas.
Capital spending from its excess reserves amounted to $42.9 million, and development $20.5 million, said Molly Sullivan, CHA senior director of communications and media relations.
Among the units completed were 218 fully rehabbed at Altgeld Gardens and the historic Rosenwald Courts, which comprise the whole block between Michigan and Wabash south of  47h Street.