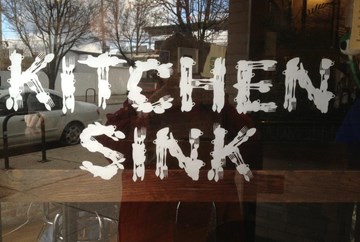 By: Vanessa King
January 30, 2017
The ever delightful StreetWise vendor, VW, has walked by Kitchen Sink café (1107 W. Berwyn Ave.)countless times. She had the opportunity to check out the neighborhood establishment with her wonderful customer and StreetWise supporter, Chuck Zieman. VW can always count on Chuck to stop by each week and purchase a magazine.
Kitchen Sink is part of VW's continued "quest to take over Edgewater EatWise" as she tries to sample all the places in her surrounding vending location. Kitchen Sink is a small venue located between Broadway and Winthrop just a few steps east of the Berwyn Red Line L station. VW likes how the side street location with just a few businesses nearby gives it a residential feel. The café itself seems to pride itself on being a local place to kick back, relax and enjoy some good food. Kitchen Sink serves up delicious-looking sandwiches, soups, wraps, pastries and breakfast all day.  They also serve a full menu of iced and hot beverages that feature Metropolis coffee.
Kitchen Sink keeps a low profile and might be easy to pass up but the sidewalk seating makes it noticeable to passersby like VW on her daily route. They open at 6:30 a.m. for the morning commute and close just after the evening rush at 6:30 p.m. Those hours plus the weekend can accommodate anyone's schedule and keep them caffeinated!
VW noticed the indoor seating area is "spacious and comfortable enough to seat about 30 people." They have several small tables along one wall that seat 1-2 people and are good for laptop use, enhanced by free WIFI service. There are larger tables that would seat 2-4 people comfortably.
The counter service is near the glass display cases and offers a good view of the handmade pastries. VW thought the employees were "assistive and happy to answer questions about the menu."  VW sipped on her "bold-flavored, iced ginger lemonade" while she waited for her avocado, egg & cheese sandwich. She was also pleased to find out she could get one free refill on her beverage with her meal! When VW's sandwich was ready, she was called over to pick it up from the counter. The sandwich came out with sliced avocado and a generous slice of cheese all toasted on multigrain bread and VW "liked her entire tasty order." It seemed well worth it with a tab of less than $8.50.
You can read VW's other Edgewater restaurant reviews in past magazines and on our newly revamped website www.streetwise.org. We can't wait to see which restaurant she visits next in that neighborhood. VW would also like to thank her customer, Chuck Zieman, for taking her out to eat and for the good company. VW appreciates his faithful support for nearly three years and for StreetWise in general.
VW has been a vendor since 2012 and you can find her at the Jewel on Broadway and Berwyn or the CVS on Broadway and Foster.