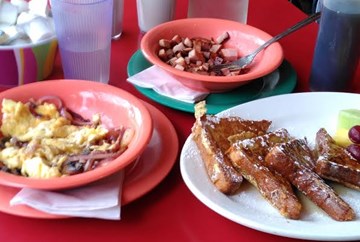 By: Alexandria Spillman
December 5, 2016
Several factors decide which restaurants are contenders for EatWise columns. Some vendors will select an old favorite spot and try a new menu item. Some look for convenience and find a café close to where they sell their magazine. A few are up for adventure and visit brand new restaurants without worry. Steven Riggs chose Kitsch'n on Roscoe for the Wi-Fi.
After a successful morning shift outside the Starbucks on Roscoe and Seeley, Steven walked down the block to refuel. He ordered his eggs scrambled with cheese, mushrooms, and ham; a side of pancakes, a couple slices of bacon, and some hash browns.
His hearty breakfast was followed by a bill of only $8.28, which Steven could barely believe. "I thought the bill would be a lot more for all the food I got," Steven said. "I can already tell I'll be going there after work more often."
His breakfast was filling, delicious, and surprisingly affordable, reasons he cites for his next trip, but every foodie out there knows that there's more to a restaurant than just their menu. Steven's first priority is that he is able to wind down and relax when he goes out for a bite.
"I like it even more because they have free Internet there," Steven explained. "I can sit at my table while I eat and play my football pool. When I get off work, me and my brother, we're in this football pool together, so I look at the stats of the teams and players, and I decide who I'm going to pick and who I'm not going to pick. I can do all that without using my phone's Internet data. If I used all my phone's data, then it would slow down when I really need it on the streets for things like directions and taking credit card purchases."
The friendly waitstaff only contributed to Steven's relaxing morning by checking in repeatedly, turning the volume up on the TV for him, and starting conversation. Steven even recognized one of the men working as a recent magazine customer.
Since Steven came in for breakfast after the morning rush, he had the restaurant to himself—talk about relaxing!—but during other meal times, the restaurant is always busy and always social, he said.
"If Roscoe Village is anything, it's friendly," Steven said. "When it's busy, everybody in the restaurant knows everybody. Everybody is talking to everybody. And a lot of my customers eat at Kitsch'n on Roscoe, too. Anytime I walk by it, I either know the people in there or they know me."
For those who have yet to visit, the interior is what Steven calls "old-school." The tables and furniture give the eatery a 1960s feel, and the details make the feeling that much more convincing. "One of the most interesting things about the inside is that they have a Magic 8 Ball on the table that you shake up, and can read your future," he said.
After the service, food quality, portions, price, and blast-to-the- past ambiance, Steven didn't need a Magic 8 Ball to know that his future surely includes another trip to Kitsch'n on Roscoe.