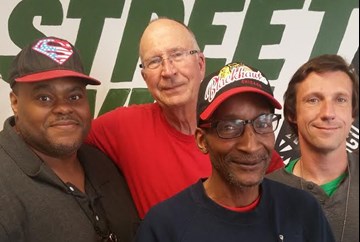 By: Staff
February 10, 2020
Russ: My condolences to the Bryant family and to everyone who lost their lives in this tragedy. When Kobe was drafted in 1996, I already felt he was a special guy as not many players come out of high school straight to the NBA. Even though I was a Bulls fan, I still liked him, because he competed, y'know?
Patrick: He wasn't scared.
Russ: Exactly. The thing about Kobe, he challenged you. Magic said it best: Kobe was the greatest Laker ever. I thought Magic was, but I've changed my mind, Kobe is the greatest.
Donald: Kobe Bryant was an astounding player. He inspired people; he also learned how to teach the game: how to win, the no-look pass, the focus, all of that. MJ, Magic, Allen Iverson - they were all in his mix. In his final 48 game-minutes, he hit 60. If an opponent ran out to a huge lead, Kobe still brought it. Off the court, he was a family man. He taught his daughter (and others) to do it in ways that were important: how to speak to people - including the media - how to dress, etc. He eventually got to where he could say "I stand alongside the greats" such as Wilt, Magic, Jordan, Bird... Also, he spoke many languages fluently, expanding his range.
Patrick: Donald, your mention of how Kobe spoke to the media reminded me of Coach Phil Jackson's teachings. How much more was involved than, simply, scoring a bucket. Both influenced by Phil, Kobe's and MJ's professionalism were very similar. Things of this nature simply elevated what he accomplished on the court. I've been a Lakers fan for a long time, the Magic era, the Eddie Jones era...
Donald: James Worthy up in there...
Patrick: A.C. Green, Nick Van Exel--all of 'em. When Kobe arrived and began handling business, it only increased my Lakers-love. It's messed up, this accident. The lives lost, young and older. It's bittersweet discussing him, but....
John: Kobe had two phases in his career: early-on Kobe, son to ex-NBA player Joe "Jellybean" Bryant, was a flashy, skinny kid from Philadelphia; Later-on Kobe, with Shaq, and coached by Phil, blossomed. When Shaq was traded, it forced Kobe to mature; he accepted the challenge and became a leader. In regard to basketball, he developed a jump shot—a definite boost. I was lucky to see him play in person--in L.A—amazing. It really hurt to hear about the accident.
Russ: Kobe now belongs on my team: Jordan, Duncan, Magic, Bird, and Kobe. I'm going to miss him. Only 41-years old, he did tons for the game. It's hitting me hard, and I'm gonna dedicate the upcoming All-Star game to him. I love what teams are doing to honor him. The United Center tribute, players taking 8- and 24-second violations…I'll never forget you, Kobe.
Donald: Many don't know Kobe took language lessons and stayed on YouTube learning all types of [stuff]. The accident was a shame: He had a lot more to give. It was beautiful seeing his wife, Vanessa, tell him on the Kimmel show "I want a son!" Playfully ordering him not to speak bringing another daughter into existence. Hilarious.
Patrick: Like John, I once saw Kobe play live. I'd struggled with watching him play at the stadium at which I'd only cheered on our Bulls. I finally broke down...I felt horrible...but I cheered for my man, though, and wouldn't have had it any other way: I saw Kobe do it in-person. My condolences to the family. To you, Kobe: Too young you were...and "Kudos" for grasping your opportunity.
John: During the All-Star game, I have one hope: One team wears purple and the other gold.