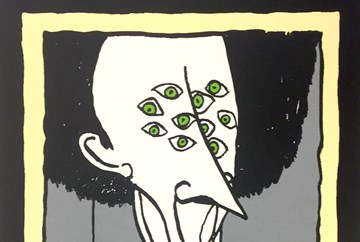 By: Suzanne Hanney, from prepared materials
October 31, 2016
Starting on November 11, Veterans Day, the National Veterans Art Museum (NVAM) will host the first exhibition of over 30 screen prints by author Kurt Vonnegut Jr. inspired by his WWII experiences.
"Vonnegut's Odyssey" fits with NVAM's mission to inspire greater understanding of the real impact of war and to give civilians a chance to see the world through veterans' artwork. "The experience of returning home and processing the effects of war is something that is shared by all veterans, from the time of Homer's "The Odyssey," through Vonnegut's experiences in Dresden, and continuing on today," said Ash Kyrie, the exhibit curator, who is an Iraq veteran. "Exhibiting the artwork of Vonnegut as an illustration of the postwar experience and as a creative processing tool for the artist highlights the process of the return and the complexity of the veteran experience."
Vonnegut enlisted in the U.S. Army at age 20 and was captured by the Germans in the Battle of the Bulge. He was sent as a prisoner of war to Dresden, "the Florence of the Elbe," which was destroyed by British and American bombers on Feb. 13, 1945. Up to 60,000 civilians died from the effects of high explosives and incendiary bombs but Vonnegut escaped because the slaughterhouse for which the POWs provided forced labor was far underground. Afterward, the POWs were tasked with disposing of the charred bodies, an experience he recounted in "Slaughterhouse Five" in 1969.
Vonnegut became recognized simultaneously for the drawings that accompanied his work, from "Purple Heart" to "Asterisk." He worked with printer Joe Petro III to create a catalog; these pieces are on loan from Petro and the Kurt Vonnegut Memorial Library in Indianapolis.
Located at 4041 N. Milwaukee Ave., the NVAM will be open to the public on Veterans Day from 10 a.m. to 9 p.m. "Vonnegut's Odyssey" will run through May 6, 2017.
For more information, visit nvam.org or call 312.326.0270