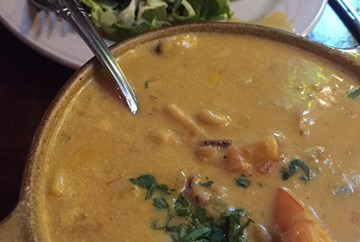 By: Emma Palmer
April 16, 2018
One cold winter morning, vendor V.W. took a break from selling magazines to grab a bite to eat at a local restaurant. "I went to La Fonda. It's located at 5350 N. Broadway, across the street from my vending location on Broadway and Berwyn near the Jewel Osco. The full name is La Fonda Latino Grill. You first enter into the double doors to get inside, and then go through another set of doors. They have a bar right there by the door area. It's not huge inside, could maybe accommodate 16 people. In the summer, they have outdoor dining on the sidewalk." Unfortunately it was too cold for outdoor dining the day V.W. visited.
When asked what she ordered, V.W. got a huge smile on her face. "I ordered the buffet, it is all you can eat and costs $10.99! I had a StreetWise customer come with me. His neighbor also came with us, I guess because we were going to a buffet. With my money from StreetWise to do the review, I ordered dessert, which was not included in the buffet. The only dessert included with the buffet was sliced fried bananas. The buffet runs from 11 a.m.-3 p.m."
I asked V.W. if she went up multiple times to the buffet table. Surprisingly not. "They were constantly bringing food out to fill the buffet counter so customers could go up again and again, but one plate was filling enough for me; I was stuffed." What made it so filling? "There was baked chicken, rice, pinto beans, and chicken soup with chunky vegetables like carrots and diced potatoes. They also had thin soup, which I didn't get. I was lifting lids on everything but knew I couldn't eat it all."
"I also ordered a canned soda and sliced cake. The cake was what I bought with my StreetWise money. It was a dark cocoa chocolate cake, with a very deep dark chocolate flavor. It had strawberries sliced in the shape of flowers on top. The plate was sprinkled with powdered sugar. What surprised me was the scoop of ice cream that came with it. With the can of coke and the dessert, it was $7.84, separate from the buffet."
What made V.W. decide on La Fonda? She has been looking at this place for a couple of years, especially the outdoor patio. She would always glance over from selling her magazines and see how much the people there were enjoying themselves on the patio. "It was time for me to do an EatWise. I felt ready. These small businesses need to be promoted. I want to help out the businesses that help me. It's definitely fun trying out different food menus and items."
So, will V.W. be making another visit to La Fonda? "Oh yes, for the buffet. The $10.99 buffet! We were finished eating and full in under an hour. Everything tasted so good."