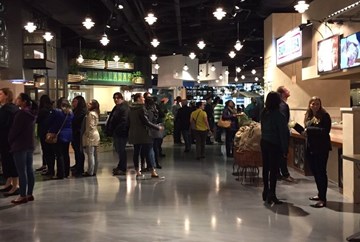 By: Alexandria Spillman
June 20, 2016
I went to Latinicity, and I went there because I saw a lot of people walking up to the second floor, and when I asked people where they were going, well, hey, you should try this. I didn't go to the coffee shop on the first floor, I went to the food court on the second floor.
I got the Mexican burrito with steak, rice on the side, and a pop. I got the rice because I don't really like beans too much. The burrito was huge, it was about 6-7 inches long. It was a lot of rice—like a bowl size.
You go up to the counter and you get your own drink. And you can get all the refills you want. You come in and you order your food, they give you a card, and you take the card with you to pay. There are a bunch of restaurants inside the food court, but it's all Latinicity. One lady said the burgers are really good. They have a list when you look at the board that shows all the options in the restaurants, and they have a bar in there too but I didn't go in there because I don't drink.
I used to work as a fry cook. I worked at the Wendy's in Highland, Indiana for about 3 1/2 years, and another before that for 1 1/2 years, and I worked at Burger King too for about 3 years. If you add it all up, I've worked in fast food for about 8 years.
I've made that food before, and I like to taste it. When you work at these restaurants, it's important that you welcome people and offer your help, whether it's Wendy's, Burger King, Latinicity, or anywhere else.
The service at Latinicity was pretty good. When I walked in, there was a woman who worked there who explained the system. She told me to get a card and pick out what I want to eat whether that's Mexican, burgers, salads, and she explained to me about how to get my drink. Then they swipe the card I picked up at the beginning and I use that to pay on the way out.
It's in the Pedway at 108 N. State St. I went around 12:15-12:30, and got my food around 1:00. There were about six people ahead of me in line, but when I got up there, I still hadn't really made my decision.
I picked the burrito because of the good price and I just really like steak burritos.
Soon, I'll go back and try a burger. There was a woman on the South Shore train telling me about how great they were. On burgers, I like light mayo, light mustard, heavy on the onions and pickles, lettuce, no tomatoes. I didn't see what burgers they have, but that's how I usually get them.
They had music going too which made the atmosphere nice, and it was well-lit. They played something instrumental like piano music while I stood in line and ate my food. That was nice.