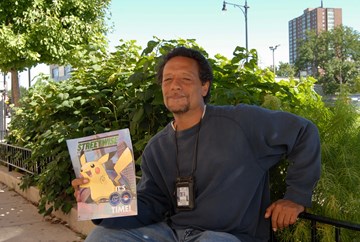 By: Nina Dong
July 17, 2017
As of right now, I'm a part owner of a construction company in Detroit, Michigan, but ask me where my skills came from and I'll tell you all of my skills came from selling this magazine. People often want to know if I do anything else other than sell magazines; my answer to that is yes, of course! You can do anything you want if you keep going at it, just like I did with the construction/magazine trade.
Backtrack to before I started my job at StreetWise, I was homeless, living on the corner of Sunnyside and Broadway near the Salvation Army, which is now a mattress store. Some guys came up and asked me if I wanted a job, to which I said yes immediately without hesitation. I was one of six people who got into the van, went downtown, received our badges, and started working. Ever since then it was an opportunity that I have never looked back on. At one time I was even field supervisor here at StreetWise, but right now I'm a vendor, which is what I wanted.
In my opinion, StreetWise is an excellent way for people who have nothing to get something. If a person was even 80% into being committed as a vendor, he or she could potentially change their whole lives. Selling magazines allows vendors to be in control of their own money and as long as you hustle hard and manage your money in a smart way, you can move forward. One of the biggest challenges as a vendor for StreetWise is getting started. It took a real stunt to get noticed in the neighborhood that I had been in.
Something that I love about being a vendor is the steady client base that I have established working throughout the years. They know me by name and always expect a magazine or two every time they see me. I even got to know a photographer who took a few pictures of me for a magazine on Facebook. The very next week I was on the cover of the magazine. How awesome is this situation? A customer takes a photo of me and now I'm on the cover. I wish I had framed it, then I would be able to say "hey look at me 10 years ago and look at me now!" That's when I really started to take StreetWise really seriously.
I work two different spots, one downtown and the other on 1372 N. Milwaukee near Walgreens. There's nothing quite like building a loyal client base from the ground up. If I'm not there one day they'll say to me "Where were you at, Lawrence? You know I only buy from you! Where's my magazines, man?" Having regular spots to sell magazines allows me to know the people there and build a connection with the neighborhood, so everyone is welcome to swing by because I'd be happy to introduce the new issue or just talk.
And to all my readers, I encourage everyone to get out and explore other areas of the world like SanFrancisco or New York. If I had no limitations, I would definitely take a vacation to China and even though I don't know any Chinese, it has always been a goal of mine to learn the language and speak it!