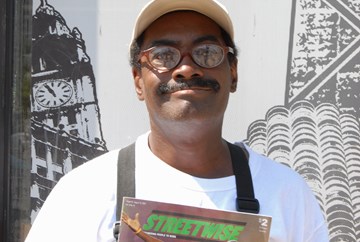 By: Luke Hyland
July 2, 2018
I was born on the West Side of Chicago but grew up on the far South Side. When I come to Rogers Park from Englewood, the difference between Northern and Southern Chicago is clear. You can feel a change in the atmosphere when you reach North and Clybourn on the CTA Red Line.
When I heard about StreetWise, I thought it was a scam. I had a job at Walgreens at the time but was looking for an extra source of income. After a friend convinced me to give the organization a chance, I joined. I've been a vendor now for a year and primarily sell the magazine on the corners of Clark and Damen, Ashland and Webster, and outside the Steppenwolf Theatre.
My first strategy to sell copies was to be the loudest on the block. I would shout so much at 7 in the morning that nearby apartment owners would complain that it sounded like I was in their living room. My second strategy was to give every passerby the same speech, but I realized I didn't have enough time to get through it before they walked away. Now, I like to read an article myself and personally recommend it to customers. With that strategy, I've been selling about 60 issues a week.
I remember passing by a window washer who told me no one wanted to buy StreetWise. He wouldn't stop saying it until he saw me selling, and I made sure to count my money where he could see it that day. Being a vendor often doesn't feel like it's accepted as a real job, and that's a shame.
Working for StreetWise has taught me patience, consistence and people skills. There's a stereotype that vendors like me are all homeless or on drugs; a lady once asked me what rehabilitation center I got out of. The thing is, I still have my job at Walgreens. I live with my fiancée on the South Side. I volunteer in the Center for Changing Lives in its admin support group. I have a life outside StreetWise.
When I'm not selling, I'm usually playing chess, building computers or reading. I read anything and everything, from black literature to Chinese literature and everything in between. As long as it grabs my interest, I'll keep reading it.
My goal for the future is to create low-income housing — spaces affordable enough to keep people off the streets and reduce homelessness all together. Hopefully that can be my way of giving back.