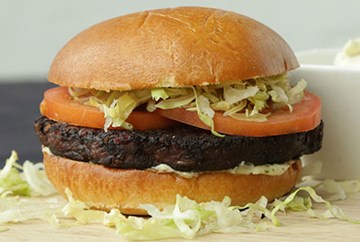 By: Rebecca Parkinson
February 21, 2017
Generous donations came pouring in this fall to send the weekly SportsWise contributors to see the Chicago Cubs play in the World Series. Unfortunately, with the high cost for tickets, the group decided the funds would go further at a different Chicago sports event. The SportsWise crew decided to attend a Chicago Bulls game against the Miami Heat. 
Russell Adams, a StreetWise vendor, staff member and contributor to the SportsWise column, attended the Bulls game with the other group members, thanks to the donations. 
"I've been part of the SportsWise group since day 1.  Maybe 2-3 years.  I've been doing it for a while." Each week Russell, Vince, John and Bill meet to discuss recent sports news and their conversation is captured in each week's magazine.
At halftime, Russell ventured out to find a delicious dinner. "I was hungry.  I didn't eat all day because I knew I had the EatWise meal coming. It was worth it."
Russell visited Legacy Burger right outside the entrance to his seats. "I ordered a turkey burger, I don't eat much red meat, I prefer chicken and turkey. It had lettuce, tomato, pickles, onions, sauerkraut, the works! And I had an order of fries and a soft drink." 
While there were many spectators at the game, Russell noted that he didn't have too long of a wait before ordering his food. "I went right in. There were maybe two people in front of me. Real quick, and nice service. They were very courteous.   even gave her a tip." 
Russell spent $13 for the burger, $6 for the fries and $5 for the soft drink. "They were surprised I was going to spend that kind of money.  Like I was gonna come there and just order fries or something. No, I wanted to get a whole meal."
The service was fast and when Russell stepped away for a moment, his burger was brought to him.
"When they serve it to you it's not in like a plastic container, like at McDonalds. It's right there and fresh.  They had like a little tray so it was organized. It made it easy to get to my seat. I could even eat a few fries as I was walking."
Being the devoted sports fan that he is, Russell wanted to enjoy his meal back at his seat, to ensure he didn't miss any of the excitement. 
"It's a pretty nice place and they have seating areas where you can eat if you don't want to sit at your seat. They have tables and chairs in the lobby. I thought about it but I wanted to go sit down at my seat and get situated so by the time the game started I could start cheering."
When the group returned to their seats, they enjoyed the halftime entertainment while indulging in their meals. "I enjoyed the burger. I ate the whole thing!"
For Chicago sports fans traveling to the United Center for Bulls and Hawks games, Russell recommends checking out Legacy Burger. "If you can afford the prices, you should check it out. Every once in a while you need to treat yourself to a nice dinner."
Russell expressed his gratitude for being able to attend the basketball game and have a special dinner with the other SportsWise guys. "I want to say to my customers and whoever gave money to the Go Fund Me page, thank you. I appreciate it."