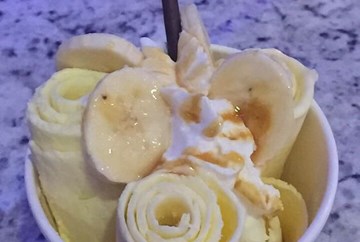 By: Emma Palmer
October 30, 2017
Donald Morris has a sweet tooth, and was looking for a new way to satisfy it. This time, he decided to try Legend Tasty House in Chinatown. We asked what inspired him so much to go there. He said that Ron, a fellow vendor, told him it would be different kind of experience than most. That confirmed Donald's decision to try it out.
Very accessible by the CTA Red Line, Donald took the train to Cermak/Chinatown. "Chinatown's a great atmosphere. It has its own flavor." What he noticed first about Legend Tasty House was the line that went throughout the restaurant and out onto the street. Donald felt there was a lot more going on than just the line, such as watching how skilled and quick the workers were and the pure enjoyment that children showed on their faces as they ate, or as Donald put it: "The parents showed 100 percent enjoyment and the kids showed 110 percent." Donald kept saying "everything was busy, busy, busy."
Donald decided to order the Banana Strawberry ($5.83), which comes with specialty Thai rolled ice cream. He even had the option of adding extra toppings, and he chose Lucky Charms and whipped cream. "I finished it within five minutes," Donald said. "When I finally got that ice cream in my hands, I ate it so fast the next thing I knew I was back on the Red Line. I couldn't believe how fast everything moved, from the long line to the Thai rolled ice cream." The professional service, he said, makes the experience top notch.
A unique aspect of Legend Tasty House is its Thai rolled ice cream, which is made in-house everyday. "They actually scrape the cold ice cream into a square, cut it, and roll it out. There are many flavors you can choose from. The cooks have a special technique that makes these rolls so tasty," Donald continued. "It's definitely different than the normal places to eat at."
Donald repeatedly mentioned the great atmosphere. "People were there from all over. People go there not only to enjoy the food but the atmosphere as well. You will feel the spirit of the place, which comes from each of the different cooks you deal with."
Other than the line, Donald couldn't think of a better place to try. "Although the line," he said "shows how popular the place is. People really appreciate the difference of this place and they really like it." 
Donald would definitely give Legend Tasty House five stars. "It's a place everyone needs to try." To convince us even more, Donald said "This place will get your hair spinning. The 'Legend' part of it is that they will wow you."
Legend Tasty House is definitely a place worth trying, especially for a fun, unique desert. Given that Donald gave it five stars, I will be visiting 2242 S. Wentworth Ave. soon.