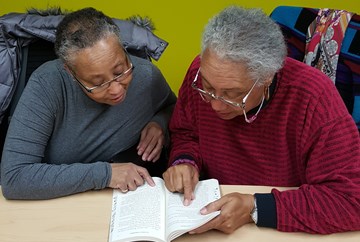 By: Joanne Telser-Frere
April 16, 2018
Receiving a new prescription and following instructions is not an issue for most individuals. However, imagine not being able to read or comprehend the directions on the bottle. This is the reality for more than 880,000 Chicagoans who struggle with literacy and reading comprehension.
Literacy Chicago, a nonprofit organization, has the mission to "empower individuals to achieve self-sufficiency through language and literacy instruction." 2018 marks the 50th anniversary of Literacy Chicago's commitment to helping the community through its free courses and adult education programs.
Everyday, brave adults come through Literacy Chicago's doors at 641 W. Lake St. and say, "I need help to read and understand what I am reading." It takes a lot of courage to admit to not being able to read as an adult. These students range in age from 18 to 70+ and have managed to find ways of getting around their literacy problems. They are street-smart, some are highly articulate, but the words on the page just look like a foreign language to them.
These students are highly motivated and are investing time in working to increase their reading, writing and comprehension, skills. Their writings can be found in Literacy Chicago's publication "Words on a Page," a collection of essays written by many of our students, which is published each June.
For adults wanting to get their high school diploma, Literacy Chicago offers both Pre-GED and GED classes. This program covers the necessary subjects to prepare students to successfully pass the high school equivalency exam (GED).
For the many foreign-born living in the Windy City, Literacy Chicago's English as a Second Language (ESL)  classes are a great way to learn English and meet people. These lively classes teach both the English language as well as American culture, thus helping newcomers to better integrate into life in Chicago.
In 2016 Literacy Chicago added Citizenship classes to its offerings. These classes help resident card holders through the naturalization process. Students study American history and improve their English reading and writing skills in relaxed and enjoyable classes. At the same time, they prepare for the interview that they will have with immigration officials and gain the self-assurance needed to be successful. Literacy Chicago is proud of helping people build the knowledge and confidence to become American citizens.
Literacy Chicago is adding Digital Literacy courses to its offerings. Maybe you don't think twice about going online to look for a new job, check out a new doctor's ratings or do your banking, but for many people this is still a challenge. There is still a wide gap between those who have internet access at home and those who don't. Studies show that in Chicago, the South and West Sides are the areas most affected by this lack of digital connectivity. Whether it's checking children's report cards online, keeping up with social media or simply looking for the best deal on a new purchase, the internet world has entered our lives and it is here to stay.
Literacy Chicago wants to open the doors to this world to those who are on the outside. In September, Literacy Chicago will offer two courses, ACE (Access-Connect-Empower) the Computer, and ACE the Workforce, to the general public to help close this digital divide. Enrollment will be open in August for these new classes.
How can Literacy Chicago give all these classes for free? As a non-profit organization, Literacy Chicago depends on grants and donations from generous sponsors. There is also a large team of volunteers who come to give their time to helping others. Volunteers receive in-house training and learn how to tutor the adult learners in groups or one-on-one sessions. They are a valuable part of the organization's culture and often form a strong bond with their students. One tutor has been working with his student for 20 years. What started as simply helping someone to read has become a two-person book club!
Spring quarter enrollment is going on now. For information, please call 312-870-1100 or email info@literacychicago.org.
Literacy Chicago welcomes all adult students in need of educational help, and people who want to give funds or time to the community. Information is available at our website, www.literacychicago.org
Joanne Telser-Frere is program manager at Literacy Chicago.