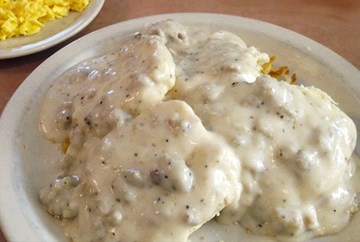 By: Alexandria Spillman
October 17, 2016
When Jan Creel visits the Little Corner Restaurant at Thorndale and Broadway, it's more than just a meal. It's a blast to the past. One minute, she's walking into the small and cozy diner in Edgewater; the next, she's a young girl back in Pensacola, Florida, sitting at grandma's kitchen table and waiting for homemade biscuits and gravy.
When she sat down to her booth this last time, Jan ordered her customary biscuits and sausage gravy with sides of scrambled eggs and bacon. She estimates she's been to the Little Corner Restaurant just short of "a gazillion" times, most of the time ordering that same Southern-inspired breakfast.
"I get a little bit of warm fuzzies when I get the biscuits and gravy," she said. "The taste puts me in the mind of being back down South with my grandparents. We used to work on the farm on the weekends, and biscuits and gravy was a staple. When I go to this restaurant, I remember how my grandma used to cook: she'd sit back and make the biscuits, roll 'em up, pull the dough out, and cut em' up, then put on the white gravy with flour and grease and mix in the sausage.
"When you get that warm fuzzy kind of feeling, it's good, and when I start missing home or missing my grandparents, I get something to eat over there."
But hearty comfort foods aren't the only welcoming part of this little diner. Jan got to know the previous owners, and she reflected on many of the times when they'd greeted her by name before bringing her the usual biscuits and gravy.
"I think one of the things I like about the restaurant the most is that the waitstaff is always very attentive," Jan said. "They're not in your face or on you constantly, but they notice when you're down on certain things. A lot of places don't have people that will come by and make sure you've got everything you need every time. The people there make the place a real nice atmosphere."
Though the 40-year-old establishment has changed its name a few times, changed management, and undergone some renovations—including an outdoor patio—Jan is pleased to report that the food and hospitality have not changed one bit. "They seem like they're keeping it the same," she said. "Why mess up a good thing?"
While Jan is attached to her usual biscuits and gravy breakfast, she has branched out and tried different entrees on previous visits. For potential diners, she recommends the hamburgers and French fries, pork chops, spaghetti and meatballs, mashed potatoes and corn, and the meatloaf-and-mashed potato combination—which she specifically described as "to die for… that's when you know you're home."
New Little Corner Restaurant diners should expect a tinge of nostalgia calling them to come back for a second visit, Jan advised.
"There are people who go in there regularly," she said. "I know one guy who has the same spot he sits in every day, and that started 15 years ago when I first started going there. They've got regular customers." Any place that keeps customers coming back for 15 years straight must have incredibly tasty food, seriously comfortable seating, or both.
Jan gives Little Corner Restaurant the highest praises, and wants her customers to know this: "If you want a really good homemade meal in a homey atmosphere for a good price with people who really care about what you think about the food, Little Corner Restaurant is a good place to go. Everyone's welcome, and you feel that welcome when you walk in the door."