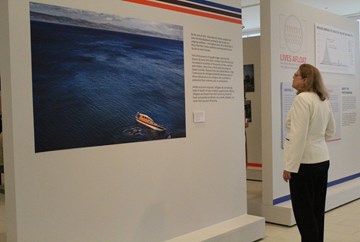 By: Meredith Melland
August 6, 2018
When Greek photographer Tasos Markou documented displaced people on the island of Lesbos for two years, he captured landfill-like images of thousands of discarded neon orange life jackets—some unsafe, cheap knock-offs made of absorbent sponge, others strewn after reaching shore.
"Each life jacket we see tells the story of a person who risked his or her life in the waters of the Aegean Sea," Markou said.
Markou talked about his experience in an afternoon presentation on June 23 at the National Hellenic Museum, which opened the exhibit "'Lives Afloat': The Greek Refugee Crisis Through the Lens of Tasos Markou 2015-2017."
"Lives Afloat," located on the first floor in the John P. Calamos Sr. Great Hall, presents the influx of displaced people in Greece through infographics, photos and quotations from Markou: "They saved their phones like their eyes." The exhibit is loosely divided into three sections: Arrivals, Waiting and Borders.
In 2015, 63.5 million people were forcibly displaced from their country of origin, of which 12.4 million were newly displaced, according to the United Nations High Commissioner for Refugees (UNHCR). Refugees fleeing conflict-ridden regions like Somalia and Syria sought asylum in Europe, with easy-to-reach Mediterranean areas like Greece and Turkey becoming unofficial gateways. This northwestern mass displacement was unorganized and hazardous, so the EU reached an agreement with Turkey in March 2016 to use southeastern Greek Aegean islands such as Lesbos as processing centers for refugees arriving by sea. Refugees waited months in overcrowded camps for their cases to be reviewed—and to be told to carry on or go back. 
"An island of 85,000 inhabitants received over a half a million refugees and migrants in just a few short months," Markou said, noting that the island's tourism industry was damaged by the camps.
After arriving on Lesbos in 2015, Markou photographed 35,000 people waiting in the sun to enter the overcrowded tents of Kara Tepe Refugee Camp, many only carrying a plastic bag or life jacket. He developed "not just sympathy, but huge respect" for the migrants and wanted to portray their resilient attempts to live fully instead of contributing to a narrative of hopelessness.
One photo showed a refugee watering the trampled ground outside an encampment fence.
"These are the people that Europe was afraid of," Markou said. "They were planting the seeds of hope."
Throughout the presentation and ending Q&A session, Markou addressed refugee policy and common misconceptions. He detailed the three groups of migrants as determined by the U.N.: refugees, who are prioritized for seeking asylum, displaced people; stateless individuals. He noted that many refugees he met were from areas other than Syria, and almost all had been long displaced.
"Most of them, before attempting the dangerous journey to Greece, they were already 2, 3, 4 years in countries like Jordan, Lebanon and Turkey," Markou said.
To tell individual stories, he put the camera in the hands of refugees. With French photographer Lois Simac, Markou started CrossRoads, a photography project linking the diverse experiences of refugees in the Softex refugee camp outside of Thessaloniki in winter 2016, the coldest in 50 years.
"We did it with our own hands, with our own cameras and our own savings," Markou said.
Markou projected information about CrossRoads photographers, including their native countries, ambitions, migration locations and personality traits. Their stark black-and-white images capture flimsy shelters in the snow and portraits of refugees.
Markou quoted Mohammad Abbas, a 25-year-old Syro-Palestinian CrossRoads photographer now living in Stockholm whose photos are on display: "If we stay at the camp, we will kill ourselves."
Markou ended on a photo of refugees forming their own makeshift campsites under concrete infrastructure, taken in May on Greece's southern mainland. He said that smugglers now use the mainland for passage, with the mainland camp in Moira considered the worst refugee camp in Europe.
Referencing the Greek value "philoxenia" or hospitality, Markou said that "It's about love and action, but before action, there must be awareness."
"Lives Afloat" remains open until spring 2019 at the National Hellenic Museum.