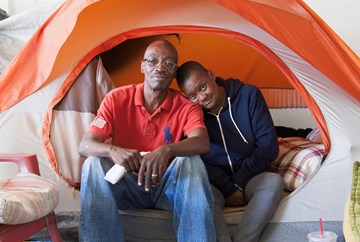 By: Suzette Bross, Captions by Suzanne Hanney
November 15, 2016
Last year I noticed more tents under the viaducts in uptown and it made me wonder why there were more tents and who was living in them. It also made me think about the tent as a changing symbol of hearty outdoor living to urban homelessness. When I was contacted by Streetwise to help document the uptown tents, I learned about Uptown Tent City and its wonderful community. The bonds of this community help its residents survive.
-Suzette Bross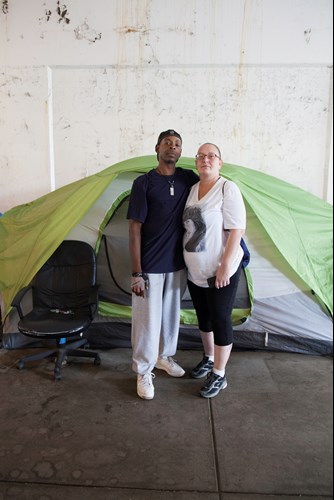 Robert E. Elliott Jr., 57, grew up in Uptown and Rogers Park, has 14 years of schooling and has worked in construction and moving furniture. He put his tent and possessions up on palettes because of rats and because when it rains, the area floods. "I don't know what's going on except they [the City] doesn't want all this rubbish around. I just put my tent up and put me a couple of carpets in there, blankets and that's it."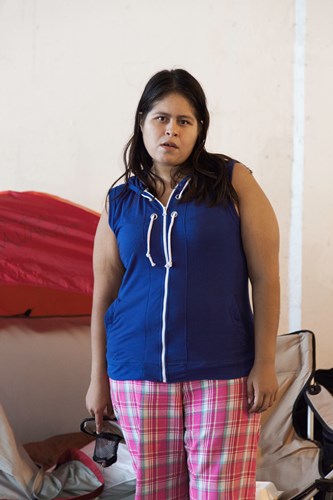 Carolina Rodriguez, 30, was staying with a friend before she came back to Uptown several months ago. "I love this area for the simple fact that everyone is so kind. Instead of being just friends we all became family. If I need them, they are there for me." She is working with the Salvation Army to get disability payments but says she could still work part-time. "I know how to cook, clean, work a cash register, get clients to look at the merchandise."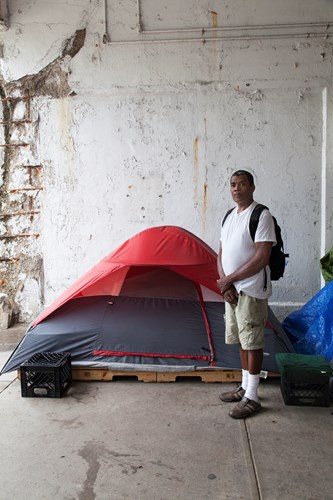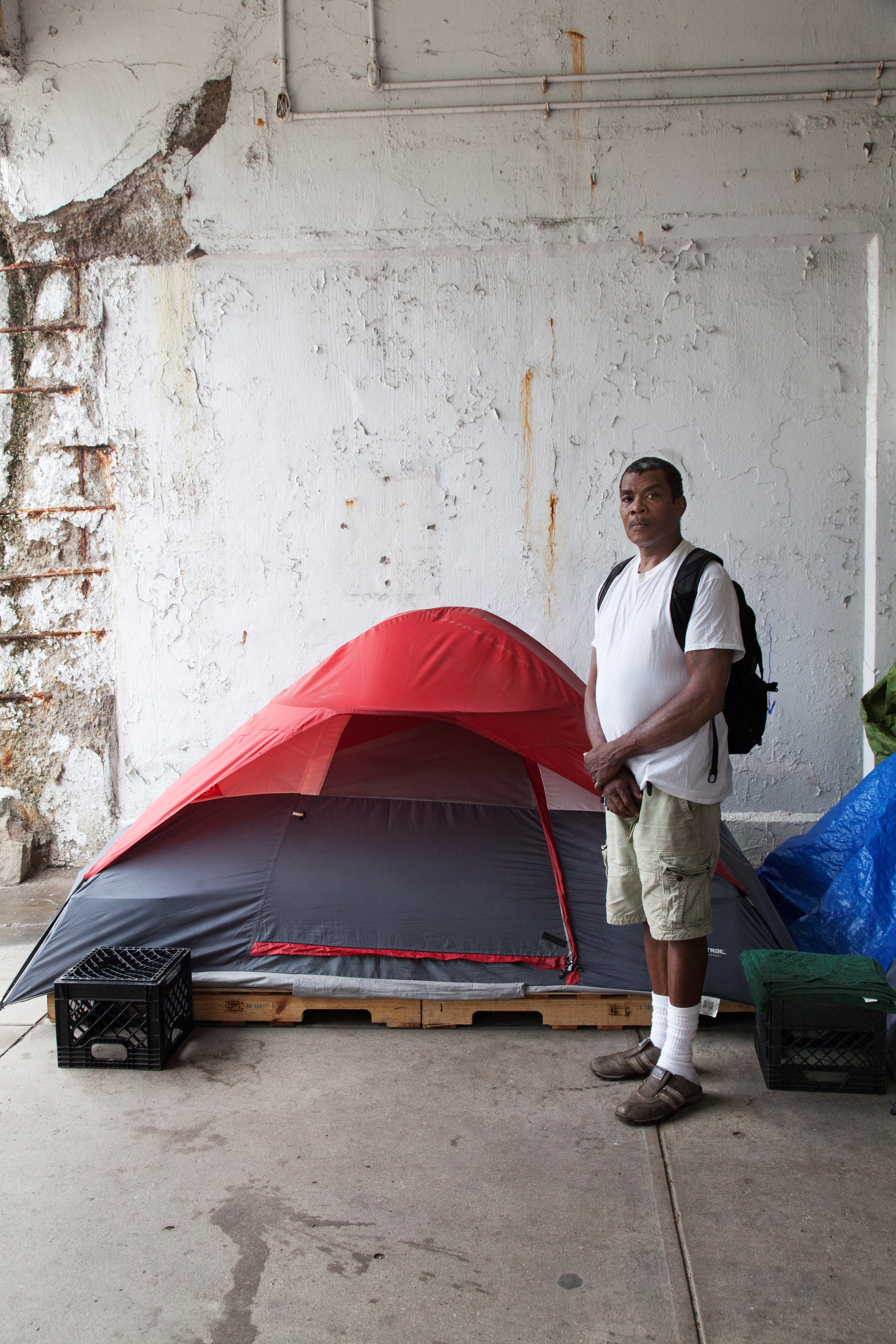 Louis Jones, 49, and Paula Coleman, 46, have been together 10 years. Jones would like to work as a dishwasher but needs housing first – with Paula, before winter. "You cannot walk into a professional setting with just 50 percent: 'Oh, you fell asleep. Oh, you smell bad.' We don't want anybody to feel like they're under threat coming through those viaducts going to the park. It's their right. You got people who worked 35, 40 years, want to go to the park with their kids."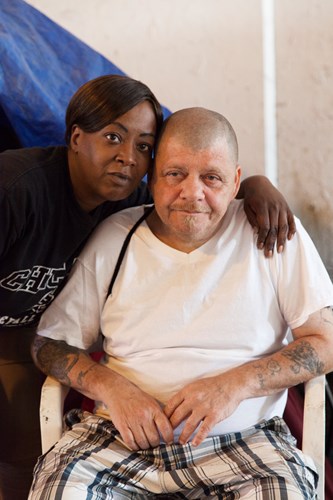 John Ryder, 56, has housing in an SRO but Denise Warren, 45, does not so he spends time with her at the Tent City. His homelessness dates to "problems with my family" when he was 14. Warren, who did housekeeping for a hotel, became homeless when her landlord's granddaughter finished college and needed the room she rented. They missed the City's April signup dates for housing because of a court date but both have disability benefits and would like to share an apartment.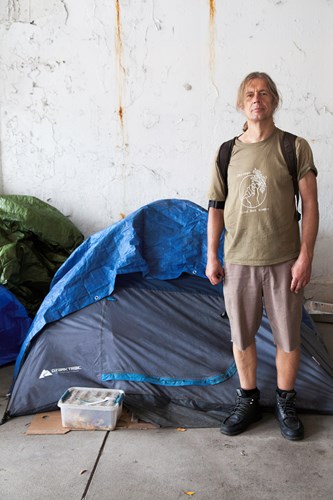 Mark Saulys, 55, became homeless after planning a 1,000-mile bike trip to Vermont. "The unemployment rate is like a third of what it is here and I thought it was a tolerant place. I settled all my affairs and moved out, started sleeping outside, said 'I'll go next week.' But next week became a month and two months later became six months." Saulys said he was always one or two paychecks away from homelessness with jobs in restaurants, retail, factories, loading docks, and as a ballpark vendor. He would like to work another 10 years.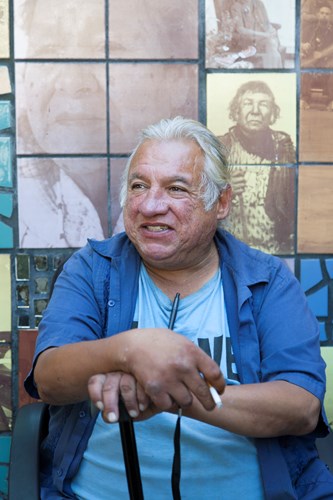 William Roberts is a former StreetWise vendor. A Native American, he was seated underneath historic descriptions of Native Americans on the Foster underpass. He was taken to his housing right unit after this photo was shot.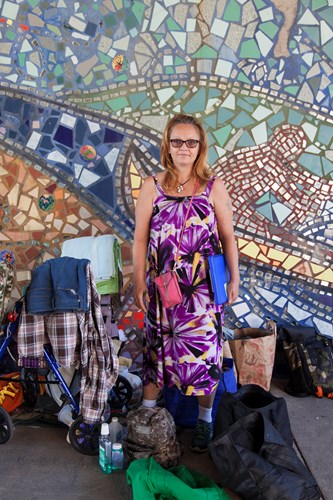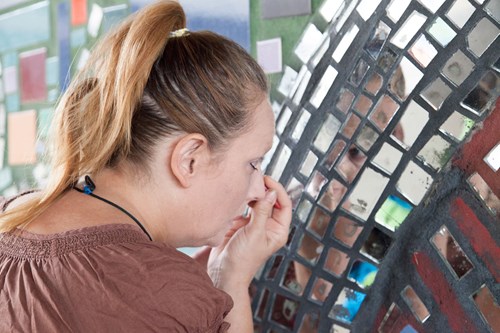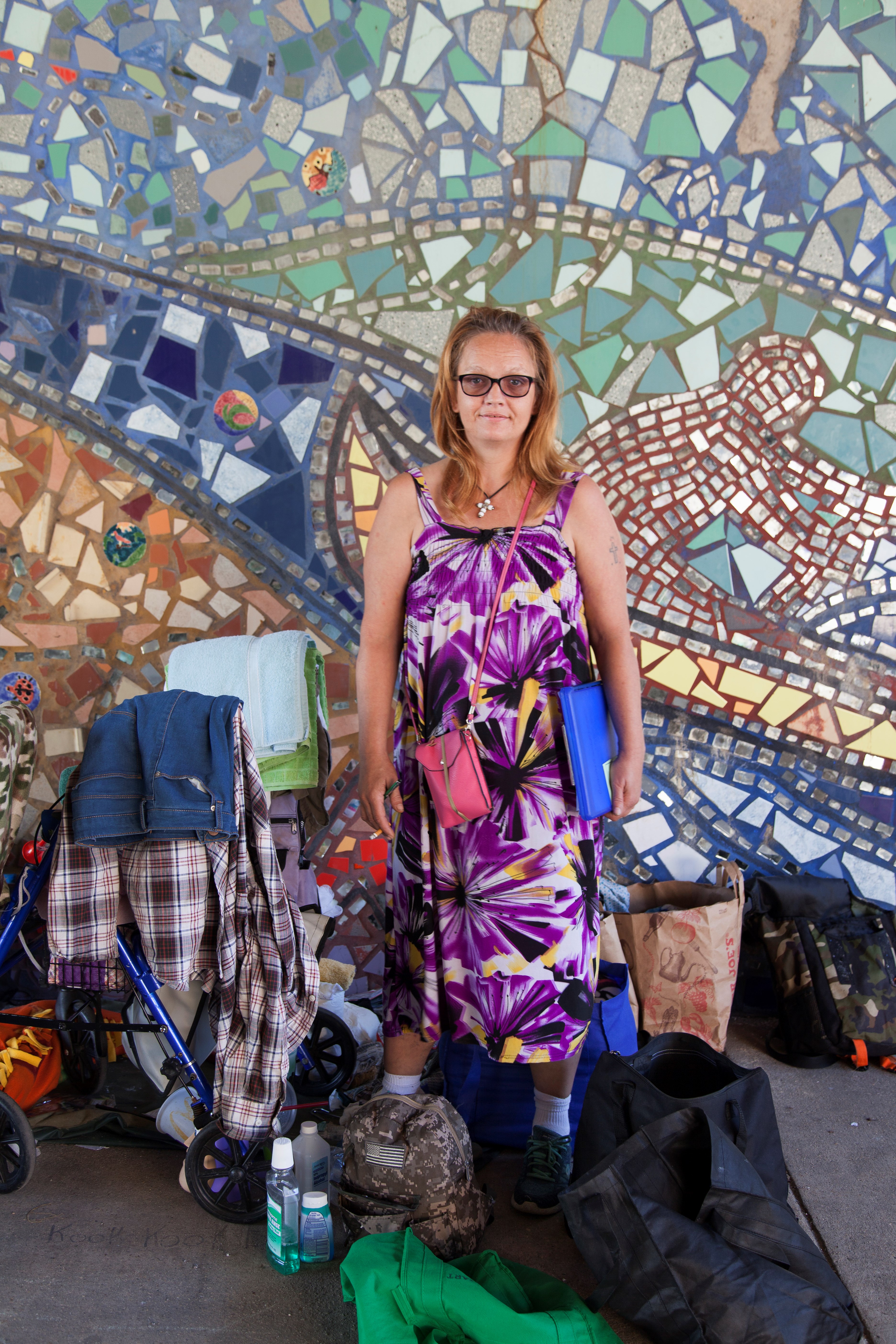 Maureen Jo Mayer, 49, said she has been homeless for seven years since she sustained a traumatic brain injury in a CTA train crash, was hospitalized and lost her apartment because she was unable to keep up with the rent. She still suffers seizures. Here, she is using the mirrors in the viaduct mural to put on her makeup before going to work: she stands at the intersection of the viaduct and Lake Shore Drive in the early afternoon, so that regular customers who pull off the Drive can put money in her cup.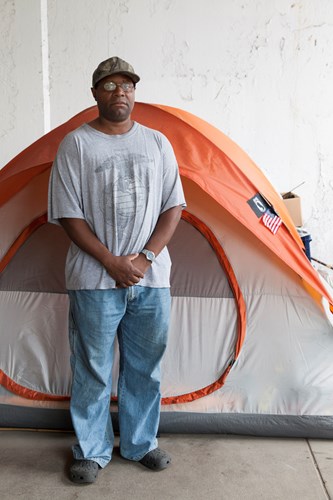 Introduced at a Tent City press conference as "the Mayor of Lawrence viaduct," Charles Holder said that, "we have a meanass winter coming. We are not begging anybody…We know the law and we obey the law. If you go to any of our bridges, you see the bridges are clean and kept up and the people are polite to people going to the beaches. Right now we are trying to cope and exist just like everyone else."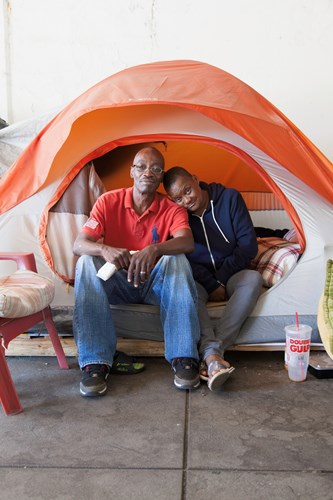 Loydell Roberson, 62, and Caroline Phillips, 54, have been together 20 years and are now married. He has lung cancer, high blood pressure and asthma and she has bone cancer. Although they both have medical benefits, she says doctors are waiting to treat her until she has stable housing. Both also have disability income but have been unable to get an apartment, which Roberson says is because of a felony conviction he had in 1974. Roberson is a house painter, and "I don't mind working to get what I need."
Suzette Bross is a photographer living and working in Chicago. Her work is in the Art Institute of Chicago, the National Gallery of Art in DC and the Museum of Contemporary Photography among others.