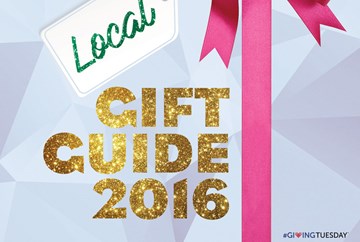 By: Carrie Bensfield
December 5, 2016
FOR THE FOODIE
TERRY'S TOFFEE offers toffees ($6.99 - $10.99/1/4 lb.), biscotti ($11.99/3-pack), ice cream, and wackerpop—fresh popcorn covered in classic toffee and drizzled with dark chocolate ($19.99/tin). Terry's Toffee is based in Chicago and sold worldwide. It has been a special treat at the Academy Awards since 2005. Toffee flavors include McCall's Classic, McCall's Dark, Lemon Paradise, Cran-Orange Passion, Chai-cago Spice, Peppermint Pistachio Crunch, Mazel Toffee, Koffee Toffee, and more, plus no sugar added options. To purchase, visit the store at 1117 W. Grand Ave. or online at terrystoffee.com
THE BLEU OLIVE is based in Wheaton and offers flavored olive oil such as basil, blood orange, natural butter, garlic mushroom, garlic & basil, garlic, habanero, Mediterranean herb & spice, Persian lime, roasted chili, and more. It also offers unflavored balsamic vinegar, flavored dark and white balsamic vinegars, toasted sesame oil, and gourmet mustards ($6.95/6-ounce jar).  Oils and vinegars are $8.95/100ml, $14.95/250ml, $19.95/500ml. There are also two- and four-bottle crates available ($17.95 and $31.95). To purchase, visit the store at 139 Hale St, Wheaton or online at thebleuolive.com
METRIC COFFEE was founded in Chicago in 2013 by Darko Arandjelovic (owner of Caffe Streets) and Xavier Alexander (former Roasting Manager at Intelligentsia). Their coffees are roasted on a self-restored '61 Probat UG 15, which produces well balanced, sweet, and clean coffees. Prices range from $14-$18. Their recently-opened site at 2021 W. Fulton St. serves as a café as well as a training center. For more information, visit metriccoffee.com
DOUGH DOUGH BIRD BAKING COMPANY is a Chicago-based company that began with the mission to offer gingerbread cookies all year. Products include 2-pack gingerbread men ($3.75), gingerbread cookies 6-pack drops ($4), and new Suzy Snowflakes ($17.50). To purchase, visit 2409 N. Western Ave. or online at doughdoughbirdbc.com
FOR THE HOME DESIGNER
LOCAL GOODS CHICAGO has locally made gifts and food from over 100 artisans across Chicago.  Best seller coasters are handmade with photographs from Chicago's Reformado Photography. Each coaster is made of 4"x4" bottocino tumbled marble tile and is an original with its own distinct look. The top of the coaster is sealed and waterproofed by hand. The back is covered with cork and hand-signed by the artist. Image choices include Chicago Flag, Marshall Field's clock, Elevated "L" Train, Rogers Park neighborhood sign, Edgebrook neighborhood mural, and Sauganash neighborhood mural. $18. The shop also features art, clothing, jewelry, and stationery. To purchase, visit its location at 5422 W. Devon Ave. or online at localgoodschicago.com
ARTS & ARTISANS has works from over 400 craftspeople and 50 jewelry designers from across North America, giving special consideration to those from Illinois / greater Chicago. Items include art glass, ceramic and metal tabletop pieces, figurative and abstract sculpture and wall art, kaleidoscopes, wood creations and jewelry boxes, and men's and women's wearables. Home items include tabletop art such as glass flower bouquets ($27) and woodland salt and pepper shakers ($49) and wall art such as kinetic leaves ($99-$379) and two tone clocks ($99-$239). For more information and to purchase, visit artsartisans.com 
LILLSTREET GALLERY offers ceramics from over 80 artists. Items include baskets, bottles ($72+), bowls, boxes, creamers, cups, dishes ($15+), figures, flasks, jars, mugs, pitchers, plates, scoops, sets, shakers ($43+), teapots, trays, tumblers, vases ($38+). The Gallery also offers jewelry from over 30 artists, books, prints and paper goods, toys, beauty products, furniture, textiles and knitted goods, and more. To purchase, visit its location at 4401 N. Ravenswood Ave. or online at lillstreetgallery.com
LUCIUSART is a graphic designer from Chicago who works with old extures, vintage design elements, old photographs, and animals in his artwork. He offers handmade woodblock art prints that are mounted, sealed, and stained. Options include customized city and state hearts or city map woodblock art prints ($39+), inspirational quotes woodblock art prints ($18-$49), and unique digital illustration wood block art prints ($18-$39). To purchase, visit etsy.com/shop/LuciusArt
NORMAN LEIGH DESIGN was founded by Chicago-based couple, George Norman Schaefer and Leigh-Anne Riebold. Their focus is building and designing furniture, home décor, and accessories using reclaimed materials when possible. Most of their material is found by scouring dumpsters and alleys around Chicago. Items include reclaimed wood triangle mirror ($135), hexagon serving tray ($92), wood plant hanger ($22), wood vases ($36), cutting board ($48), reclaimed wood triangle shelf ($36), and geometric air planter ($36). They also offer custom designs for furniture such as dining tables, benches, coffee tables, sofa tables, entertainment centers, room dividers, mirrors, and more. For more information, visit normanleigh.com
FOR THE BEAUTY EXPERT
SALUBRIA uses organic plants, herbs, and materials for their skin and hair products. The products possess properties that are nutritive to the body in order to repair and reverse the damage caused to skin and hair over time. Products include spa bath cubes ($6.25), hair and body oil ($42), deodorant ($10), beard-e oil ($14.50), handmade soap (3.25), and more. For more information and to purchase these products, visit salubriacare.com
LAZ COSMETICS is a home based company specializing in all natural bath and body products. All of their products are handmade and safe for all skin types, and can even be safely used on babies. Products include lip balm ($3), face washes ($6), after shave ($6), bug off spray ($5), sugar scrub ($8), and more. To purchase, visit Andersonville Galleria (5247 N. Clark St.) or squareup.com/store/laz-cosmetics.
BONNIE is a Chicago-based cosmetics company that uses natural compounds. Body balm candles ($14-$25) use pure soy wax blended with shea and cocoa butters. The candle melts into a warm liquid that can be used to deeply moisturize dry skin or for a massage. Facial products include masks ($16-$28), cleansers ($30), moisturizers ($20), serums ($18-$36), and more. Other products include tinted and untinted lip balm ($5), lip gloss ($8), body scrub ($26), perfume ($35), and more. To purchase online or for a list of local stores that carry Bonnie products, visit: bonnielipbalm.com
TAYLOR STREET SOAP CO. products are crafted by hand in Chicago's Little Italy neighborhood. The soap is made from scratch with ingredients such as olive oil, coconut oil, avocado oil, shea butter, and cocoa butter. Items include soap bars ($7) in various scents such as almond oatmeal stout beer, blackberry sage, lavender forest, and passion fruit rose; body crème lotion ($12); sugar scrubs ($15); linen spray ($12); lip butter ($4); lotion stick ($8); spa salts ($15); and whipped soap ($10). Products can be found in shops such as Local Goods Chicago (5354 W. Devon. Ave.) and online. For more information, visit: taylorstreetsoap.com
FOR THE FASHIONISTA
GREEN ON A STRING uses leather from second-hand materials, burlap from coffee bean transport, men's suiting, and sail material. Their mission is to create products that are fashionable, functional, and friendly to the Planet. Along with using upcycled materials, they reduce scrap waste, use 100% biodegradable paper, and also offer earth-friendly shipping options. All products are handmade in the greater Chicago area. Items include men's toiletry bag ($55), men's dopp kit ($85), makeup organizer ($25), sunglass case ($12), fold-over clutch ($50), business card holder ($14.95), and customized options. For more information and to purchase, visit etsy.com/shop/greenonastring
LISA SLODKI DESIGN is a Chicago based jewelry designer who received her BFA in metals/jewelry design. Wirework is at the heart of her designs, with 14K gold-filled and sterling silver options. Her products include necklaces and earrings, designed with geometric shapes. Some of her options include trapeze earrings ($98), skyscraper earrings ($140), peplum necklace ($160), and items with stones such as amethyst and onyx. For more information and to purchase, visit lisaslodkidesign.com
MILK HANDMADE is a women's clothing boutique that specializes in small-run, handcrafted goods. Clutches ($85), satchels ($240), headbands ($28), belts ($54), mittens ($48+), and scarves ($68) plus earrings ($20+), bracelets ($36+), and necklaces are some of the items available in the shop. Tops ($28+), dresses ($58), bottoms, and bath and beauty products are also available. To purchase, visit its location at 5137 N. Clark St. or online at: mkt.com/milkhandmade
WULFKA designs feature simple, clean silhouettes with fabric chosen primarily by touch. All garments are made in their Logan Square studio. Items include cropped sweater tank ($45), pleated skirt ($60), cutout dress ($110), and cowl dress ($90). For a full list of products and to purchase, visit wulfka.com
LOOM provides refugee women living in Chicago the opportunity to collaborate, develop new skills, and earn extra income at their weekly workshop. Loom artisans collaborate with local designers to create handmade products such as jewelry, bags, and home décor. Artisans use techniques inspired by their cultural traditions such as indigo dye, crocheting, knitting, sewing, embroidery, and weaving. Products include crochet earrings ($20-$25), pillows ($28-$46), and silk scarves ($36). To learn more and to purchase, visit loomchicago.com
FOR THE KIDS
LITTLE UNIMPRESSED is a Chicago-based clothing company for babies and toddlers. Vintage finds, tees, onesies, prints ($8-$15), totes ($14), rolling eye yo-yo ($8), memory cards ($25), and more. For more information and to purchase, visit littleunimpressed.bigcartel.com
TREE HOPPER TOYS is a family owned toy company based just outside of Chicago. The company combines old-fashioned quality with contemporary design to create modern, heirloom products. Some of the products include an alphabet magnet set ($28), a drafting set ($20), match stacks ($20), tangram puzzles ($15), and 3D puzzles ($30). Visit treehoppertoys.com to purchase online or for a list of local shops that carry the products.
LILLA BARN offers clothes and accessories with an urban edge. Every garment is 100% handmade or hand-printed in the USA. Products include dresses ($45-$65), ninja pants ($25-$29), unisex leggings ($25), headbands ($12), hand-dyed tea towels ($15), fabric memory game ($35), and felt food ($15-$25). For more information and to purchase, visit lillabarn.com
FOR THE REST
HERITAGE not only offers completely Chicago-made bikes, but also accessories such as bike racks ($35+), bags ($39.99+), ponchos, T-shirts ($20+), helmets ($85+), and jewelry. Additionally, the shop sells coffee, to enjoy there or at home. There are three locations: 2959 N. Lincoln Ave., 1325 W. Wilson Ave., and 1020 W. Lawrence Ave. You can also purchase products online at heritagebicycles.com
ORANGE BEAUTIFUL offers greeting cards ($4), art prints ($12), jewelry, apparel & accessories, candles, bath & body, home goods & décor, and more. The design studio offers invitations, announcements, stationary, logo/branding, storefronts, business cards, design consultations, and more. The studio & shop is located at 4658 N. Damen Ave. For more information and purchases, please visit: orangebeautiful.com
FOUR STAR CREATIONS is a youth-run business. The images used were produced by high school students in the Visionaries Program at Erie Neighborhood House. The program is a multi-media apprenticeship in which teens learn elements of photography, videography, design, and journalism. After supply costs, all profits go back into supporting the program. Products include posters ($3-$20), postcards ($3), greeting cards ($10), and wrapping paper ($7). To purchase, visit fourstarcreations.etsy.com
NEIGHBORLY seeks to support independent artists and makers. It works with suppliers that make their products themselves or have a direct relationship with their manufacturers, who are using eco-friendly materials, and who are transparent about their processes. All the products at Neighborly are inspired by the Mid-century Modern era, for living, working, entertaining, playing, and decorating. They are located at 2003 W. Montrose Ave. For more information or to purchase online, visit neighborlyshop.com