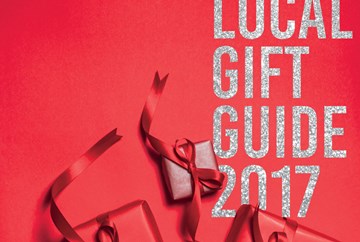 By: Suzanne Hanney
December 4, 2017
Pintl + Keyt seeks to change the socioeconomic and environmental effects of fast fashion by producing it in the most sustainable and responsible manner, using organic materials and paying the Indian workers who produce them a livable wage. Pintl means "a point" and keyt loosely translates to "connection" in Yiddish, the first language of founder sisters Shifra and Leah Whiteman, who now collaborate with Katie Cappuis. You can also find their work among the 30+ locally-owned, ethical vendors at the Chicago Fair Trade Pop-up Shop through December 23. www.pintlandkeyt.com
There's no mistaking the message coming from Vichcraft.com, where T-shirts proclaim "Feminist," "Girls to the Front" or even "Forget that you're a lady and give 'em what they deserve" ($28). Founder/designer Jenna Blazevich has a background in textiles and pattern-making that informs her approach as a graphic artist and feminist artist who seeks to build a collection of activist-driven products. Also carried at Foursided, Inkling and Neighborly. www.vichcraft.com
6Clothing.com began with a group of brothers, boyhood friends and college roommates who have known each other for half their lives. As they lived the young adult metro lifestyle in Chicago, they decided there had to be something more. They formed 6Clothing to unleash their creativity and because they believe fashion and style are extensions of one's character. Proceeds from every purchase of 6Clothing go to Artists for Harmony (AFH), which they formed to help people with physical and mental disabilities, children and families in health crises, and local art programs. This T-shirt could be worn by any teddy bear of a Chicago guy, even if he looks like a certain pro football coach…($25 in short sleeve,  $30 long) www.6clothing.com
Greyboy is gender-neutral clothing that blurs the lines on what's "normal" for boys so that both genders can enjoy one product – although there is a bit of nostalgia added in at times. It's a brand especially for city children, drawn, printed and sewn by hand in the founder's Chicago apartment. "El" Train reversible cotton/poly infinity scarf slips easily over head: $18; also available as Train Tee or Onesie, $28 www.greyboyshop.com
Limbagal.com is the creation of Jeneba Koroma, a first generation American from the Limba tribe of Sierra Leone, West Africa who uses traditional metalsmithing techniques along with gemstones to bring her original designs to life. "I strive to make pieces that people can connect with and use to tell their own unique stories," she says. For men, a 2-inch by 1-inch money clip keeps cards and currency together and can be customized with stones ($48). www.limbagal.com Also at The Silver Room.
Lilla Barn means "little child" in Swedish and the mother-daughter team (Anne, Bergen and Liv) use their Nordic background to inspire each item, handmade in the U.S. Anne, the mama (and super grandma) loves to add quirky details and bold colors so that each piece has functionality and personality. Liv, a graphic designer by day, designs and hand-prints all the T-shirts, sweatshirts and onesies. Bergen, the founder legal/marketing guru, designs and constructs many of the clothes, inspired by her daughter (and Lilla's first model) Johanna. Infant and toddler ninja pants inspired by their trip to Japan, with plenty of room for a cloth diaper: $32 www.lillabarn.com
LeCoeur Watches are inspired by the world and designed in Chicago. Their minimalist, European designs and quality components are intended to be worn at all times, because after all, the way in which we spend our time is a powerful thing.  In addition, when you check out, you select the charity where LeCoeur will make a donation in your name. Current charities include the Southern Law Poverty Center, which is dedicated to fighting hate and bigotry and seeking justice for the most vulnerable members of our society; Trees for the Future and their work in East and West Africa; Surge for Water, which provides safe water and sanitation for 400,000 people in 11 nations; and Americans for Immigrant Justice. The Chicago watch: "humble but strong, understated yet striking, grounded while hopeful." (from $245) lecoeurwatches.com
Giveashi*t has teamed with StreetWise and local artists to make hand-screened designer tshirts. 100% of every T-shirt sold will go to StreetWise and StreetWise vendors.
Pop Up Shop News!!!  Come see us with over 20 new designs and lots of other screenprinted goods December 7 at the Michigan Avenue Bridgehouse on west side of Michigan Avenue just north of Wacker. All of this year's new products, including a shirt designed by Jeff Tweedy of Wilco are available at www.giveashirt.net now!
GiveaShirt is a venture of Daily Planet Ltd., a
Chicago based full-service video production company that creates and edits videos, animations and motion graphics for broadcast and web. Please contact the Daily Planet at
www.dailyplanetltd.com.
Circa Ceramics has what they call a "neat little studio space" in The Window Space in Ravenswood Industrial Corridor, where they've been working since 2001. They create useful items such as bowls and cups, with iconic Chicago emblems and others.  They exhibit at select fairs, small boutiques and larger department stores. 12-oz Chicago flag mug is porcelain clay both underglazed and overglazed, made to order; food, dishwasher and microwave safe. It's $35 and ships three weeks from purchase at www.circaceramics.com. Other Chicago flag items at Local Chicago.
Steve Connell says "there's something about nighttime in the jungle of the urban landscape that reaches into the primitive part of the brain." The senses are more acute and the darkness saturates colors. Connell painted for years using traditional acrylics and oils. Now he starts with a photo, creates a sketch from it and then "fingerpaints" the landscape on his iPad – adding or subtracting elements -- just as he did with traditional media. 8x10 print on paper $25 up to 30x40 giclee canvas, $350 at www.steveconnell.com
Chicago Lighthouse employees can assemble a wall clock in about 90 seconds – even though 85 percent of them are legally blind, and work by touch and memory. Founded in Chicago in 1906, the Chicago Lighthouse provides vision rehabilitation services, education, employment opportunities and assistive technology for people of all ages. The federal government has bought 90,000 Chicago Lighthouse clocks annually for the last 40 years. Battery-powered, 14-inch quartz movement clock in classic design with UV-protected lens and dial to prevent yellowing. $29.99 at Target stores and target.com
Rebecca Mir Grady makes contemporary fine jewelry by hand with reclaimed metals and ethically sourced stones. Four 1mm white diamonds flush-set into this 4mm  14K yellow gold band. Also available in 14K rose and white gold, with brushed finish ($600). www.rebeccamirgrady.com
Starting in Chicago with just 100 stickers in 2002, "You are Beautiful" has been shared more than three million times, on every continent – including Antarctica. There are block-long murals, photo installations, exhibitions at cultural institutions involving thousands of artists, public art ranging from the Oakwood exit off Lake Shore Drive and the fence of the former Stewart School in Uptown to Reed College in Portland, OR; Temple University in Philadelphia, and streets in Brooklyn and Los Angeles. Cursive wall hanging made of birch plywood, laser cut in Chicago (1-foot wide, $15, 2-foot wide, $25). you-are-beautiful.com
Joe Mills has designed the Bank of America Chicago Marathon poster, this season's Choose Chicago (convention bureau) holiday map and neighborhood maps of each of Chicago's 77 community areas, meticulously researched as to landmarks, icons, historical districts. He admits to "a mild obsession to find as many unique and creative ways to illustrate the City of Chicago" and he loves calligrams: a word in which the layout of the letters creates a visual image related to the meaning of the words themselves. 1-color screen print 18x24 Edgewater map $35 at www.joemills.com; other items at Local Chicago.
Redbud Jewelry eschews mass-produced jewelry and the "throwaway" culture in general. Inspired by nature and influenced by modern design, the artist designs, fabricates and hand finishes each piece in their Chicago studio. Small eclipse half moon ring in Nu Gold brass set with 6mm bezel-set stone ($60) Available online and at Sacred Art, The Silver Room, and more. redbudjewelry.com
Tytin Jewelry in Lincoln Square provides an intimate studio for jewelers to create and showcase independent designs, as well as a curated selection of jewelry-making tools and jewelry-making classes. It's a supportive environment that welcomes all levels of jewelry lovers. 4825 N. Western Ave., Unit A; Phone 872.208.6416; www.tytinjewelry.com
Whatever your passion – Spam Musubi, deep dish or thin crust pizza, pancakes, the Chicago flag, skateboarding – Reppinpins.com has it spelled out for you. Pins aren't just for a Boy Scout's sash. Decked out on your jacket, hat or bag, they tell the world who you are. reppinpins.com ($10).
Cindy Kaiser received her bachelor's degree in creative jewelry and metal design in South Africa, then studied at FIDM in Los Angeles and apprenticed for Michael Schmidt, where she assisted on the design and manufacture of celebrity costumes for Rhianna, Madonna, the Black Eyed Peas, Kelley Rowland and more. Now located in Chicago, she travels to Africa and Europe, where she grew up, she donates a percentage of her profits to charity. Her jewelry captures shooting stars or in this case, a Parisian sunset: opals in 18K gold vermeil surrounded by simulated diamonds ($72). Find her work at www.lakaiser.com or at her Jewelers Row showroom: 5 S. Wabash, #704B. Chicago.
Lindsay Lewis took her first metalsmithing class in 2004 and in 2013 graduated from the School of the Art Institute of Chicago, where she focused on lite metals, sculpture and designed objects. While in school, she worked for jewelers and artists, which helped her realize her goal of owning her own business. She works in a West Town studio and is inspired by Chicago architecture, fine art, and art history. Her work is as capricious as sterling silver squiggle earrings ($40) and as disciplined as a limited edition gold plate and black spinel ring ($110) www.lindsay-lewis.com and at Foursided Broadway and more.
Soothsayer Hot Sauce won't put your masculinity on the Scoville chili heat scale because these small batch-makers focus on "taste over punishment:" flavors that assist foods rather than destroy palates. Their three full-time sauces include "Omen," a jalapeno garlic sauce based on a traditional salsa verde; "Perdition," an orange habanero with carrots and bell peppers; and "Harbinger," a roasted red pepper and manzano blend with a lingering back burn, all $8. As part of their commitment to independent ventures and art, they create limited run hot sauces for punk bands in Chicago and nationally: Direct Hit!, Less Than Jake, World's Scariest Police Chases, Typesetter, Nervous Passenger. www.soothsayerhotsauce.com
Terry's Toffee began in 2002, after Terry had been journaling for The Artist's Way course and felt an urge to make his Grandmother McCall's toffee, having made it with his Aunt Jenne Louise a few years earlier. After offering it at the holidays, he and his partner Michael realized they were onto something. Branching off from "McCall's Classic," Terry added other tastes and cultures based on his travels: chai spices, French lavender, Madagascar vanilla, Australian ginger and crushed wasabi peas. The toffees have been served at the Academy Awards since 2005, the same year Terry and Michael opened their shop at 1117 W. Grand Ave. McCall's Classic: toffee blended with California slivered almonds, coated in milk chocolate and dusted with Georgia pecans, 1/4-pound $8.99, ½-pound $15.99. www.terrystoffee.com
Aged & Infused was born out of Chicago-based Jessie and John's love for a damn good drink. It began with Jessie's desire to give John a holiday gift with a personal touch. Since they both loved bourbon and whiskey, she experimented and gave him her favorite combo. The Chicago duo made testing a regular pastime. Bacon was not as good as it sounds, nor were chilies. Better results were "Wake Up Call," rich espresso beans and sweet vanilla; "Navel Gazer," dehydrated oranges, fresh cinnamon and clove; "Island Time," dehydrated pineapples, fresh cinnamon and cayenne pepper; $24.99 each in a 16-ounce glass jar for infusing, with easy-to-pour spout and custom cocktail recipe. www.agedandinfused.com
Katherine Anne Confections launched in Chicago in 2006 using Jersey cow cream from local farmers, Midwest fruits, honey and organic agave nectar in place of corn syrup and seasonal ingredients. It's a throwback to when the founder used cream from the cows on her family's Wisconsin farm to make highly anticipated caramels and truffles each season. Choose classic truffles in Lemon Poppyseed and Toasted Coconut Rum, caramels in Rosemary Sea Salt and Chocolate Walnut. Available online, in select stores, farmers' markets, and her Logan Square café/confiserie at 2745 W. Armitage. Delivery via Cut Cats Courier to nearby Wicker Park and Lakeview. Manhattan Cocktail Truffle: tart cherries from Michigan, FEW bourbon distilled in Evanston, a touch of bitters mixed with bittersweet chocolate, 7 pieces for $21. www.katherine-anne.com
Jess Snively is the owner of Milton and Margie's Soy Wax Candles, which is named after her cats. Snively supports American farmers with her soy wax purchases and she individually curates her containers -- everything from tin cans to vintage mugs to retro glasses – which means that many of her items are one-of-a-kind and 100% handmade. Her scents (Cedar Campfire, Great Lakes, Holiday, Tall Grass) are inspired by growing up in Minnesota: keeping warm by crackling fires and by baking sweets; but also by running next to Lake Michigan and wildflowers that smell just like the Michigan woods. Caramel Apple Soy Candle in Reused 15-oz can, $22. Some items at Local Goods Chicago, Sacred Art and more. www.miltonandmargies.com
Inspired by the Northwoods of Wisconsin, Gerri Brunner created Nicolet Candle Company in 2007. Ecologically conscious for as long as she can remember, Brunner uses non-GMO soybean oil to support American farmers and because soy is biodegradable and a renewable resource. It also burns cleaner and longer than paraffin wax, she says. Her scents range from the strong: Balsam & Cedar, Forest Pine, Hazelnut Coffee, Gardenia; to subtle: Heather, Lavender Basil, Lilac and more. Small 6.5-oz candles in 100% recycled glass burn 40 hours, $24. Some items also at Alapash Home, Local Goods Chicago, The Silver Room and more. nicoletcandlecompany.com
All LaFamilia Green's products begin as an original drawing, print, or collage in Mollie Green's studio in the Greenleaf Art Center on the far North Side of Chicago.  While cards and prints are done by Catprint in Rochester, NY, buttons and magnets are produced by Busy Beaver in Chicago and wrapping paper by CrossTech. School of the Art Institute grad Mollie runs an eco-friendly company that donates a portion of each sale to Chicago-area animal charities. Chicago Boot holiday card flat printed on FSC certified paper from original with recycled kraft envelope, available as single for $4, 8-pack for  $15. Some items also at Foursided (Broadway and Andersonville) and more. www.lafamiliagreen.com
HelloPaper.Co creates hand-made, environmentally friendly paper products without a stuffy attitude. Its greeting cards, stationery, wedding invitations are printed via letterpress technique on 100% pure cotton paper so that it is tree-free and biodegradable. Hoppy Holidays card 5.5 x 4.5 inches with kraft envelope, $5 ready to ship in 5-7 business days. Available on www.hellopaper.co, Etsy.com or jill@hellopaper.co
You know you're beautiful, just like the iconic Chicago graphic featured elsewhere in this Gift Guide, so why not let your dog or cat strut too, with a collar or leash from Six Point Pet. If you prefer other Windy City-specific graphics, choose the City's flag or hot dogs. Or maybe you have a "Fetch Wizard" or "Ninja Dog." The six artists whose designs are compressed into pet collars have a variety of commercial art – Disney, Nintendo, Mail Chimp, Houghton Mifflin, Revolution Brewing -- to their credit, all the way up to huge Chicago murals and work at O'Hare Field. From $16 at www.sixpointpet.com and Local Chicago.
4 PAWS Portraits offers custom painting of up to three pets from photographs you provide. Backgrounds can be individualized from other photos. Digitally rendered portraits are $89, handpainted $105 and proofs are provided before shipping to ensure satisfaction. Ten percent of proceeds go to a no-kill shelter or rescue of your choice. Gift cards are solely available after November 1 to ensure timeliness and surprise. www.4pawsportraits.com