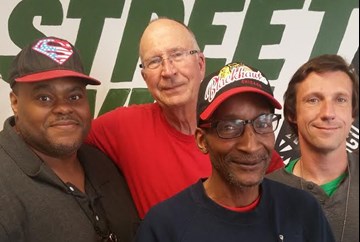 By: Staff
April 2, 2018
Donald: I am most interested in Villanova for the tournament. They have six players averaging double digits. They are a solid rebounding team too. Their offense relies on ball movement and they have a great assist-to-turnover ratio.  They are gonna block shots and discombobulate the other team. They have a lot of guys on their bench who are just as talented as their starters. There's no other team out there with the same kind of heat. But Loyola looks like they might upset some teams. On March 13, I said they could easily beat Miami in the first round and they did March 15. It's gonna be a great tournament!
Russell: I'm gonna start by saying that I think it's gonna be an exciting tournament with a lot of upsets. Every year there is some team that becomes a Cinderella. I don't know who it's gonna be, but hopefully it'll be Loyola. I have Villanova winning the East region. There aren't a lot of teams I see challenging them. In the Midwest it's pretty interesting: Kansas and Duke; I was going to pick Michigan State until they lost to Syracuse March 18.

In the South, there was Virginia, Kentucky and Texas. But Virginia lost to University of Maryland Baltimore County and Texas to Nevada, both on March 16.
In the West, you had Gonzaga, Michigan and North Carolina. At first, I was going to pick Michigan since I like the way they play, but they're in the same bracket as North Carolina and Gonzaga. Texas A&M beat North Carolina and played Michigan in the Sweet 16 March 22. My Final Four was Gonzaga, Virginia, Villanova and Michigan State but now I have to pick Gonzaga.
John: I've been studying and studying the brackets. This year makes me scratch my head. There's a lot of upsets this year. I thought Virginia had just enough offense this year to make it to the Final Four. The matchup I wanted to see in the Sweet 16 was Loyola vs. Cincinnati. Loyola beat Cincinnati for the championship in 1963, so it would be a fun rematch. I see the West being the wackiest region. I predicted Houston would make it out of this region and on to the Final Four but they were beaten by Michigan March 17. In the Midwest, I thought Kansas would go back to their old habit and get bounced out early but they made the Sweet 16.

Syracuse is gonna shock the world and come out of this region, even though I can't stand them. I thought they'd beat Purdue and advance to the Final, where they would play Virginia. But Virginia's out and Purdue beat Butler to make the Sweet 16.
Donald: I think Villanova is going to win it all, but there are so many interesting teams this year. Loyola is a total wild card this tournament. I saw them surprising the living daylights out of some team. Sure enough: Miami and then Tennessee by one point to make the Sweet 16.

Russell: My dark horses are Loyola and Michigan. I'm really rooting for Loyola to go as far as they can.

John: It would be nice to see DePaul make the tournament. They have this nice new stadium. What are they doing? They need to go back to the days of Mark Aguirre. They have to do something to generate a buzz. They need to start stepping up to the plate. But Virginia is out and Purdue beat Butler to make the Sweet 16.