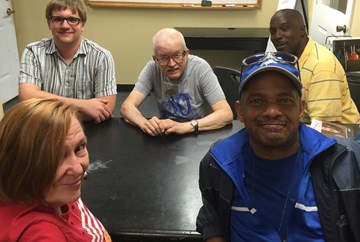 By: Vendors
January 5, 2017
A.Allen
If I were to highlight and give thanks for the positive things that happened for me in 2016, I would first talk about how I'm grateful for the network and people around me who all had a hand in helping me move from my SRO to the one- bedroom apartment I am now settling into. Moving from homelessness, to living on the streets, moving to cars then garages to abandoned buildings, to an SRO and now a one bedroom apartment has been a rocky road. It was not easy but I'm so grateful I survived, unlike some of my friends Charlie Brown and Marshall, who were found on the streets of Chicago frozen to death.
Secondly, I'm also grateful to have lived in Chicago to witness all of its major teams' championships. I was in Chicago when the Bears won the Super Bowl in 1986, when the Sox won the World Series in 2005, when the Blackhawks won the Stanley Cup in 2010, 2013 and 2015. I remember clearly when Michael Jordan led the Bulls into the 3-peat in 1991-1993 and their NBA Championship in 1996-1998. The Cubs put the icing on the cake this year with their 7th game winning of the World Series. As for me, my "7th game, 10th inning winning" came when I finally graduated from an SRO to a one-bedroom apartment. I am so grateful for 2016, its many ups and downs, ins and outs and all the turn-abouts!
James Metzgar
2016 has been a momentous year.  The first thing I will write about is the World Series. I am not a baseball fan but I like baseball better than any of the other major team sports and I'm glad to see any Chicago team win. After recent years in which the Cubs have come close but not won the pennant, I am glad to see them make a comeback. It is amazing that after falling behind both in the playoffs and in the series this year that the Cubs came back to win in seven games.
The national election was much on my mind and like most people, I was upset that both parties put up seriously flawed candidates. I voted third party instead of either of the major party candidates. However, because I am a Republican I am more pleased the election went the other way since the Republican party will be holding the White House, both houses of congress and the majority of governorships and state houses in the United States. I hope this year will lead a reform of our presidential election system, which is obviously broken.
In my own personal life I will mention that my mother passed away after having suffered a stroke at the age of 94. While one is always sorry to see one's loved ones go, I realize that she had a long and fruitful life and she had said that she was anxious for the Lord to call her. I consider myself lucky to still have had a mother until the age of 71. I also still had a father until the age of 59; my father was 89 at the time of his passing. I have to consider myself very blessed to have parents living later in life.
Steven Riggs
In 2016 I was released from Cook County Jail and I became a StreetWise vendor. I also became the only vendor that can accept Apple Pay and Android Pay through the Square. I thank God that I am finally free and that I have found a job with a Godly purpose.
StreetWise to me is not just a job but it is a mission to provide food, clothes, shelter and a legal way to earn an income for the unemployed poor and the homeless. StreetWise and its vendors are part of the 10,000 vendors who make up the 112 International Network of Street Papers around the world who have the same or similar mission as StreetWise. Recently, I submitted an article to the INSP website that will be available to read at www.insp.ngo.
Last but not least, I thank God in 2016 for finally allowing me to be a part of the solution and not the problem. Thank you, God. Thank you, StreetWise staff. Thank you, Roscoe Village and North Center customers for helping me with my Godly mission to feed, clothe, shelter and provide a legal way to earn an income for the poor, homeless and unemployed.
Dorian Williams
2016 was a good year for me because I entered the StreetWise program in the middle of September. I first had an orientation and interview with the program director. I started right away as a trainee with only a temporary badge. At first I didn't know anything about selling myself as a vendor should. I've experienced many trials and errors to get where I am at now and I'm still learning to this day!
StreetWise has taught me that it's more than just selling magazines. It's also selling myself and interacting with other people. If it weren't for StreetWise, I wouldn't have the help I have now.
I also got a new job outside of StreetWise this year. With this extra income, I can save some money for a new apartment and still have money left over to cover other expenses.  I got my Ventra card this year, which was a big deal. I can freely travel to work and back at will.
The things that have happened 2016 have given me hope for 2017. I hope to earn a decent living and to transition myself out of homelessness.