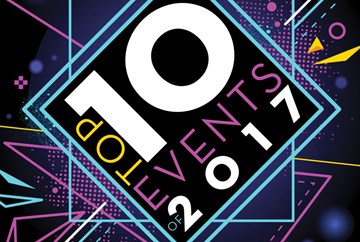 By: Staff
December 25, 2017
A. Allen
When I look back on 2017, I am grateful for all the anniversaries that I celebrated, and for all the people whom I celebrated with, including my sponsor, who helped me with my eight-year sobriety celebration. I am also grateful for my family who participate in celebrating each other at all family gatherings. We all enjoy laughing together, good food, jokes, and lots of fun with each other. Whether I'm with the Allen side or the Snow side of my family, we enjoy laughing, and having a great time. Our gatherings always are off the hook.
I'm also glad for our Executive Director, Julie Youngquist, who led StreetWise into its 25th year anniversary. She did an amazing job on the Gala and made it enjoyable for everyone: staff, vendors, sponsors, significant others, etc. The 25th Anniversary edition of the magazine was amazing. Thank you, Julie, for your great example of leadership.
I'm grateful for my church, St. Luke's, under the leadership of Bishop James Austin, who led us to our 75th anniversary. We really enjoyed the dinner, music and celebration at the Museum of Science and Industry.
2017 was a really good, healthy year. I had my appendix removed and the recovery has been great. I would also like to thank the Back On My Feet volunteers and staff for their support of us runners, keeping us moving. And I would also like to thank all of my 12 step friends who have been there through thick and thin. And last but not least, I want to thank all my wonderful StreetWise customers for being there for me, day after day, week after week, and hopefully year after year. I love you all, may God bless you today and always.
Lee Holmes
2017 was a very interesting year for me; I started selling StreetWise and house sitting. I have gained a lot of knowledge doing both. First, as a vendor, my customer service (soft skills) has improved. My writing skills and my sales abilities are getting better and better. Next, while house sitting, I have come into more knowledge about Chicago's property. There are a lot of vacant properties that I believe the organizations serving the homeless could be using to help the homeless people in this city.
I  started a partnership with the Center for Changing Lives, which helps people with employment training (i.e. administrative support and Comptia A+, which is an information technology certification). One goal of mine that I want to work toward in 2018, is to own my own house. Another goal for 2018 is to open a kiosk called the ATL (Agriculture, Technology and Leadership), which will fund and help open low-income housing. I am excited to see what 2018 has to offer. Merry Christmas and Happy New Year!
Steven Riggs
Taking a trip down 2017 Memory Lane... I did a lot of volunteer work this year for my church. I helped my church give away a hundred and something bikes during the summer. I helped my church give away 150 turkeys during the Thanksgiving season to families who are poor or who have a family member incarcerated in Cook County Jail. I also participated in a pop-up store downtown that was organized by a wonderful guy named Scott Marvel -- where custom-made T-shirts were made and 100% of the proceeds went towards StreetWise. I helped my church give away Christmas toys and cleaning supplies - at least 50 or more boxes of cleaning supplies and toys during the Christmas season. I gave away at least 1000 Our Daily Bread devotional booklets to none StreetWise vendors and StreetWise customers. Also, I sold my first one-year subscription service to a wonderful brother named Rich at my church. So looking back down on 2017 memory lane I can see God's purpose for my life at work and His provision.