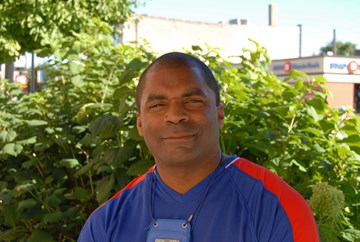 By: Carrie Bensfield
October 3, 2016
Louis Hale recounts the moment that changed the trajectory of his life. He was 19 years old and had been at a party dancing. Afterword, he was jumped and beaten beyond recognition. His jaw was broken and he had to spend six days in the hospital. An athlete throughout high school, Louis said he had always felt strong. But after being jumped, he felt weak. He thought he only had a few years to live. He decided to join the Navy, thinking if he was going to die, he could at least die a hero. He was in the Navy for two years. Then, Louis says he made some bad choices, being in and out of trouble, and eventually ending up homeless. When he was homeless, he would see people selling StreetWise and thought that he could do that and get out of his situation. Within four months of selling StreetWise, he was off the streets. He saved up money and was able to get a hotel and eventually an apartment. Louis has had a number of apartments saying, "I just kept improving. My life has changed for the better."
Seeking improvement is nothing new for Louis. Growing up on the South Side of Chicago, he would commute two hours each way to go to high school. Due to his involvement in sports, he would have 12-hour days at times.
That go-getter attitude is a quality very much evident in Louis today. After selling StreetWise at one location for eight years, Louis picked up another location about a year ago because sales had gone down. Depending on the weather, he works eight hour days, seven days a week.
Louis says he wants to break down the stereotype associated with StreetWise vendors. He says some people think that selling StreetWise means you're homeless, so they'll offer their leftover food. "It's like you're some bum or something. That's definitely not me…I paid my own rent, I paid for comedy school for a year at Second City. I am just as normal as everyone else."
The truth is, being a successful Streetwise vendor requires a number of different skills—salesmanship, interpersonal skills, and money management, just to name a few. Louis explained how important money management is for the job. Vendors buy the magazine for 90 cents each and then sell them for $2. This means that they need to budget and save in order to buy magazines each week. Louis says he has to put aside approximately $100 each week in order to buy the magazines he needs to sell.
StreetWise enabled Louis to get off the streets and has also taught him a number of lessons. "I've learned that there are a lot of good people and that kindness goes a long way. A smile is the best thing to have. Even if you don't feel like smiling, you should smile. It goes a long way."
When asked what his favorite aspect of the job is, Louis replied, "All the people I see and dogs that I know." He specifically mentioned the nursery nearby, explaining how he has developed a close relationship with them. "I've gotten to know them quite well, they actually helped me in the campaign—there were pictures posted of me with the kids. Their parents know me, I've seen some of them grow up and go to school."
Louis is not an aggressive seller and has found that being genuine in learning about people is key to success. "I've gotten to know people and their names and their families. People come and talk to me and confide in me every day." Louis also said that not giving up, being there every day and being happy help him succeed as a vendor.
Louis's determination to succeed was also evident in his campaign for this year's Vendor of the Year. "It's a lot of effort put into campaigning—cutting up cards I was passing out, flyers, and trying to convince people to vote for you." This effort did not go unnoticed. Louis caught the eye of the people at WCIU's You & Me This Morning. "[They] would see me every day with the flyers and posters for the campaign, trying to get votes, and they reached out to me. They saw that I was trying so hard."
Touched by his story, You & Me This Morning featured Louis on one of their shows. It was during this feature that Louis talked about another area of success in his life—his relationship with his girlfriend. The two met on a history group on Facebook and have been together for six months. Louis could not hide his affection and spoke of his plans to build a life together, both on the show and in our interview.
When he's not selling StreetWise, Louis helps take care of his mother, visits his friend of five years in a nursing home, and spends time with his girlfriend.
Louis looks forward to being honored at the Gala as the Vendor of the Year. "I would really like to thank everyone for spending their time to vote for me and also telling their friends to vote for me…taking pictures and posting them on Facebook, Instagram, Twitter and showing an interest in my life, asking me questions about the race. It is really something how people have reached out. One guy was telling his employees to vote for me. It's really overwhelming the response and support I got."
If you haven't met Louis before, you can find him either at Germania and Clark or the Whole Foods on North Halsted, across from the WCIU-TV Studios.