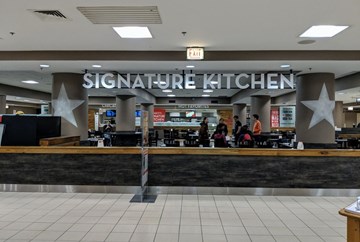 By: Alexandria Mahoney
August 6, 2018
These days, times are hard. Nearly everyone is chasing that extra dollar, regardless of age, occupation, or ZIP code. But, no matter what cuts we make to our budgets, a person still has to eat. Luckily, StreetWise vendor Steven Garron is here to help you save a couple bucks, especially if you're a downtown commuter.
Steven has been a vendor for over six years, and currently sells his magazines in the Pedway near Randolph and Wabash. He's posted on his spot every day, and while on his own commute, he spotted a deal. Steven discovered that the Macy's Food Court (111 N. State St., lower level), just feet from where he sells his magazines every day, offers a 50 percent off deal on all their food items after 4 p.m. Monday through Friday.
"Everything is half-off in the whole restaurant," Steven said. "The sushi bar, salad bar, sandwiches, and the soup bar are all included. And, Monday through Friday from 4 – 7 pm is Happy Hour at InField's Bar, which is real famous. Beers, chicken chili nachos, sidewinders, craft beer, and steel-cut potatoes are all $5. That's a deal!"
Enticed by price, Steven ordered one of his tried-and-true favorites: the Cobb salad. His bowl was piled high with lettuce, cheese, hard-boiled eggs, bacon, and ranch dressing. He placed his order to-go at 4 p.m., paid the $4.90 bill, got his salad, and started his two-hour commute home to Dolton, IL.
Even though Steven ordered his dinner to-go, he has had plenty of opportunities to notice the quality of service from the restaurant. "The service is real good because I know all the people on the cash registers," Steven said. "They treat you real nice, like the way they greet you when you come to the cash register. They have a nice greeting and a smile. They always smile. As a matter of fact, when you walk by, everybody in the store will speak to you," he said.
For patrons looking to settle in for a while, Steven suggests checking out the library that recently moved down to the basement floor where the sportswear used to be. As a StreetWise vendor, Steven considers it part of the job to have tips like these on hand.
"People ask me for recommendations on where to eat all the time," he explained. "That's what made me think of giving people flyers about the Macy's Happy Hour. I sell about 100 magazines a week, so all of my customers will know this now. Macy's Food Court doesn't publicize their half-price deals very much, just the happy hour and that you can order online. A lot of people don't know about the half-price deal, so I want to let the people know. It's important to me to save money where I can. I have some real generous customers, and this is one of the ways I can give back to people," he said.
If you're ever in a lunchtime pinch, stop by Steven's spot in the Pedway near Randolph and Wabash. He'll have recommendations, magazines, and an easy conversation ready for you.