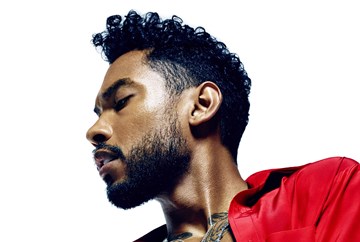 By: Suzanne Hanney
November 8, 2016
Stephan Jenkins never felt like part of his Palo Alto, CA community while he was growing up, because his family was evicted five times; he never knew if he was going to be able to stay.
Jenkins' father didn't make tenure as a professor at Stanford University and compensated by making and selling furniture. His mother was a recovering alcoholic. They split up.
"The uncertainty of my home life was a major distraction from my schoolwork, and the stress of not knowing if I'd have a place to live for the whole year made it difficult to focus," Jenkins wrote in The Huffington Post.
Jenkins, the lead singer for Third Eye Blind, recalled his youth after playing an acoustic set for a modern-day "rent party" for a precariously housed family in Baton Rouge, LA. The party was organized by the Make Room campaign to end the rental affordability crisis in the U.S.
Sponsored by Enterprise Community Partners with support from the MacArthur and Ford Foundations, Make Room seeks first to put faces on some of the 19 million low-income families who spend more than half their incomes on rent or mortgage. Among them are 11.4 million renter families.
In addition, Make Room has launched a first-of-its-kind digital advocacy platform (www.makeroomusa.org) so that individuals and organizations can phone, email or Tweet their members of Congress and senators a message of support for the Make Room campaign or tell their own story about precarious housing. It's an issue that political leaders have not taken as seriously as they should have this election season, says Angela Boyd, managing director of Make Room.
"With this fall campaign we want to start making sure that Congress is hearing that housing is a major problem they need to put on their agenda," Boyd said in a telephone interview with StreetWise.
"We see a lot of blank faces when we talk about housing so we are trying to take a step back," Boyd said of the Make Room website, which features seven stories about individuals or families across the U.S. who are struggling to make rent or to keep their homes. Telling their stories makes the issue real for policymakers and the public.
"There are 11.4 million families who are paying half their income just to keep a roof over their heads. Many are paying 60 percent, 70 percent, 75 percent just to stay housed," Boyd said. "There are seniors living on fixed income who suffer in silence, families who work two and three jobs to make ends meet. That's what they do. They work all the time. Housing has not been on the national agenda the way we feel it needs to be. We are giving that the political will for change."
In Baton Rouge, for example, Jenkins played a "Concert for the 1st" in the shotgun home of Karl and Courtney, who both work and are raising a 7-year-old girl. An unforeseen income tax bill and emergency car repair put them behind on their $1,200 rent and added $300 in late fees.

When you make room for fair and affordable housing, you make room for the extraordinary potential of the people who live there.
"I'm kinda tripping on the symmetry of being able to be here today," Jenkins said in the website's video. Even when he grew up and was on his own, "I spent so much time trying to make rent it almost wasn't going to happen for me. When you make room for fair and affordable housing, you make room for the extraordinary potential of the people who live there."
Similarly, Grammy-winning R&B singer/songwriter/producer Timothy Bloom played a "Concert for the 1st" for Joquan and LaRae in Paterson, N.J. Bloom said that he once slept in his car and was unable to pay his rent on time but he did it because he knew music was his best talent.
Joquan works as a community college security guard and does weekend service with the National Guard while LaRae works part-time and is studying for an associate's degree to become a drug and alcohol counselor. They can't afford a car so they spend three hours a day on public transportation.
In Annapolis, MD, violinist Tim Fain, who performed in the movies "Black Swan" and "12 Years a Slave," did a Concert for the 1st for Tom Wall, 67, because "I want people to see what's going on the way I have."
Wall, a lawyer, lost his wife to cancer a few years ago and then suffered a stroke, after which a judge told him not to bring new cases into his courtroom. His home was foreclosed during the recession and rent now takes 70 percent of his monthly spendable income.   

The Duartes have struggled through homelessness, medical emergencies and autism in their two children.
And in a gentrifying Los Angeles area, the Duarte family hosted the premiere Concert for the 1st with "Call Me, Maybe" breakout singer Carly Rae Jepsen. The dad was laid off 3½ years ago and the mom has only been able to find part-time work; more than half of her income goes to rent. The Duartes have struggled through homelessness, medical emergencies and autism in their two children.  They do not qualify for some programs because they have no issues such as substance abuse, the mom said. 
Others in the nationwide series of Concerts for the 1st include a 24-year-old bar manager in Denver, where rents have risen 50 percent since 2010. He has lived paycheck to paycheck since he was 15 and still owes tuition from art school, which he had to leave to be with his suicidal father.

R&B singer Miguel, who noted that he watched his own single mom struggle, performed for a Detroit-area small business owner who is raising her 11-year-old daughter, niece, and nephew.
There's also a Nashville-area mom of two girls who is still paying for the funeral of their 10-year-old brother who died of a brain tumor. R&B singer Miguel, who noted that he watched his own single mom struggle, performed for a Detroit-area small business owner who is raising her 11-year-old daughter, niece, and nephew.
CrowdRise pages have been set up for all seven families who hosted Concerts for the 1st so that the public can donate to make their lives better.
Americans are more likely to rent their homes than at any time in the last 50 years, according to the Make Room website. Just under 65 percent of the U.S. population are homeowners, while 42 million people rent. In every state, at least 37 percent of renter households spend more than 30 percent of their income – the preferred benchmark -- on housing.
Simultaneously, median rent in the US rose from $869 monthly in 2001 to $934 in 2014. The supply of affordable rental homes rose 10 percent between 2003 and 2013, while the demand for them rose 40 percent.
The recession is only one reason for increased rental demand that has pushed up prices:
• Since 2008 about six million homes were lost to foreclosure; their owners are now renters.
• Both GenXers and 45 million millennials in their 20s are renting longer instead of buying homes.
• Over the past decade, 4.3 million more Americans in their 50s and 60s have become renters and the trend is expected to continue as Boomers reach their 70s.
• Developers are also building rentals, but mainly for the luxury market.
The Make Room campaign favors setting minimum wages at federal, state, and local levels to reflect true costs of living there. But housing remains the single largest expense for low-income families, so Make Room also calls for public investment that incentivizes construction of affordable homes.
The Low Income Housing Tax Credit, for example, has helped finance more than 2.4 million affordable rental units since it was created in 1986. It does so while transferring risk from the public to the private sector: individual and corporate investors claim the credits on their federal tax returns. Yet in 2013, developers requested three times the number of Low Income Housing Tax Credits than were available, which meant that hundreds of affordable housing developers were turned away, according to the National Council of State Housing Agencies.
"Renters in Illinois need to earn $19.98 per hour in order to afford a modest two-bedroom apartment," said Bob Palmer, policy director of Housing Action Illinois. "The federal government has several different programs, such as the Low Income Housing Tax Credit and Housing Choice Vouchers, that could end homelessness if we committed enough resources to them. Participating in the Make Room campaign is a quick and simple way to let our Members of Congress know you want them to pay more attention to the lack of affordable rental housing in the coming year."
Betsy Benito is director of the Chicago office of CSH (Corporation for Supportive Housing), which is one of 400 Make Room partners: advocacy organizations, affordable housing developers, unions, faith-based organizations, housing authorities, mayors, organizations working on behalf of seniors and people with disabilities. Benito shared a blog by CSH CEO Deborah DeSantis in the Huffington Post in which DeSantis said that too-high rents in New York, Chicago, Los Angeles and Washington DC lead to increased risk of homelessness. The solution would be increasing the supply of affordable housing in stable neighborhoods, but that "isn't even on the agenda of Presidential campaign debates and few in Congress bother to bring it up on the floor of the Capitol or in their district town meetings."
DeSantis credited U.S. Department of Housing and Urban Development (HUD) Secretary Julian Castro for calling housing the solution to most societal problems. "He said, 'Housing is a powerful platform for sparking opportunity in people's lives. When you ensure that an individual or a family has a good, decent, safe place to live, that is the fundamental building block for sparking other opportunity.' "
Make Room officials agree that housing sparks social mobility, because where people live can impact their access to better education, jobs and healthier food options. And if the number of people spending more than half their income on rent was itself cut in half, they say that these people would have $60 billion more each year in combined purchasing power to put back into the American economy.