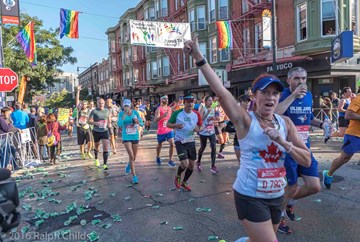 By: Olivia Baker & Suzanne Hanney
October 2, 2017
You know when it's coming.
The road closures and overwhelming traffic, the infiltration of 45,000 superhumans, and an aura of both togetherness and intense competition. The Bank of America Chicago Marathon, which will be October 8, reveals the city's true spirit to the world.
Its flat and fast 26.2-mile course has produced four world records. But as runners know, cheering is the backbone of a great race -- and Chicago is known for its cheering across 29 neighborhoods.
The Frontrunners/Frontwalkers at Mile 8, Belmont and Broadway in Boystown, are the most flamboyant and a media favorite among the 20 aid stations for water, Gatorade and medical attention along the course. Other stations like Chinatown have consistent entertainment each year but the Boystown station changes its theme annually.
Last year, because there were 40 runners from Paris, the theme was "Gay Paree."
"The cheerleaders and dancers were dressed sort of like Marie Antoinette and Moulin Rouge have a love child," said Frontrunners/Frontwalkers President John Bowen. "The bottom half of their bodies were cancans and their heads were accessorized with white powdered wigs."
This year is the 40th anniversary of both the Chicago Marathon and ABBA's song "Dancing Queen," which has become a gay anthem, so DJs will play '70s disco music. The cheerleaders and dancers will wear flared bell bottoms.
"The elite runners who are trying to make the best times don't stop but I am always amazed at the people who will stop at the 8-mile station to take a selfie with the cheerleader and the dancers," said Bowen, who will be in his third year as a cheerleader.
The Frontrunners/Frontwalkers are not just an October phenomenon. They gather at 6:30 p.m. Tuesdays and 9 a.m. Saturdays at the totem pole at Addison and Lake Shore Drive for a choice of three-, four-, five- and six-mile running courses, then a meal in Lakeview, Uptown or Edgewater.
"We welcome all runners wherever they are on the LGBTQIA spectrum or the running spectrum," Bowen said. "We'll find someone to run with you or at your pace."
The club values diversity of age and color and gives members a healthier alternative than bars for socializing, he said. "A lot of LBGTQ people struggle with self-image and often don't make the healthiest choices, so it's nice to have an LGBTQ organization that says you don't have to do those things. We try to have an environment where everybody feels open, safe and respected."
The club produced its first Rainbow half marathon this year and Proud to Run during Pride Weekend. It has fielded a team for the AIDS Run/Walk and the Mardi Gras Chaser 5K-10K for Back on My Feet, which uses structured running to help people out of homelessness.
Bowen said he would like to focus more on charity races, especially with Back on My Feet. "Given that LGBT youth represent a significant percentage of homeless youth, I'd like there to be more we can do on that front."
The Boystown cheering station was one of Carlos Jaramillo's favorites when he ran the 2006 marathon. Now it's his model for the Pilsen aid station at 18th and Blue Island, in the 19th mile, where he's been captain for eight years.
"In Pilsen it's very much a family affair," Jaramillo said. "People mark down the day of the marathon and look forward to it. The whole neighborhood turns into one big fiesta."
Runners will hear bouncy, brass-and-percussion-driven tamborazo music and see giant mojigangas puppets and folkloric dancers.
The entertainers perform as part of a two-fer that includes Pilsen's own 5K race. Jaramillo came up with the idea for the shorter event after running the marathon and then meeting Chicago Marathon Executive Race Director Carey Pinkowski.
Just north of Pilsen, at south Halsted and West Taylor Street on the University of Illinois-Chicago campus, is the station hosted by the Vilnius Sister Cities chapter, the Lithuanian Running Club and the Lithuanian Consulate General.
Four of the aid/cheering stations are run by Chicago affiliates of Sister Cities International (SCI), which was established by President Dwight D. Eisenhower in 1956 to spread peace via cultural understanding between US and the world. Chicago Sister Cities is SCI's largest branch with over 28 city partnerships. For over 50 years, it has brought Chicago to the world – and the world to Chicago.
The Vilnius aid station at Mile 17 will feature balloons in the yellow, green and red colors of the Lithuanian flag, Lithuanian music and food. Afterward, participants will visit the consul general's office for a reception and Lithuanian medals to go along with their official Bank of America Chicago Marathon ones.
This year's medal will mark 100 years since Lithuania became free of Russian rule during WWI. The republic remained independent until WWII, when the Soviet Union annexed it. It was the first satellite nation to break free, in 1990.
However, Soviet tanks rolled into Vilnius on Jan. 13, 1991 and 14 civilians guarding the TV transmission tower were killed. Last year's medals commemorated the 25th anniversary of that event. "It's a good chance to tell Illinois people our history," Lithuanian Consul General Mantvydas Bekesius told StreetWise.
The Hamburg Sister Cities committee will have a cheering station at Clark and St. James, in the 8th mile. In the past, cheer-goers have been requested to dress in red, yellow, and black—the colors of the German flag. This year, the dress code is not explicit, but the Hamburg committee asks for one thing: your loudest voice.
Hamburg will also be hosting a delegation of six policemen who will be participating in the marathon. They will likewise be spending a day with our own CPD.
Aside from the marathon, Christoph Lichtenfeld describes various kinds of exchanges the Hamburg committee has hosted.
"We have about four schools right now. These are active exchanges with schools in Hamburg. We have brought soccer teams over from Hamburg to private homes in Chicago and one between Loyola Law School and the Hamburg University Law School. We have done marathon exchanges since 2002— this is going to be our 15th year we have done that — by advising Hamburg marathon runners to go to Chicago, and we host private parties. We have had— at one time— over 40 people here, and we had 22 Chicago families to host them for up to a week."
A boat tour of the lake or the river is always a highlight, as is a tour of the Art Institute led by Rolf Achilles, Lichtenfeld's co-chair, who is an adjunct professor there and a Chicago expert on mass-produced culture.
Beyond Chicago, the committee helped in 2015 when Hamburg received 40,000 refugees. They needed shelter, food, medical treatment, education for the kids, Lichtenfeld said. At first the committee considered sending clothes and blankets. But members learned through their partnership with Diakonie, Hamburg's largest social service organization, that "what they really needed was money to hire somebody to do so much more." The committee collected about $10,000 and sent a check.
Back in Chicago, the Hamburg committee has supported exchanges with Sullivan High School, which has students from 50 countries -- who speak 40 languages.
"The more people you are bringing together, the better life would be," Lichtenfeld said.
At Sedgwick and Eugenie in Old Town, runners and spectators alike will hear a distinct loud drumming noise at Mile 10. The Ho Etsu Taiko is a fan-favorite Japanese group based at the Midwest Buddhist Temple. Kaori Stearney, co-chair of the Osaka Sister Cities Committee, ran the marathon three years ago.
"As a runner, 10 miles is the point of kind of getting tired and bored. But when you hear the sound of the drums, and the rhymes, the runners feel more energized. The runners even stop and take pix. Local Chicago cheering people join to play the drums and Ho Etsu shows them how, too."
Stearney said the Osaka Committee jointly hosts the cheering station with the volunteers from Japan Information Center of the Consulate General of Japan in Chicago (JIC) located at Olympia Center on Michigan Avenue. Both the Committee and JIC hope that the public will enjoy cultural exchanges in a casual environment. The Osaka-Chicago partnership will celebrate its 45th anniversary in 2018 and a series of events are being planned.
Many marathoners travel from Japan to Chicago to update their marathon record as the Chicago marathon course is flatter than the one in Japan and they also enjoy touring Chicago after the run. Stearney says she hopes more Chicago marathoners will travel to Osaka to run the Osaka Marathon, which is annually scheduled in November, and that they get to know what Osaka and Japan offer international tourists.   
"It is not just the Osaka marathon but the city of Osaka itself that is trying to be open to everyone without any judgments or stereotyping," Stearney said. "It is a new movement in Japan and we hope to learn more from the U.S., especially Chicago."
"Paris is a moveable feast," Ernest Hemingway once said. Indeed, one can get a taste of Paris from its Sister Cities Committee's cheering station at the southeast corner of Clark and Deming, also in the 8th mile.
French runners gather under the Tiffany Dome in Preston Bradley Hall of the Chicago Cultural Center the Friday night before the marathon for a reception organized by the Paris Committee. Over the years, Mayors Richard M. Daley and Rahm Emanuel have both cooperated to produce a letter – in French – that welcomes the runners and may be customized to welcome a French celebrity runner. The visitors mingle with local French citizens and Francophiles; the French consul general adds further greetings.
"I have had many French people tell me – and these are strangers, they are not even people I know – they just come up to me and they say, 'I run marathons all around the world and no one does anything like this for us. You are the only one. So thank you very much,' " said committee chair David Reithoffer.
Reithoffer had been captain of the Frontrunners/Frontwalkers aid station in 1989 when he got to know Pinkowski, who was surprised to hear him speak French. Pinkowski suggested that Reithoffer visit the Paris Marathon Expo to urge runners to come over for Chicago's event. It was the only American marathon represented, so curious French runners swarmed the booth all four days.
"Their stereotypes are the usual stereotypes, which are not good stereotypes," Reithoffer said. "They have the idea of Chicago to this day as Al Capone and slaughterhouses. I've shown them the blue and green lakefront, the skyline.
"And once they come here, they say 'this is amazing, this city is beautiful. It's clean, it's well organized. I love it, and I'll come back. And, I'll send my friends back."
This annual blitz has built up the French runner contingent to 300 to 400 in Chicago's race.
That's important, Reithoffer said, because "it's much more interesting to run a race where people from all over the world are running. It's more exhilarating and interesting to hear all these foreign languages at the starting line."
And foreign visitors spend more than domestic ones. They are likely to stay four or five nights in hotels, to eat out three times daily -- and to shop. According to a University of Illinois study cited by the Chicago Tribune in 2014, the Marathon accounted for $253.5 million in economic activity the previous year.
Paris Sister Cities has also facilitated exchanges between underprivileged Chicago and Paris teens. Each student was given a camera in order to share photos online of their lives. Then, in the space of a year, kids from Paris came here and Chicago kids went there.
"One of my goals is to shatter the bad stereotypes, open up people's eyes, open up people's minds, open up people's hearts. You know, it's a big wonderful world," Reithoffer said. "And the more we share it with different kinds of people, I think, the better the world can be."