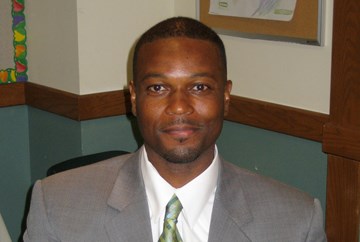 By: Kaitlin Schuler
July 19, 2016
Author Marcus Jones, 46, grew up on Chicago's South Side in the Jeffrey Manor neighborhood and has spent all his years outside of prison time in various other Chicago neighborhoods. After years of gang affiliation and making money selling drugs, Jones found himself a paraplegic at 23 years old, after an attempted robbery with a friend went south and a bullet entered Jones' spine. He had to adjust to life without the use of his legs during his prison sentence for the robbery.
Jones recounts his life, from his childhood through his adult life as a paraplegic in prison and out of prison, in his self-published book "Everyone Has a Story, This is Mine." He spoke at the Uptown Branch Library on June 14 about his book and his experience writing it.
"If someone wants to tell their story, I think they should just write it out and see where it goes," Jones said in an interview following the event. "I wanted people to hear about my life and the good and the bad, and publishing this book myself helped me get there."
Jones finished the first edition of his autobiography in 2008 and included an explanation of his publishing process. He writes, "I went to a local print and copy store. I was telling everyone in the community whom I knew that I was coming out with my book … almost all told me that they wanted a copy."
He decided to set up a book signing at a festival at Blake College, the community college that he had been attending at the time, and paid for 30 spiral-bound copies with the last of his savings. After success at the festival, he ordered 100 softcover books and provided them to local independent bookstores.
Jones then looked into self-publishing and chose a company that would pay him the best royalties. However, he said he had trouble getting his manuscript back from the company and decided to utilize Amazon instead.
"The first company was just giving me so many problems, so I decided to look other places," Jones said. "I wanted my book to be out there and that company wasn't helping me with that."
In addition to his book, Jones became a certified television producer in 2008 through classes at WanzTV, the station that had asked him to come and speak about his book. He now has his own mini-series called "Everyone Has a Story" with WanzTV. He also gives motivational speeches to children and young adults in hopes that he can help them avoid the path he took in his early life.
"I just wanted to put my story out there. I didn't want my children or the younger generation to go down the same path that I took," he wrote. "I knew writing this book could help someone in their life."
Jones offers advice in his book to those who might be in a similar predicament or who want to turn their lives around after a rocky past. He acknowledges he made bad decisions in his life and reflects on why he made those decisions, but he also goes in depth as to how he turned his life around.
"I would tell people they have to have conviction if they're going to change their lives," Jones said in the interview. "I would also tell them that if they want to write a book, they should do it. It's not easy but that doesn't mean you can't do it. And I think it's something that is worth all of the hard work."
Jones published a rewrite of his autobiography in 2015, after enlisting the help of editors found through Facebook and other connections. He has a children's book in the works, written about a child in a wheelchair, and he spends some of his free time playing softball and basketball.
"Everyone Has a Story, This is Mine" can be ordered through
Amazon.com