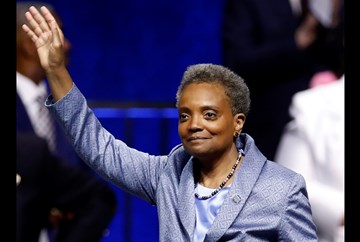 By: Suzanne Hanney
June 4, 2019
"Better Together" is not just inclusion rhetoric, but Mayor Lori Lightfoot's call to participatory citizenship in her May 20 inaugural address.
Lightfoot, who is Chicago's first African American woman -- and openly gay -- mayor, quoted from a Gwendolyn Brooks poem, "We are each other's harvest, business, magnitude and bond," before she described people she met during her campaign. There was a man on the Southeast Side who asked her to bring jobs to his neighborhood, South Side teens sleeping on the street after being kicked out of their homes for being gay, a West Side father fearful for his daughters' safety, and day laborers who live with the fear they will be picked up by Immigration and Customs Enforcement (ICE).
"We are each other's business," Lightfoot said. "Standing up for them is our business, our only business."
Lightfoot structured her plan for "building and rebuilding" around the four red stars of the Chicago flag. The stars traditionally have symbolized Fort Dearborn, the Chicago Fire and two worlds fairs, but Lightfoot reinterpreted them as "safety," "education," "stability" and "integrity."
"The biggest challenge we face is the epidemic of gun violence. Each death reported on TV makes people across the city question whether they should continue to live here." She will create a new Mayor's Office of Public Safety led by a deputy mayor.
Nonprofits, philanthropics, and recreation sectors have already been mobilized around violence prevention, she said. Emphasis will go to helping people transitioning home from prison and also "to repairing our broken mental health system," which gained huge applause from the nearly full Wintrust Arena.
Lightfoot also reached out to the Chicago Police Department. "We will train you better, with quality supervision and wellness support to address the trauma you face."
Earlier, the Rev. Dr. Beth Brown of Lincoln Park Presbyterian Church, one of five religious leaders in the inaugural program, said that "peace" is not merely the absence of violence. The ancient Greeks referred to it as a "wholeness" of the community, rather than estrangement of any of its parts. 
"What keeps us from the road to peace is scarcity thinking," Brown said. "We are enough and we have enough."
In addition to Protestant, Catholic, Muslim and Ethiopian Hebrew clergy, the inauguration featured drummers from the Pokagon Band of Potawatomi, the Chicago Gay Men's Chorus, the After School Matters choir, Chicago Sinfonietta performing both Scott Joplin and classical music, the bagpipes and drums of the Chicago Police Department's Emerald Society, and more. Lightfoot, her wife, Amy Eshleman and daughter Vivian were all attired in blue, as were outgoing Mayor Rahm Emanuel and his wife, Amy Rule.
Education that prepares kids for work, civic engagement and lifelong learning is Lightfoot's second star. Every child should get a quality education, whatever their neighborhood, she said.
Stability, the third star, means getting City finances in order. There is a structural deficit, she said, which means the City spends more than it receives in taxes, whether or not the economy is doing well. The City also owes too much back debt -- similar to late payment fees -- to banks holding employee pension funds.
Lightfoot promised she would make the hard budget choices with "transparency" – openness -- and "without balancing our budget on the backs of working class families."
Affordable housing so that people are not forced out of gentrifying neighborhoods is a another facet of stability, she said. Developers who receive City land, City money or a zoning change are required to build affordable housing in exchange but too many have simply used the loophole of contributing to the affordable housing fund. The Department of Housing will be charged with growing affordable housing and innovation will be encouraged.
The fourth star, integrity, means reform: no more shady backroom deals that pass on costs to the taxpayers, no more payments to access basic city services. She was signing an executive order to end abuses of aldermanic privilege.
Lightfoot ended her address by recalling a 19th century hymn from the working class church of her youth. "We hear you, we are your neighbors, so...we will not pass you by." Still, a single leader cannot heal all, she said. "We all have to be part of the solution."