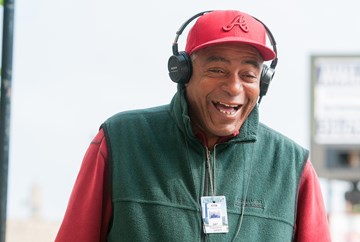 By: Megan Ladner
July 31, 2018
Hey, I'm Donald Morris. I've lived in Chicago all 64 years of my life. It's a great place to be. I have a lot of history here and had my moments where I did certain things I shouldn't have. I was homeless and sleeping on the streets once, but I've pulled myself together. I heard about StreetWise in 2003; I gave it a try and came to find out I could sell the magazines, and I could sell them real well. I still work as a vendor here and I still go out five days a week.
I'm in the position of captain of quality control and assurance teams at StreetWise. Basically, we ensure that vendors all over Chicago are taken care of and doing what they're supposed to do. We don't just sell magazines here. If you need a hand with different things, StreetWise offers other services too. I let the vendors be themselves and try to be a good example so others can follow me. People have all kinds of things they need to change about themselves and behaviors they need to work on. Character defects - we got 'em, a lot of people got 'em, and a lot of people are working on them. StreetWise helps us change these things. It's an organization that is gonna help you learn how to get along with everybody, even though everybody isn't always gonna agree with you. It teaches you how to be nice to people and care about and have concern for others, not just yourself. Don't lie to people - just be straight up and let people know what's going on with you. Be fair with everybody - don't run around judging people. If you find yourself getting that way, get out of that funk so you can have a decent frame of mind.
The bottom line is, StreetWise is a hand up, not a hand out. It's about being on the straight and narrow and not getting back to panhandling, shoplifting, or other freebie things that people do to get where they're going. That stuff isn't gonna last long and depending on others ain't good. You gotta get out there and make it work for yourself and the organization you're working for.