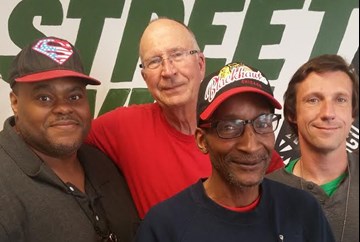 By: staff
November 6, 2017
Donald: Alabama leads the pack yet again. They're followed by Clemson, Oklahoma, Penn State, and USC. Georgia and TCU have made huge leaps recently. Georgia's rout over Mississippi State was big as well as TCU's win over Oklahoma State on the road. My four picks to make the playoffs are Alabama, Clemson, and Oklahoma. USC is a wild card and they might enter the picture down the stretch.
John: TCU seems to have the easiest track but they lack the prestige of some of the other teams, which could hurt them. Alabama is going to be there. They've got a winnable schedule and they don't play Georgia until potentially the conference championship. The winner of Penn State and Ohio State is going to join Alabama in the playoffs. The final two seeds are going to come down to scheduling. Wisconsin, for example, doesn't have a loss and has a relatively easy schedule. Miami and Notre Dame could crack the top four. They play each other so it's unlikely that both teams make it. Also, whichever team wins is going to need help. Notre Dame, based on reputation, could make a late push. Ultimately this is more of a popularity contest. Let's face it, TCU doesn't have the same traveling fan base of Ohio State or Notre Dame. As we speak right now, my top four is Alabama, the winner of Ohio State/Penn State, Wisconsin, and Notre Dame.
Donald: Alabama looks like they are going to make another run. But remember, there are always upsets. College football is highly unpredictable. Hopefully the students will be ready to do what they need to do. I can't wait to see these new up-and-coming rookies get drafted into the NFL. There's are going to be a lot of high draft picks in the college football playoffs and that helps us see what's what.
John: I am rooting for chaos. The more chaos there is, the more interesting and fun college football is. No matter what, these games are going to be more fun than the NFL. This past year, the NCAA has been a much better product. College football is not three years and a cloud of dust like it used to be. With all the spread offenses now, there's a lot more offense. And with the playoff system, games in November and December mean a lot more than they did back in the day. The only thing I would change about college football is the West Coast start times. Who wants to stay up past midnight to watch college football, especially with the NFL starting at noon the next day? Not me.