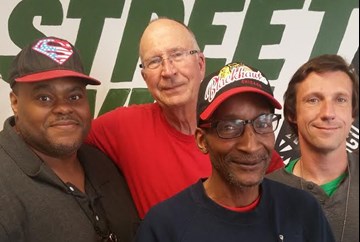 By: Staff
October 30, 2017
Russell: My choice for Manager of the Year in the American League is between [The Yankees'] Joe Girardi and Paul Molitor. I have to pick Molitor. The Twins weren't expected to make it, but they made it all the way to the wild card game. It gets really interesting in the National League. Torey Lovullo of the Diamondbacks, Dave Roberts of the Dodgers, Dusty Baker of the Nationals, and Bud Black of the Rockies are all in the conversation. I have to go with Torey Lovullo. The AL Rookie of the Year is no contest. That goes to Aaron Judge—52 home runs, 100 RBIs, and 100 runs scored. In the National League it's Cody Bellinger. Every year the Dodgers seem to find somebody, from Mike Piazza to Corey Seager. Rhys Hoskins and Ian Happ are interesting choices, but Cody Bellinger was the best, hands down. In the American League, it's a two-man race for the Cy Young: Chris Sale and Corey Kluber. I am going to take Corey Kluber. Sorry, Chris Sale, but you walked too many guys. In the National League, there are three guys: Max Scherzer, Stephen Strasberg, and Clayton Kershaw. Scherzer gets my vote. For American League MVP, it's between Jose Altuve and Aaron Judge. I am going to take Altuve. For the National League, I have it narrowed down to Giancarlo Stanton and Paul Goldschmidt. Even though he's not on a playoff team, I have to go with Stanton; 59 homers caught my eye.
John: For the National League MVP, Washington has the murderers' row of [Bryce] Harper, [Daniel] Murphy, and [Ryan] Zimmerman, so they will all cancel each other out. I am never in favor of a player on a team with a losing record winning MVP, so I can't pick Stanton. I have to go with Paul Goldschmidt. He's hit 36 homers and 120 RBI. If it wasn't for him, Arizona would not have made the playoffs. In the American League, I'm going to go with Aaron Judge. He's going to win this and Rookie of the Year because he's been carrying the Yankees. In the National League, Cody Bellinger is a no-brainer for Rookie of the Year. Chris Sale had the AL Cy Young, but lost it down the stretch. Corey Kluber will end up winning it. In the NL, Max Scherzer is my pick. Last, but not least, the NL manager of the year is Bud Black. I didn't think Colorado would make the playoffs. In the American League, as much as I love Joe Girardi, he's going to get edged out by Paul Molitor. No one saw the Twins making it as far as they did.
Donald: In the National League, my MVP pick has to be Kris Bryant. His hitting ignites the Cubs and fires them up. Ask any of the Cubs' opponents how hard it is to beat them when Kris Bryant is on. His home runs tend to come in a barrage. He's struggled a bit in the playoffs because he was tired, but he's gonna get a second wind soon. Aaron Judge is my pick for AL MVP. He's Superman with his home run power.