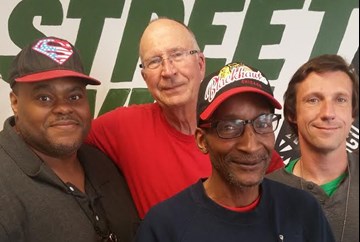 By: staff
August 13, 2018
Donald: Contending ball clubs is gonna be a big mix-up, 'cause whether or not it fits your lineup, you still got to watch out for your health issues. You have a good pitcher, but he has a little Tommy Johns [torn elbow ligaments]syndrome or something like that and he needs to have a special operation. You might not be able to do much with that pitcher. So, whether it's backup, lineup, or just straight-out closing for the game, you have to make sure that everything fits in and it's gotta be a close-call fit. You got to fit a man where he's comfortable for some years if he's going to be there to help the club. It's gonna be a lot of work, so far as getting the right personnel.
Russell: The Cubs did a lot of trading; they got two players from the Rangers, so I guess they'll be the Rangers now! [laughter] But the guys are doing pretty good for the Cubs. As far as the Dodgers, they got good players, they made a good trade for four-time All Star infielder Manny Machado. If I had a team, I wouldn't want to trade these guys because none of these guys got big salaries, none of these guys got one year left on the contract and a freezer next year, so don't give your whole team away just for one player. I think that teams that are not going to the playoffs can trade. The Rangers are trading everybody! [laughter] That's a good thing, getting all as you can, like the White Sox did last year. The Pirates got Keone Kela from Texas for a player to be named later. If you trade somebody for the trade line, make sure the guys don't give a whole team up.
John: I think it has a positive effect in the short term. If you trade the whole candy store, then the long term effects are going to be more negative because you're sacrificing one year. Or you'll sacrifice your farm system for one year. What does that do for you down the road in case a player gets hurt? There is one very interesting scenario between the July 31 deadline and trades in August. You can trade in August, but why July 31 is a bigger day is that's the final day you don't have to do waivers. In August and September, if you want to make a trade, you gotta clear waivers, and I think that costs more money for the owners.
Donald: The most interesting thing is what will this do so far as short term, 'cause we got to cut the 180 games down. It's gonna be whether or not you're going to do the second half of the season with smooth play, and can you fit in and be in sync with all your players? Will your players do the extra that it takes to win games?
Russell: Another trade in the works, here we go again: the Rangers! They're trying to get rid of Adrian Beltre, but he has a no-trade clause in his contract. But, he said he would go to Boston or Houston. He's 39 years old, hitting .292 with it, a .342 on-base percentage. He's only got five homers? You want this guy? He's got the playoff experience. If he goes to a contender, you get good all of a sudden.
John: Why has White Sox pitcher James Shields not been thought of? There are many clubs that if he went to, he would give immediate positive influence: Milwaukee, the L.A. Dodgers, the Cubs, Oakland, Seattle. Oakland and Seattle are chasing Houston and they're within five games. I'm looking at Colorado, Dodgers and Arizona on the West. Milwaukee and the Cubs are in a dogfight in Central, and in the East is Philly and Atlanta, so one of those clubs could've used Shields. Why have they not acquired him? Maybe Shields doesn't want to be traded. But it's a surprise to me that the White Sox have not been as active as Texas.
Russell: The Cubs did get Cole Hamels from the Texas Rangers. I don't know what's going on with Texas. I guess it's time these guys start to rebuild.