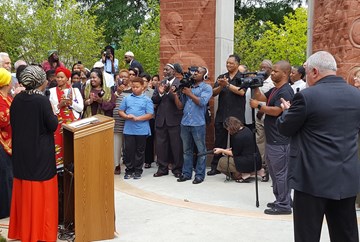 By: Suzanne Hanney
August 22, 2016
Fifty years after Chicago Dr. Martin Luther King Jr.'s Aug. 5, 1966 open housing march on the Southwest Side, a diverse coalition of civic and business leaders, high school students, community organizers, religious leaders and philanthropists has dedicated a memorial to Dr. King and the Chicago Freedom Movement, even as they acknowledge today's headline issues.
"What Dr. King experienced that day in Marquette Park represented the types of challenges that the civil rights movement was trying to highlight in the North at that time, including residential segregation, bigotry, profound levels of socioeconomic disparities and police accountability," said Rami Nashashibi, executive director of the Inner-City Muslim Action Network (IMAN), who first envisioned the memorial a decade ago. "We know that the equality Dr. King fought and marched for in Chicago is not yet a reality. But this project is also meant to celebrate and honor the work, sacrifices and struggles of countless organizers over the last 50 years who have made significant improvements in our communities while recognizing that the journey to justice continues."
On August 6, 1400 marchers – double the number of 50 years earlier – recreated a half-mile of Dr. King's march down Kedzie from 63rd to 67th Street, where the brick memorial had been unveiled the day before in Marquette Park. Jon Pitman Weber and Sonja Henderson of Chicago Public Art Group created the three-piece installation.
Jane Ramsey, former executive director of the Jewish Council on Urban Affairs (JCUA), echoed Nashashibi in what she called "a lot of unfinished business: continued racism, Islamophobia, immigrant bigotry."
Ramsey is also an adjunct professor and field work coordinator in the school of social service administration at the University of Chicago and president of Just Ventures, which supports social justice. She said the memorial will help to educate and inspire young people but that its focus is on moving forward. "We have to act on Black Lives Matter, against wrongful convictions, against pushing people out of public housing and affordable housing onto the streets."
Ramsey said Dr. King's movement for justice had gathered people across faith, race and class. She pointed to historian Timuel Black; the Rev. Jesse Jackson and the late Rev. Willie Barrow, co-founders of Operation Breadbasket, forerunner of Operation PUSH; American Muslim community leader Imam W.D. Mohammed; the Rev. Calvin Morris, former executive director of the Community Renewal Society; and JCUA founder Rabbi Robert Marx.
Fifty years ago, Marx had been asked by the Chicago Commission on Human Relations to monitor Dr. King's open housing march in late July on the Southwest Side. He saw participating clergy spat upon and he guarded a pile of rocks so mobs couldn't throw them.
As a religious leader, he said he had to stand against that level of hatred, so he joined Dr. King in the August 5 march, which began in front of a real estate firm that had steadfastly refused to rent or sell housing to African-American couples. Dr. King and 700 demonstrators had knelt and prayed in the street and sung a freedom song before a stone hit him near his right ear.
The brutality shocked the public and embarrassed city leaders into taking action, so that it was still a "win" for civil rights leaders, Rev. Jackson said on pressreader.com.