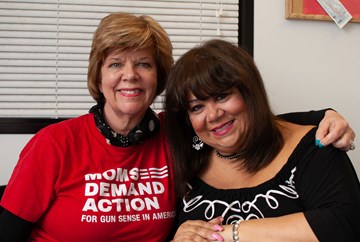 By: Suzanne Hanney
May 14, 2018
After a stray bullet killed her 18-year-old daughter inside a friend's home, Milagros Burgos reached out to inmates at Cook County Jail.
"It was a defense instinct, a mother instinct, to let them know the pain a mother feels when she loses a loved one," Burgos said. She even brought photos of Alexandria in order to plant a seed in the inmates' hearts.
"I spoke as a mother. I said, 'I don't know what you guys went through' [but] I was there because I lost my daughter. An innocent life. But I was also there to tell them that there are people out there that love them if they would reach out for help. My mission was, if I could change one of those men's lives in any way or if they could talk to someone else – maybe keep someone from picking up a gun in an instant. If what I said changed that, that would be a lot."
Inmates came up to her afterward and embraced her. Her talk wasn't just for Alexandria, she said, but to help other families. "It's about preservation, that we could prevent these lives from being taken away."
Burgos never knew who shot the gun or why they aimed at that house in the Belmont-Cragin neighborhood. That's why she's passionate about gun laws, "because there's so much easy access to guns."
And she takes issue with people who say that Alexandria was simply "in the wrong place at the wrong time."
"She wasn't. She was just picking up her younger brother. She was just sitting in the kitchen. She should have been safe," Burgos said.
Alexandria was killed on a Saturday night in February 2014. Burgos and her husband, Rafael, had gone to a movie but Alex stayed home because she had been out late the night before with a friend who made his debut at Second City. She did volunteer to pick up her brother at a friend's house because he was 17 months younger and not yet able to drive. Alexandria had been busy with school but the siblings had always been "like two peas in a pod," so she welcomed the chance to spend time with him, Burgos said.
Although Alexandria left early from their Jefferson Park home, "I guess she stayed a little bit" at the Belmont-Cragin home, Burgos said. "She was at the kitchen table. Shots from outside came inside."
When their son called Burgos and her husband at the movie, she couldn't understand him because he was screaming and crying. He said Alex was bleeding, so Burgos told him to use towels to staunch the blood. Then they ran from the theater.
When they reached the home, they saw paramedics, a police car and tape. They couldn't get in, even when they said their daughter and son were inside. A paramedic they knew, a fireman, gave them a scared look and told them to go to the hospital.
Nurses at the hospital sent them straight to the chapel, where Burgos texted her sisters and nieces, who arrived shortly. They expected to take Alex home.
"It felt like an eternity for the doctor to come out. He said she didn't make it. She died instantly at the home. A shot to the head killed her. She didn't feel anything. We were still numb, couldn't believe it. We were screaming."
As Burgos and her husband went through their parental checklist, they couldn't see that they had missed anything. They had always been loving parents, had always wanted to know the siblings' whereabouts. And Alex and her brother had been good kids and never done anything out of the ordinary.
Nor did the parents recall seeing gang graffiti in the neighborhood.
During a February 28 advocacy day in Springfield for SB1657, the Gun Dealer Licensing Act, [see sidebar] Burgos meshed her checklist with that of Moms Demand Action when she met Denise McDermott, its co-chapter leader for Oak Park/Austin.
"People think there's certain pockets of violence, but that's not true," McDermott said. "That's why Millie's story is really important. Millie has taken it upon herself to get involved. A lot of gun violence prevention groups met her during advocacy day.
McDermott's play date checklist for her kids had included questions about backyard swimming pools and aggressive dogs. Now, she says, parents should empower themselves to ask if their friends' parents have guns, and if they are properly locked up.
A "yes" answer to the latter question can help prevent both accidental deaths and suicides. It's a matter of what Moms Demand Action calls "responsible ownership," McDermott said.
Moms Demand Action for Gun Sense in America was founded by stay-at-home mom Shannon Watts after the Sandy Hook school shooting in Newtown, CT. In 2014 it merged with Mayors Against Illegal Guns, founded in 2006 by former New York Mayor Michael Bloomberg and former Boston Mayor Thomas Menino; both groups are now under the Everytown for Gun Safety umbrella.
In Illinois, Moms Demand Action also seeks to address "ease of access" – or as Burgos put it, "guns in the wrong hands." 
"Chicago and Illinois have good gun laws but they get circumvented because it's so easy to get a gun in Wisconsin and Illinois," McDermott said. Moms Demand Action supports SB 1657 because it would authorize criminal background checks for gun dealers and their employees and also close federal loopholes that allow felons and domestic abusers to buy guns, she said.
Burgos also favors SB1657's provision that requires training employees to recognize a "straw purchaser:" someone who is buying the gun for someone else.
McDermott said she became involved in Moms Demand Action because she has two grandchildren and "I don't want them to be afraid to enjoy our beautiful city."
"My mission is to let kids go to the park without thinking they will be harmed," Burgos added.
Speaking out against gun violence has been a healing process for Burgos. As she talked about it, she said she just recently "put 2 and 2 together" that she was doing the work to which Alexandria had aspired.
At the time Alexandria died, she was studying to be a social worker at Wilbur Wright College, which she chose because she still wanted to remain close to home. As a young girl, she had always analyzed what her parents told her, so that they thought she would grow up to be a lawyer.
But as she got older, she worked her last three summers with the Chicago Park District. When her parents drove her home,  she would exclaim about the little kids she supervised. She said she wanted to be a social worker – even when people told her the pay was low.
"'I don't care,'" she responded, according to her mother. " 'It's what I feel in my heart.' She wanted to work with Cook County Juvenile detention. She would say, 'I want to help the non-privileged kids."
Moms Demand Action will host a June 2 event in honor of Hadiya Pendleton, who was killed while walking in a Kenwood Park with classmates in 2013 a week after performing at President Obama's second inauguration. The survivor outreach event will feature survivor speakers, entertainment, food and kids' entertainment from 10 a.m. to 4 p.m. at 4347 S. Calumet. Attendees are asked to wear orange because that is the color hunters wear so as not to be shot by other hunters in the woods.