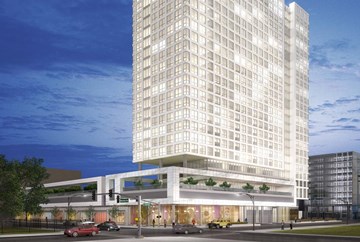 By: community members from ONE Northside, Northside Action for Justice, Friends of Cuneo, Uptown People's Law Center, & Coalition 4 Uptown
August 4, 2016
The Chicago City Council authorized $15.88 million in tax increment financing (TIF) to Montrose-Clarendon Partners, LLC, to build 631 luxury apartments on the last major development site on the North lakefront. We are deeply disappointed and angry that our elected officials would, at such a grave time in our city and state, use public money to subsidize luxury housing—a move that will further segregate our community, which has for decades demonstrated that success lies in diversity.
Despite over 1,500 people who voiced their opposition in a petition to the Finance and Zoning Committees, 37 members of the City Council signed off on ordinances in committee just a day before their meeting. Thirteen aldermen, including lakefront aldermen Brendan Reilly (42nd), Michele Smith (43rd), and Harry Osterman (48th), wisely voted No. Unable to testify at the meeting, we offer responses to arguments given by Ald. James Cappleman (46th) in support of the planned development:
<strong>Argument #1: Uptown has plenty of affordable housing.</strong>
The current proposal was rushed through a Council vote to avoid the new Affordable Requirements Ordinance that goes into effect on July 13. Instead of contributing 136 units of affordable housing, the developer will provide only 20 on-site affordable units—3% of 631 total units—and pay their in-lieu-of fee from the remaining TIF funds reimbursed by taxpayers. At least 12 market-rate developers are engaged without TIF in large-scale projects in our ward to create over 2,000 new and renovated units, of which a majority were formerly affordable. If housing is to be developed with public subsidy, we need it to be affordable and for families.
• 1 in 4 -- or 282,000 families -- applied for the Chicago Housing Authority waitlist seeking affordable, low-income housing.
• Assuming affordability is 30% of income, a family would have to make $220,000 annually to rent a townhome in this development. Average median income in Chicago was $47,831 in 2014.
• Our ward master plan targets the development of middle-income family housing.
<strong>Argument #2: The Cuneo Hospital campus has been vacant for several years and no other developer has come forward. </strong>
On April 10, 2013, the City anointed Montrose-Clarendon Partners, LLC, naming them as the developer in an ordinance sponsored by "Miscellaneous Transmittal." This ordinance precluded other potential developers from producing proposals that support the 2012 referendum in which 75% of 46th Ward residents voted in favor of using TIF solely for public schools, parks, affordable housing, and services. Local residents worked with the Illinois Historic Preservation Agency to pre-certify Cuneo Hospital for National Register nomination, unlocking the 20% federal tax credit and other incentives to facilitate development and reduce or optimize TIF use, yet no adaptive reuse study has ever been undertaken.
<strong>Argument #3: The properties are tax-exempt and the new development will take away no current tax revenue from schools, public parks, or affordable housing.</strong>
While it is true that the Montrose-Clarendon TIF District by design generates no property taxes, the City Council's decision means that for a minimum of 18 years (until the TIF expires) the money generated will go first towards subsidizing the developer, not to the other taxing bodies.
<strong>Argument #4: The developer will front $4.6 million of the TIF funding to the Park District for Clarendon Park.</strong>
We continue to wait for a community conversation about the future of Clarendon Park. Earlier, the developer was going to give the east parcel to the park district. Now there will be no increase in public lakefront land and the existing park will be compromised.
• Shadow studies shown to the Plan Commission failed to depict shadow impact across the whole of Clarendon Park.
• No traffic studies were presented to the community despite 1,600 children walking daily through the development site.
• The plan fails to mitigate hazards to birds posed by the high-rises near the rare bird habitat at the Montrose Point Migratory Bird Sanctuary.
Uptown is a neighborhood that has historically been a haven and springboard for displaced communities—from Appalachian and Southern white families finding homes to Vietnam War refugees building a community to African American families, from the Great Migration and American Indian families moved from the reservations, to Latino families gentrified out of downtown, Lincoln Park and Lake View. We are deeply saddened by the prospect of our low-income and working families going through another generation of displacement as well as the degradation of our central park in the name of its rehabilitation. The day that the Cuneo Hospital complex is torn down and we watch two new ivory towers cast deep shadows over Clarendon Park, the community asks: What we are getting out of this new time of darkness?