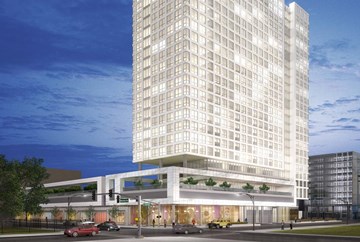 By: Suzanne Hanney
August 4, 2016
On June 22, the Chicago City Council approved a $125 million retail/rental housing development at Montrose and Clarendon Avenues that will include $15.88 million in tax increment finance (TIF) funds to the developers. Demolition of the existing buildings on the site will begin in August, said Tressa Feher, chief of staff to Ald. James Cappleman (46th ward).
Advocates protested the approval because JDL Development "will use the TIF to demolish important historic buildings, replacing them with over 600 units of luxury rental housing on prime lakefront land" at the Cuneo Hospital/Maryville children's shelter site. International Style architect Edo Belli designed both buildings in the last half of the 20th century. They have been vacant for a decade.
The JDL proposal includes two rental buildings: one with 26 stories, 381 residential units, 278 parking spaces and 30,000 square feet of commercial space; and a second with 16 stories, 250 apartments and 160 parking spaces. A one-story, 6,000-square foot commercial structure with 11 parking spaces – a likely a grocery store – will be adjacent to Clarendon Park.
However, advocates noted that only 20 units of affordable housing will be built at the Uptown site, where a one-bedroom apartment will rent for $2,000. Developers who receive TIF funds must build 1 in 5 units (20 percent) affordable and the advocates had hoped to house people with annual income as low as $16,170.
For the remainder of the required affordable units in Phase 1, which includes the taller mixed-use structure and the one-story building, the developers will pay a $5.7 million fee to the Chicago Low Income Housing Trust Fund. There will be more affordable units in Phase 2, which does not use TIF money.
In addition, the developers will pay $4.6 million for renovation of the Clarendon Park Fieldhouse within six to eight months after the project begins. Feher said that the approval eluded talk of TIF freezes and givebacks amid the current City deficit budget because there is no money in the TIF. The hospital site (which is owned by a religious institution) and the parkland are both tax-exempt.
No TIF money will go to the developer until the project is finished and has begun to generate property tax revenue. Cappleman said there had been no other funding proposals for the fieldhouse renovation.
After the City Council approval, Organizing Neighborhoods for Equality: Northside (ONE Northside), Northside Action for Justice 9NA4), Friends of Cuneo, Uptown Tent City and Uptown People's Law Center (UPLC) issued a joint statement: "Community leaders are outraged to hear another case of public money failing to create new affordable housing or provide sufficient community benefits. The developers argue that there is a market demand in Uptown for luxury housing but insist the investment is so risky that this luxury housing could not be built 'but for' this infusion of public subsidy."
Although the developers have 33 percent equity in the project, their attorney said at a public meeting early this year that the likely cash flow generated by rents was insufficient to woo institutional investors, given the high costs of aggregation, construction, demolition and mediation.