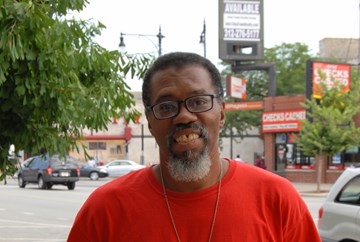 By: Staff
May 14, 2018
STEVEN RIGGS
Spirituality keeps me sane and positive, so I thought about the Ten Commandments, "Honor your father and mother so that you may live a long life in the land the Lord your God has given you." -Exodus 20:12. 
I also recalled "Honor your father and your mother, which is the first commandment with a promise." –Ephesians 6:2
Then I thought about, "For this reason a man will leave his mother and father and be united with his wife and become one flesh." -Ephesians 5:31
So my StreetWise mothers, after meditating on these scriptures, I have newfound respect and love for mothers of the world. You deserve respect because you are one of God's creatures and you should get honor because of the power that you have to make a man put you before his own mother and father, especially if there's kids involved.
From the deepest part of my heart, Happy Mother's Day to my mother first and all StreetWise mothers and StreetWise customers.
StreetWise! StreetWise!
A. ALLEN
StreetWise has been the mothering resource and refuge for many. For 25 years, many men and women have come to StreetWise while near rock bottom homelessness. It is like coming home to mother and saying, "I'm at my wit's end, I need your help."
StreetWise's doors are always open to people who want to help themselves. It is the same with mother—her arms are always open to her family to encourage them do better. Like a mother who encourages her family to carry themselves in a mannered and appropriate fashion when in public, StreetWise teaches a code of conduct that encourages its vendors to be kind, polite, and respectful —even when someone says "no."
A mother wants the best for her children. She encourages them to get up, go out, and make a better life for themselves. It is the same with StreetWise holding a hand up, not a hand out.
SEAN WILLIAMS
My mother devoted her life to me, from when she was carrying me to her passing almost 32 years later. Until it became too painful for her to walk (because of the tumors growing in her spine, which her cancer care team discovered too late) she did everything for me.
My mother was very excited by my birth and always reminisced about what a handsome and intelligent baby I was. Even after my mental impairment and inability to learn or perform even simple instructions and tasks became apparent, she didn't love me any less.
At my birth, she had been a tenured English instructor at Kennedy King College. She had to resign because there wasn't maternity leave back then. My demands for constant care prevented her from returning to the career that she had loved. But she still wrote and edited English textbooks for MacDougal Littel from home.
My mother used all her literary gifts and academic experience to help me learn. Whenever I complained about bullies, she was my advocate. When I complained about the special school the school district paid for me to attend (because their evaluators had concluded that I could not function in public school), she homeschooled me until she could arrange for my attendance at another special school. 
My parents sold their house in Evanston and moved to Wilmette so that I could be mainstreamed at New Trier High School. My mom stayed up late to help me study, filled out college applications, and got me accepted by the time I graduated from New Trier.
Just after my 16th birthday, I was diagnosed with juvenile diabetes. My mother learned everything she could about Type 1 diabetes, helped me monitor my glucose and take my medication. Always a great cook who fed our family delicious meals, she studied nutrition for diabetes and incorporated it into my meal plan.
After I graduated college, I found that I was unemployable, but my parents still let me live at home. My mom obtained comprehensive Illinois health insurance coverage for my diabetes.
My mom was still doing chores for me (and filling my stocking on Christmas Eve) when she was diagnosed with cancer when I was 29. Her gallbladder was removed but the cancer had spread to her lymph nodes. She endured chemotherapy and lymphoma heroically, only to find walking increasingly painful.
Although my dad was her primary caregiver, my mom expressed the greatest appreciation for the littlest thing I did for her, like getting her yogurt or water. As upset as she was to be dying, she was more worried about what I would do without her. She asked the hospice nurse to pray for me.
CONNIE ROBERTSON
My story is not like people who brag and praise a good mother so beloved. It is like I have been thrown into a deep and vast ocean with killer sharks swimming around me…
It becomes like looking at someone else's story because I was saved from darkness at age 11½ by the courts taking me away from my mom and letting my biological dad and grandmother have me.
I am the oldest of 14 children. I do not know "why" she had any kids at all except my dad told me that she played with dolls until I was born. I went to college for two years and my major was psychology so I guess I see my mom thinking of children as "toys" that you put away when you get tired of them.
When I was 9½, I came home from school to find no one home, except for my newest baby sister. I grabbed her and took her outside as our house burnt down. My mom eventually came out of a neighbor's house to see her own home ablaze.
When I was 10 and 11, my mom had two more babies and told me to name them. She said that they would be "my babies" and as it turned out, the one born when I was 10 was very close to me. The baby born when I was 11 was five months old when I went to live with my real dad. That baby was my mom's seventh child; the rest were born after I was gone.
I never resented playing mom to my sisters and brother. I loved the image of being a mom. I always said that when I grew up, I would not be like her. She was hateful; she and my stepdad starved us and sent us to school in very filthy clothes. The other kids at school made fun of us.
One day, at age 11 1/2, I told my teacher what was going on. Police and welfare agents took us away. The courts located my real dad overseas in the Marines. He came to Detroit and the court gave me to him. My stepdad was put in prison and my sisters and brother were given back to my mom since he was no longer in the home. The courts thought that my mom was messed up because of him.
When I was 19, I went to find my family to discover that my mom gave my siblings away. I couldn't find them for most of my adult life.
My dad took me to Mississippi, where my grandmother taught me how to be a young lady and her sisters pitched in. Even cousins took me in like a baby bird fallen from a nest. They loved me and I got to be a real child.
I had many mother mentors on that side of the family. So you see, mothers come in many forms. I am very thankful I got the opportunity to experience good mother images.
When I was a little girl, my mom asked me what I wanted when I grew up. I remember saying, "I want a lot of children and a good husband." Well, I have many precious children, even though I never got a good husband. Most women look forward to their children growing up and leaving home. Not me. Miracles do happen, and love and motherhood are the two best of them in life.
HAPPY MOTHER'S DAY to the best of you!
JAMES METZGAR
My mother was born Mary Jane Carroll and raised in Chicago. She was an only child; her parents divorced when she was 3. During her childhood, she lived part-time with her mother and part-time with her Irish immigrant grandmother and three maiden aunts (her father's mothers and sisters). When she reached Mercy High School, she lived full-time with her mother. At Mercy, she made friends with classmate JeaneHe Metzgar, and later married JeanHe's brother Richard Metzgar, a student at Loyola University Dental School.
I am the second oldest of their six children. Our family moved around because my father was a career military man and for a short time a dentist in private practice. After Chicago, we lived in Georgia, Texas, California, downstate Illinois, Japan and Germany. My mother and father held the family together and provided very well. When my father was by himself in Alaska and Korea, my mother took care of us alone.
My mother passed away in October 2016 from a stroke at age 94, almost 12 years after my father died of a heart condition in November 2004 at 89. I am so lucky to have had my parents living later in my life than most people.
LEE A. (AWESOME) HOLMES
Mother Holmes was born in the South, but moved to Chicago to help her brothers with their children. She met her husband, Melvin Holmes, here. They had five children altogether.
She would tell me how one bedroom was not big enough for the seven of us. She went to work, saved her money and eventually put a down payment on a home in West Pullman.
Mother Holmes helped everybody no matter what. She never refused anyone a place to stay if they needed it.
My elders told how she always played a neutral role in conflicts. With her determination, patience, love and forgiving ways, she showed me that you can overcome anything. She used to chew tobacco, but when the doctor told her that she risked mouth cancer, she just stopped. This was when she was 50. She would always tell people that if she could do it, anyone can.
During financial hardships she sold candy in front of the Salvation Army in Chicago Heights. I would stand beside her. She asked me to engage customers, taught me all about salesmanship, how to take rejection not as a 'no' but as an opportunity to rework my sales pitch. Her guidelines have helped me to sell StreetWise, built my customer service and entrepreneur skills.
In loving memory of Mother Holmes, empowering me to be the best that I can be.
"Honor your father and your mother, that your days may be long in the land that the LORD your God is giving you."  - Exodus 20:12 (ESV)