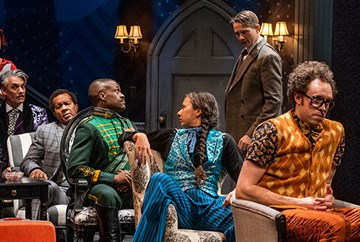 By: Rachel Koertner
February 3, 2020
Director Sean Graney's "The Mousetrap" artfully represented the beloved play's mystery and twists while adding vibrant colors and making audience members wanting more. This Agatha Christie classic makes us wonder – how well can we really know others? And can the unexpected come even from those we love? 
I had the pleasure of seeing this show on Thursday, January 30, in University of Chicago's Court Theatre. I saw this play a few years ago when a different theatre was doing it, but this production still managed to keep me on the edge of my seat the whole time. I went in expecting to be a little bored because I knew the general plot line, but instead I was intrigued throughout the entire production. The colorful costumes, the detailed set, the mysterious plot – it all drew me in, and kept me there! 
In my opinion, the two most noteworthy things about this production were the costumes and the set. With the costumes, each character had a clear signature color. It was evident that costume designer Alison Siple put a lot of thought into the design for this show, and the result was an intricate piece of art. 
"The Mousetrap" is the longest continuously running play in the history of commercial Western theatre, and since its premiere in 1952 the set design has only changed twice. Despite this, scenic designer Arnel Sancianco managed to create something unique. The window that gets used throughout the play was quite a work of art, as the snow coming down outside of it looked incredibly realistic. From the minute I entered the theatre, I was amazed by the set. 
I would definitely recommend this play to others. The mystery and the unexpected twists will have you on the edge of your seat. Most of all, this play begs audience members to ask themselves – how well can I really know others, even my loved ones? 
Tickets are available now at courtheatre.org. The show runs until February 16 at 5535 S. Ellis Ave.