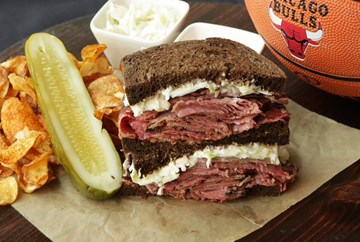 By: Bill Coats
February 6, 2017
We four SportWise commentators got to the game through the first Chicago winter storm. I rode an eastbound Madison #20 bus from Austin Blvd. The driver had to be patient with other vehicles and the riders who were struggling to cope with the heavy snow that was piling up. Covered with snow, I joined the lines of other eager fans at the gates, all anxious to get in out of the weather and into our seats, and to join the roaring crowd ready for the loudest announcer in the NBA to introduce: "From Chicago" Dwyane Wade; Taj Gibson; Rajon Rondo; Robin Lopez; and JIMMY BUTLER! I joined my StreetWise comrades to see our beloved BULLS.
Halftime: it's the Bulls and Heat tied at 53. Time to get some United Center grub.
I had spotted juicy looking and great smelling pastrami as I passed Mrs. Levy's Deli counter. When I returned I was impressed by the short line and wait; the friendly staff (something you don't count on at Chicago deli counters); the serous price at $15 per sandwich; and the huge size and quality of the sandwich!    
At the half I rushed to join the hungry crowd thinking I'd be lucky to get to Mrs. Levy's, make my selection and get back in time for the start of the second half.  Turned out the line was short, and the menu was simple with just four sandwiches to choose from: The Loop, featuring turkey breast; The Stockyard, with corned beef, pastrami and coleslaw; The Stack, built with pastrami; and The High Rise, made with corned beef and sauerkraut. It took me more time to decide which one I wanted, pick a drink and get to my cash, than for them to make The Stockyard for me, provide my lemonade and give me a receipt. The three women behind the counter, efficiently making the kosher sandwiches behind crystal clean glass and taking our orders, were nice enough to allow me to take pictures.
I shouldn't have been surprised by the prices, I have watched fans at other venues buy a dollar's worth of beer for $8. This time I paid $20.22 for one sandwich and a medium soft drink. The price seemed less outrageous once I got my two- to three- inch pile of cured meats on black bread, with a slice of cheese, coleslaw and horseradish sauce, accompanied with first class potato chips and two kosher pickle spears. I thought, "if a sandwich could be worth $15, then this one came close." Turns out I couldn't eat it all, it really was too much for me. Maybe 50 years ago when I was 25 and had worked on construction all day, I could have finished it. 
All the meat was high-quality and tasted great, yet I wondered by the time I was half way through, if The Stack might have been a better choose for me, being a life-long fan of hot pastrami. If you are lucky enough to get to a Bulls or Blackhawks game I would highly recommend Mrs. Levy's Deli, where you can get real Chicago-style sandwiches at a relatively reasonable price for the quantity and quality. If I go back, I'll skip lunch and order The Stack.
Bulls 105: Heat 100!