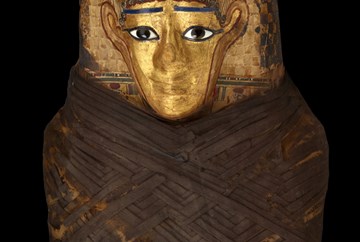 By: Mattie Alexander
April 9, 2018
The Field Museum welcomed home "Mummies" from its successful national tour with a concluding exhibit that runs until April 21. The exhibit features 14 Peruvian and Egyptian mummifications comprised entirely from the Field's own collection, with technically enhanced ways to view, understand and learn from the mummies.
While popular culture depicts mummies of an Egyptian origin, visitors of the exhibit will first be greeted by mummies with even earlier beginnings: the Peruvians. Patrick Ryan Williams, curator for South American anthropology and archaeological science and head of social sciences section and curator for the Peruvian component of "Mummies," planned that on purpose.
"We wanted to bring something new to the visitor who may not have understood or realized that these mummification traditions which we commonly associate with Egypt are actually found in many different societies around the world," explained Williams. "Some of the longest mummification traditions are in the Peruvian Andes, where mummification dates back to 7000 years ago. The exhibit takes you through a short history of mummification traditions in Peru before you immerse yourself into what you expect to find when you come to a mummies exhibit, which is the Egyptians."
A popular facet of the exhibit is the Peruvian mummy bundles. These bundles have never been opened, but Field Museum scientists know what they contain thanks to CT scans. One particular bundle carries not one, but two bodies: a mother and her child. Other bundles contain artifacts that were buried with them, revealing burial traditions and occupations of the ancient Peruvians. The CT scans allow scientists, and now the public, to learn more about the ancient civilizations while still paying respect to the dead and preserving delicate objects for future study as more advanced technologies develop.
Deeper into the exhibit lie the famously artistic burials of the Egyptian mummies. While in Peru mummification was widely used, Egyptian methods were more intricate, about a 40-day process.
"You can think of Egyptian mummification as a Rolls Royce, a Volvo or a Pinto," explained  JP Brown, the Regenstein conservator at the Field Museum. "King Tut is a Rolls Royce. Most of what you see in this exhibit are Volvos, as a good solid upper-middle class. Pintos are going to rust out pretty quickly and that's what most people got."
Egyptian mummies were prepared using a detailed process that included removing many of the internal organs and placing them into canopic jars, drying the body in salt and wrapping the preserved body in linen before placing it in a sarcophagus.
"These are people,"Brown said. "They are individuals. One of the interesting things we do is forensic reconstruction, which puts you back in touch with the idea this was a person who was alive at one point and isn't all that different-looking from you or me."
Both parts of the exhibit include touch-sensitive screens  that visitors can use to interact with real CT scans. Through this technology, visitors can digitally peel back the mummies' surface wrappings, skin, muscles and bones to understand more about not only the mummy, but the individual who once was.
"The neat thing about putting it on exhibit," said Williams, "is that you as the visitor can come and do what the scientists do and begin to investigate and understand the lives of the people by looking at how they were buried. The touch screens are a kind of a self-help guide to CT scanning. You'll be able to touch it and see the different kinds of information. It's a really exciting tool for us and the visitor."
"Mummies" is not the first exhibit to feature mummies, nor will it be the last, but the museum hopes to provide visitors with a new perspective focusing less on the eerie remains and more on the stories they can tell.
"There is a fascination with mummies," Williams said. "They are a part of our own Western lore as far as the things we are scared of: death and what comes after death. There is an aspect of fear and terror, but this exhibit kind of takes that back, decomposes that, and lets us look into the real lives of these individuals. I think it allows us to come a little closer to our own humanity and deconstruct the fanciful and terror associations of the dead."
For more information on "Mummies," visit fieldmuseum.org.