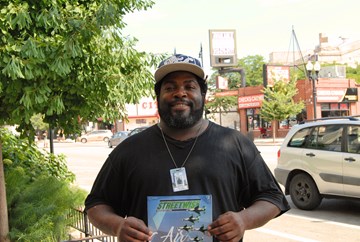 By: Staff
June 19, 2017
AAllen
Music is a very powerful tool to change a person's mind and attitude. Music can soothe, excite and educate. For example, jazz soothes and calms me. Rap seems to excite, especially young people, to behave negatively. I like educational music like Michael Jackson's "Man in the Mirror." It was an eye opener for me because the way it appears is everyone wants to change the world but everyone is not willing to start with self or the man or woman in the mirror. The big changes we want to see in the world and government cannot start with the world or government, they must start with the individual.
We all can make changes within ourselves that can affect the world. We may be - or feel - powerless in changing the world but we are not powerless in changing ourselves. It's a matter of choosing to do the right thing and making better choices a daily routine. We should do this, not just for ourselves, but to create a better family, community, city, state, country and eventually a better world.
So as Michael Jackson said in his song "If you want to make the World a better place, take a look at yourself and then make that change." That's why I'm starting with me.
John Hicks
Rust in Peace by MegaDeth is the best album. It's important to me because I see things more clearly in this world including motivations of our leaders and why we are divided in our beliefs.
One of the songs I like on the album is called "Holy Wars" because it was true then and still is to this day regarding all leaders from the world who are greedy and in power and who commit the same crimes.
This song helped me get through times of sadness because I could meditate on life during my depression and keep myself thinking and empowered knowing that even though I did not go to Yale University, I can still be knowledgeable.
Robert Smith
Self Destruction by Stop the Violence All Stars represents poor communities in America that are suffering from gun violence, rape, robbery, domestic violence and unemployment. It's asking everyone to stop the violence and live in peace and it represents all races of people in every community.
Poor communities are suffering from lack of education, home training and the fear of God in their lives. Some people will steal, lie or sell whatever they can to continue their personal party. And in some cases, being drunk and high most of time contributes to a lot of bad consequences that are not in anyone's favor.
This song is an important warning to everyone that if we don't get it together soon, our future will not be so bright.
Steven Riggs
Music is a universal language. It can be used to change a person's mood or mind from bad to good. The songs that changed my life are in the bible in the book of Psalms. David's songs are about the nation's security being in God's hands, not man's. Many times David's songs were anti-government, anti-police, and anti-authority and he used his songs as a form of protest. David used these songs to unify the people as well as to thank and praise God. I thank God for music! I know America is very scared right now because Trump is president so I encourage StreetWise customers to read the book of Psalms daily. Music is a good way to treat your fears and learn that the nation's security is in God's hands, not Mr. Trump's.