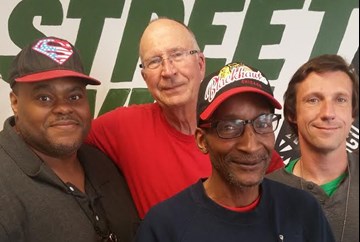 By: Staff
June 13, 2016
Vince: Now, we don't know who is going to be in the NBA finals yet, but we do know that Cleveland and Golden State are gunning for it. We wanted to ask this question- since Cleveland is Cleveland, and Golden State is basically San Francisco/Oakland, are these going to be big enough markets for the NBA finals to get good ratings? Is this a good ratings matchup?
John: The Bay Area is a very healthy market. Granted it's not Los Angeles, Chicago, or New York, but it is a healthy market. Just like Dallas/Fort Worth metroplex and Houston. You can cover a lot in places where you have an exciting team, with guys like Steph Curry, Clay Thompson. And Cleveland has LeBron James. LeBron performs well, regardless of what team he's on, anything short of Canada, he's going to be a key player. When he was on Miami, he had D. Wade and Chris Bosh, they were like the traveling circus act, like Dr. J and the Sixers in the late '70s. In the '90s, it became all about Michael Jordan. If Michael was playing, they wanted Michael in the finals. People want to see the good matchups and see as many stars as possible. Cleveland vs. Golden State has a good appeal- the revenue and ratings will take a drop if Golden State plays Toronto instead. If Toronto makes it, and plays Oklahoma City, the viewers will not be as pleased.
Russell: I think regardless with Golden State in it, it will be very interesting and get good ratings. It won't be as good as Boston and L.A in the past, but you have scoring champions, MVPs, and championship players. Myself, I enjoy basketball, and this is it for the season. It has to be enjoyed, regardless of who is in the Finals! I think that it's going to be okay. Cleveland has not won anything yet-baseball, football, and basketball- they always get there, but they never win. Will it be a repeat again? Who knows? Cleveland and Golden State would be a good matchup, though. Curry and James, current and past MVPs, both have rings, both have scoring titles. It's on between them! I can't wait to see who the best is.
Vince: Well, I think you guys are looking at this in the proper way. A lot of people see the Cleveland and Golden State matchup as the sexiest. Cleveland has LeBron James, and LeBron is always in the finals. And you have Golden State, who has the best record. And here's the thing, it doesn't mean a thing without a ring. If you win 73 games without winning the ring, the 73 games go down in history as the biggest flop ever in NBA history. So there's a lot of pressure to win the championship. You have the circle and you have to close it, you have to win the championship. Golden State is under a tremendous amount of pressure to win the entire thing. So Cleveland is under tremendous pressure because LeBron came back for that reason- to win the title, and everyone is always talking about if LeBron will go back to Miami or not. If they don't win a title, it opens up the door for more of those conversations. Oklahoma City is under some pressure, if the guys don't win a championship, there's a feeling that [Kevin] Durant and/or [Russell] Westbrook will leave the team. A championship may keep them both there. Toronto is really the darkest horse; they'll be back next year potentially. But the other three teams need it far worse. Finals are coming soon and we'll definitely be ready.
John: If Golden State doesn't close it out, they would be like Mitt Romney- a guy who can't close. If they win, they'll be like Ronald Reagan, a guy who closes well and kicks butt.
Russell: I agree, it doesn't mean a thing, if you don't have the ring! If Golden State cannot win the ring, they look bad; they are a team of destiny.