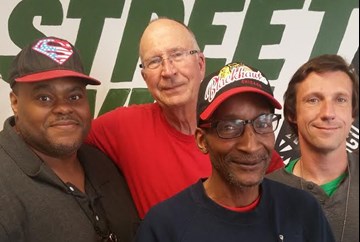 By: staff
May 7, 2018
Donald: We're gonna start with the Philadelphia 76ers. They've got so much talent. I see them outclassing the Miami Heat in the first round, even with a rejuvenated Dwyane Wade.
John: In the Eastern Conference, I also see the 76ers as the team in the best shape. But definitely do not count out LeBron James and the Cleveland Cavaliers. LeBron always takes his team up another notch in the playoffs. Toronto could also be a factor. In the Western Conference, I have a feeling that Oklahoma City and Golden State are going to meet up in the conference finals. Golden State is my pick. The NBA is all about shooting and no team is better than the Warriors. My prediction is Golden State and Philadelphia in the NBA Finals. It'll be one current Philadelphia team and one team that started in Philadelphia, which will be pretty cool. I have the Warriors winning. They just have too much depth, talent, and experience. 
Russell: Starting with the East, the 76ers are very talented, but very young. I think you need experience. Like John was saying earlier, you cannot count out Cleveland. LeBron is a beast! You can't stop that man one-on-one. If he's going to the basket, he's going to score. I'm not so sure about the rest of that team. I also like Toronto. They look pretty solid. Boston still looks good and I don't know how. They're the only team I know that loses all their players and is still a contender. I think I'm gonna pick Cleveland, although if not them then the 'Sixers. In the West, it's all a mess. I really like OKC. They've got [Russell] Westbrook, Carmelo [Anthony], and [Paul] George. That's enough to go a long way, although standing in their way is always Golden State. They have Kevin Durant and no one can stop him. I'd love to see an OKC-Philadelphia Finals. Something different for a change!
Donald: We have to look at Golden State. Kevin Durant is a tremendous all-around player. And if you focus too much on him, he'll pass the ball to Klay Thompson, who's a phenomenal outside shooter. They are always making someone look bad, whether it ends with a three or a dunk. They do it quite often and they're a great passing team. They will trash you from the beginning of the game to the end. In the East, I have to go with Philadelphia even though I am scared of their youth. But yeah, you still have Mr. [LeBron] James in the background.
John: I'd really like to see Philadelphia and Golden State. Not only because blue is my favorite color, but I also like their logos. Plus, it's a cool historical matchup. And there are a lot of great personalities on both teams. Ben Simmons of the Sixers reminds me a bit of Magic Johnson. He's great at no-look passing and he makes the players around him better. This year, the two best players have been Anthony Davis of the New Orleans Pelicans and Russell Westbrook. Those would be my picks for co-MVPs.
Russell: I forgot the Houston Rockets. I don't think they're gonna make it. They've got a tough schedule. Matching up with Minnesota in the first round is rough. Those Timberwolves are gonna make it hard on them. The West is so hard to predict this year. All the teams are so bunched together this year. James Harden of the Rockets is my pick for MVP. He's due. Every year he's right there.
Donald: LeBron James is still the best player in the NBA and don't be surprised if he comes through again.