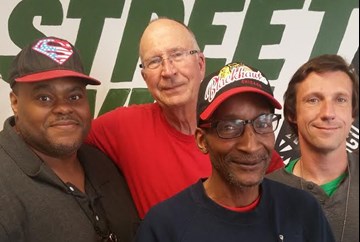 By: Staff
October 15, 2018
Donald: 2018-2019 season is going to start off with the Philadelphia 76ers and the Los Angeles Lakers. I believe they're going to be neck and neck and at each other's throat. Everyone else is going to fall in between them. Chicago Bulls have a chance on doing something with their central division. You have a few others that are going to be upcoming. You have to watch out for the Detroit Pistons. Quick passes and assists are going to be the clue words for this season. Last season it was three-point shots. This season it's going to be a lot of assists and pass outs to that sixth man, mostly after a three-point shot. Bobby Porter is on the Chicago Bulls. He will have a lot of open shots to do something, to open up the inside for the rest of team where you have the other three players. It's going to be hustle and bustle and rebounds, assists, and three-point shots. It's going to be interesting.
Russell: I'm just going to go with my predictions. In the Central, I got the Milwaukee Bucks, Indiana Pacers, Detroit Pistons, Chicago Bulls, and then the Cleveland Cavaliers. Goodbye, LeBron! He's gone. In the Atlantic division, it's hands down. I got Boston, Philadelphia, Toronto, Brooklyn and then the Knicks. I mean that's pretty tough there, but I think Boston will come out of there. In the Southeast, this is really sad, Washington Wizards, Miami Heat, Charlotte Hornets, Orlando Magic, and Atlanta Hawks. Sad division. In the West, in the almighty powerful West, in the Northwest, I got to take OKC. They've got to win it sooner or later, come on now. They've got to do something here. I have the Minnesota Timberwolves in second place. Then the Portland Trailblazers, the Utah Jazz, and then the Denver Nuggets. It's not too bad. In the Southwest, I got Houston, San Antonio, New Orleans, Memphis, and Dallas. Last but not least, in the Pacific, Golden State. Everyone knows it's Golden State. It's kind of hard to predict this division because I know Golden State, maybe Phoenix Suns this time, then the Clippers, Lakers, and Sacramento Kings. Those are my predictions so far.
John: Okay, here are my predictions for the Eastern conference. In the Atlantic division, I like Philadelphia to take that division over Boston. Then I have Toronto, Brooklyn, and New York. In the Central, to me, Indiana seems to be the best team in that division along with Milwaukee, Detroit, Chicago Bulls, and Cleveland. The Southeast is the hardest to predict. By default it is Washington with all that talent. They should win the division even though they underachieve. Then it will be Miami, Charlotte, Atlanta, and Orlando. In the Northwest division, I am going with the Minnesota Timberwolves to get it done this year. Utah will finish second, then Portland, Oklahoma City, and then Denver. All five of those teams are going to be separated by a grand total of five games this year. That's how close that Northwest division is going to be. Nobody will have a losing record in that division. Southwest is very cut and dried. You got Houston, San Antonio, New Orleans, Memphis and Dallas. In the Pacific Division, it's going to be Golden State but the gap is going to be much closer this year thanks to LeBron in La La Land with the Lakers. I got the Lakers in second place this year followed by the Clippers, Sacramento, and the pathetic Phoenix Suns. In the NBA finals, I actually believe I have the Lakers coming out of the West and out of the East I'm going with Philadelphia, the team that LeBron dissed.
Russell: I just want to finish up by saying the Bulls improved a lot this year, so did the Lakers. Now they've got LeBron. Don't count LeBron out because man, when playoff time comes he turns it to a whole other level. It's like something you've never seen before.
John: I want to close by saying that Golden State is not going to be as strong as they were in the past. Those guys are going to get tired. It's going to be an interesting season.