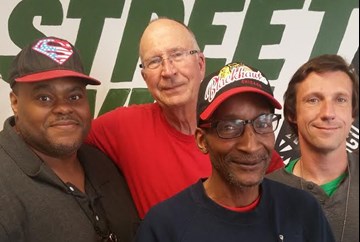 By: Staff
March 14, 2017
Vince: Vlade, Vlade, Vlade Divac. What happened?  Vlade Divac was a former Lakers star, who later became the Kings' President.  He's the guy that engineered the trade for DeMarcus Cousins that sent him to the Pelicans.  Now they have a two-headed monster in Anthony Davis who just scored 52 points in the All Star game. DeMarcus Cousins doesn't have a great attitude but he is a great player. Everyone's now checking out the New Orleans Pelicans, they are going to be the team of the future. The big problem was that the Pelicans were trying to make the trade, but the Kings had made a promise to DeMarcus Cousins' agent saying they wouldn't trade him. Cousins had said that if he was traded, he wouldn't sign with the new team. He may be a free agent after this season if the Pelicans don't do well or don't satisfy him.
Russell: I thought Cousins might come to the Bulls. I don't know if New Orleans is going to be good, or not, they have to show me first.  Their position looks good. They've got 2 centers now and someone's not going to work. Someone is going to be the power forward.  Cousins has that attitude problem and all those technical fouls. He'll probably hurt them a little bit so I'm going to say that it was a bad trade for Sacramento. They gave up too much to get too little. I think New Orleans gave up too much. I think Golden State and San Antonio are going to be around for a while. If not those two, then you've got Oklahoma City and believe it, or not, I think one day LA is going to be back. The Lakers are a long way from dominating, but they might be the team of the future. 
Vince: The Lakers wanted Cousins. 
Russell: But they wanted Westbrook too.
Vince: They wanted too much. The Kings wanted revenge after Shaq called them Queens years ago. 
John: I think the jury is still out on the trade. I think the New Orleans Pelicans were probably watching too many Houston Rockets highlights from the mid to late '80s when they had the original "twin towers", Ralph Sampson and Hakeem Olajuwon.  The problem with that was Hakeem kept getting hurt. Now to contrast that to New Orleans, DeMarcus Cousins' attitude, not the injury, would hurt DeMarcus and the Pelicans. My biggest interest is if New Orleans gets to the number 8 spot and stays there, they would be matched with Golden State.  I'm not saying they would beat Golden State but from a PR standpoint it would be very interesting. It would be a good TV rating attraction. Moving to the East, you're not talking about Dr. J and the Sixers, not talking about Larry or Kevin or Parish with the Celtics, or even Marcus Johnson and the Milwaukee Bucks. You're talking about outside LeBron, garbage in, garbage out.  Cleveland is going to the Finals. Even if the entire team got hurt, as long as LeBron is there, they're going to the Finals. Now, the West is a little more interesting. I think Golden State has an interesting road ahead. New Orleans, Utah, the Clippers or even OKC could make the second round interesting. You've probably got Golden State against either San Antonio or Houston.  When you talk about the road to the Final 2, it's much easier for Cleveland. 
Vince: Kristaps Porzingis won that Skills Challenge! That's crazy! These big men are skilled now. He will be the wave of the future for teams like the Knicks.
John: If I were a Knicks fan, I wouldn't be excited if Carmelo Anthony retires or gets traded. No matter what you do with the Knicks, Carmelo always kills it and from what I see, no one wants to touch Carmelo. I think it's safe to say Carmelo isn't going to Cleveland. 
Russell: Cousins and Davis are in their prime. This is the first time there are "twin towers" who are in their prime. They are in their 20s. It's kind of scary man, if you think about it.  If they are against Golden State, they're going to have their hands full.    
Vince: Hey, I think we need you, me and John, plus Anthony Davis and Cousins.  We'd win the NBA Championship! It ain't no thing, without the ring!
Russell: That's what I'm saying. If you get a good point guard and some forwards, man, they'll own. That's dangerous.