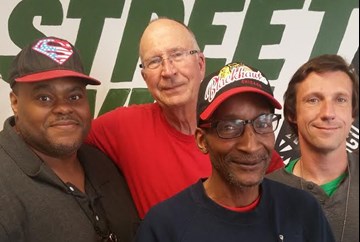 By: Staff
March 7, 2017
John: Let me go over the Big Ten and the teams that are likely to be in as of right now.  Wisconsin, Maryland, Purdue and, yes, Northwestern.  On the bubble would be Michigan State although with the Tom Izzo personality they might get in. Minnesota and Michigan are rather iffy.  Marquette does have one signature win against Villanova.  In the Pac 12, Utah is another bubble team.  Despite Utah's winning record they may be kept on the outside looking in because they are not a California team and they don't have a signature win.  Arkansas is more out than in.  I believe the ACC and the Pac 12 are going to get the most teams in.  The Big Ten has been down this year. They have not been the same conference this year and more importantly what helps these bubble teams was the fact that a lot of mid majors are down this year.  Missouri Valley might get a second team with Illinois State, but it depends on the conference tournament.  As far as bubble teams go, unless something strange happens, to me it looks like most of the bubble teams might just get into the tournament. 
Vince: I'm not as thorough, you're definitely up in it. College basketball isn't my strong suit, however, I'm going to take a plunge anyway.  Gonzaga is number one!  The Zags!  I remember when Gonzaga used to be that team when you'd see them on the schedule you'd laugh and say, oh there's a win.  But now there's a loss when you play Gonzaga.  I believe they are the biggest threat with Villanova right behind.  Duke is surprisingly down there, still in the hunt but at number 12.  I'm always looking for a Mike Krzyzewski team to always challenge.  North Carolina rounds out the top 10.  We're not looking at your father's top 25, these are brand new and everything's topsy-turvy.  Not too many Big Ten teams in the hunt, a lot of bubble teams like you said, John.  Wisconsin and Purdue do look mighty strong though.
Bill: I think Gonzaga and Kansas are top teams that will be in for sure, I wouldn't bet against them. I would think Purdue and Wisconsin have a better chance of doing well in the tournament than people might assume.  A big issue is who's healthy and who's not. I wouldn't bet against them.
Russell: Quick prediction.  I saw brackets set up early.  They had Gonzaga, Villanova, Kansas and Baylor.  Baylor, I'm not too sure about.  Anyway, there are some good games coming up this month.  Duke and Virginia: Duke was good at defeating North Carolina last week, but they struggle against Clemson.  You've got Kansas against Baylor on Saturday, Baylor you might be in trouble.  Then you've got Maryland and Wisconsin.  How about Wisconsin?  They lost to my boys, Northwestern!  Go Northwestern! When I was checking out the schedule there were not many Big Ten teams there.  I don't know what's going on with that but hopefully Northwestern makes it…and Wisconsin. Louisville and North Carolina is another big game coming up. Northwestern and Indiana might be a game to decide who gets in.
Bill: I gotta ask, what's with Kentucky?
Russell: A lot of these teams were ranked number one and aren't there anymore.  You've got teams that were ranked number one that are number 14 or 15, teams that were ranked that aren't ranked at all now like Indiana and then teams that weren't ranked and are now like Northwestern.  Anyone know what's going on?
Vince: This is when you get the teams that are really serious about making it in and the weaker teams will fall by the wayside.
Bill: What looks like mediocrity may be equivalency.  In other words, maybe there are more good teams playing each other and beating each other than there are boring teams. We've watched this yo-yo thing going on with the Top 10.  It's changed all year.  So it could be one of the better tournaments.     
Vince: Shout out to Roger Federer and Rafael Nadal. They played a great Australian Open and Federer won.  The French Open is coming up and Nadal owns the it. They used to call him the "King of Clay" he may make his comeback. 
Russell: Thoughts to the family of Fab Melo, who is a 26 year-old basketball player from Boston. He passed away at 26.  My condolences to his family and stay strong.