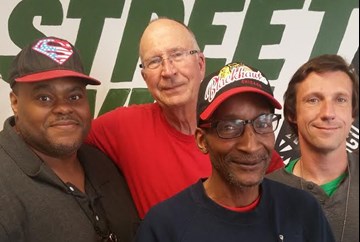 By: Staff
May 1, 2017
Vince: We've got a full boat today.  John, you're leading off, what's on your mind?
John: The NFL draft is coming up in Philadelphia this year.  I think it might lose its lush because Chicago did such a bang up job with the draft the past couple of years. I don't know that Philadelphia can duplicate what a great job Chicago did. I would move the draft back to being on a Saturday. People have to work Thursday and Friday nights. I know it's primetime, but on a Saturday people could tailgate, then watch the draft. To me the draft should be more about tailgating than primetime. What are you going to compete against? This time of year you've got the NBA playoffs, the NHL playoffs and Major League Baseball. If you had it on a Saturday and Sunday, you've got the whole audience to yourself and I think you'd have more people watching it. To me the excitement is anticipating the NFL draft, but now I've lost some interest in it.
Bill: The way the draft works by giving the teams that have lost the most the advantage of getting the first choices has made a lot of the games less exciting. The teams that are not trying to compete, like Philadelphia for years or even this year with the Bulls, they are drifting south and everyone just says, "Oh well, we'll get a good draft." To me that undermines the whole competitive game. You pay the same amount of money when you go there and that's a lot of money when the ball players aren't playing at their maximum and teams aren't trying to compete.  It's in baseball, football and basketball.  Like last year, Bears fans would say, "Well the good thing is we'll get some good draft picks."  C'mon man, you're paying a lot of money to watch people lose.  It's like with the Black Sox, they didn't try and they ended up getting prosecuted.  I don't know what they can do about it, but it does annoy me and that's my gripe of the day.
Russell: I was very upset last night watching the Bulls play and the game between Cleveland and Miami.  Cleveland let the big guys sit out so Miami won.  If Cleveland won, then the Bulls would be going to the playoffs.  Fans pay to watch the players play.  Even if I'm paying my money to see a Bulls game and Cleveland's coming to town then I also want to see LeBron [James] play.  I want to see the team, not some other guy on the bench.  If you've got a contract to play, then you should play.  I got a job and if I take off from my job then I'm fired with no pay.  No play, no pay.  I want to put a stop to this sitting out.  Back in the day, Jordan didn't take off.  The man played with sore knees and played with food poisoning.  Larry Bird played with a bad back.  He didn't take any days off.  I don't think it's fair to the fans and the commissioner should do something about it. 
Vince: I'd like to talk about that it's April and the World Champion Chicago Cubs are back!  John's covering his ears 'cause he's a Dodgers fan and Bill's over here feeling sick because he's a Sox man.  I understand that, I love the Sox, they are the Cubs' brothers from another mother. I think the Sox will be dreadful for about a year or two, and then hopefully they'll be good like the Cubs.  Remember last year the Cubs won the World Series with 103 wins and four years ago they lost 102 games. They stunk to high heaven and now they are the cream of the crop. 
Bill: The 103 losses has to do with what I said earlier.  A lot of sandbagging is going on in order to get those early drafts.  You can say they were garbage, but they weren't really garbage, nor was Boston when they tanked.  It's part of the strategy now for building your team…to lose a lot.