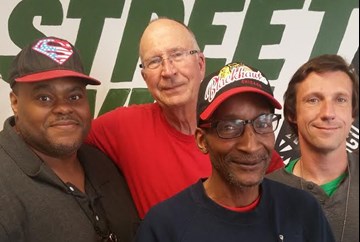 By: Staff
December 4, 2017
Donald: When it comes to MVP, I always look for a strong quarterback, someone who commands his team. No surprise, but I really like Tom Brady. The Patriots have that knack for getting up to the top. He has not had any slip ups so far. He's so good at not making mistakes. He almost never throws interceptions. This year, he's even doing it without a backup.
Russell: I usually take Tom Brady, but not this year. Carson Wentz, from the Philadelphia Eagles, is my number one choice. He's a good one. There was a play a few weeks ago where it looked like for sure he was sacked. They had him and all of the sudden he burst out of the pack and started running down the field. That was a good one! It's been a good year for quarterbacks and Wentz has been the best.
John: Russell Wilson should really be the MVP. It is about being most valuable, not necessarily the best. Tom Brady is the best player in the league, but Wilson has been the most important. Look at Seattle, they have nothing. Their defense is getting old and their offensive line is in shambles. Russell Wilson has no running game to turn to, either. He does it all. He makes chicken salad out of you know what. If it were not for Wilson, the Seahawks would be worse than  the 49ers and Giants. They'd be the Cleveland Browns of the NFC.
Donald: I agree with your points about Russell Wilson, but I still have to go with Tom Brady. Wilson is a good escape artist and a good guy. He's just not as consistently great as Tom Brady. He's a legend.
Russell: My pick might be different had [Cowboys' running back] Ezekiel Elliott not been suspended. He was my top choice. Now the Cowboys are done.
John: Tom Brady is too obvious. He's like Michael Jordan. We already know he's good. [Steelers running back] Le'Veon Bell would be my second choice. Pittsburgh is going back to the running game. It keeps their defense off the field and takes pressure off quarterback Ben Roethlisberger. They are going to need that running game during the cold months of December and January. They are the only team in the AFC that can derail New England. The Patriots are a machine, so it's going to be tough.